Mohsin Leghari is excited. Not only did he beat the odds to become a senator as an independent candidate, he proved a point. "This was my crusade against the division of seats on a party-basis. They collaborate with each other on seats," he says sitting in an office in Islamabad. "I was an MPA for nine years — in 2002 from the Millat Party, in 2008 from the Q-League. I saw that MPAs did not even know the process of how to elect a senator. That is not democracy! I made friends in the Punjab Assembly. They witnessed my track record on education and water issues and saw my credibility."
The plump 49-year-old does not look his age. Born to the Leghari clan, one of the larger tribes settled in Dera Ghazi Khan for 300 years, his family is full of politicians, former ministers and even one (dead) president of Pakistan. Two cousins and one uncle are serving MNAs. However, for many years Mohsin Leghari opted for the road less travelled. He studied electrical engineering in the US, earned a diploma in applied economics from Australia, and for a while was associated with Reuters Pakistan. In between Leghari got married and had three children. Then his father told him to join politics and he obliged.
Mohsin Leghari discloses that he was earning a monthly income of Rs 1,80,000 12 years ago, and his main source of income then was, and remains to date, agricultural land. However, his father convinced him that there was no monetary substitute for the prayers of an old woman that come with the territory if engaged in politics — Leghari seems to agree. "I love the human interaction politics engenders. It is great that people come to you for help and you can do the needful," he says. But, he adds, "Some have unrealistic expectations. I was on the phone just now with someone who wanted me to get their relative a job in the Airport Security Force although he did not meet the height or academic requirements. He only has a class-six education. Some ask for job transfers, others for induction as sepoys — all this because our systems have collapsed. We are expected to do what the government should be doing: getting someone's stolen cow back, unclogging a gutter, fixing someone's transformer or bribing the XCN!"
Leghari took oath as senator on March 3, 2012 and has attended one session since then. And instead of taking his car, or the assembly shuttle service, he simply walked across the road. He says he had a rude awakening to Pakistani realpolitik when, during the presidential address, the opposition walked out amid raucous sloganeering. Despite being a former member of the Punjab Assembly, he says "I didn't expect that!" He found the Senate interior "stuffy." On the day of the interview with him, the Senate session was expected to be prorogued, of which Leghari had no knowledge. Nor did he know which way it would go. He maintains he likes the quality of food in the Senate cafeteria, saying it is better than that at the Punjab Assembly. Leghari discloses that he owns the house he was living in in Lahore, and his family is still there, having not yet decided whether to move to Islamabad or not. Leghari thus resides at the lodges provided to the senators. His salary, he says, goes directly into his bank account. As for his goals as a senator, he contends he wants to focus on agriculture, though he feels that too much is made of the need for agricultural tax, because most land holdings are usually divided between two to three or more heirs, and likewise the profit. A businessman's company grows annually he contends, and asks, "Hence who is earning more?"
Speaking of the complexion of Pakistan's parliament, MNA Yasmeen Rehman maintains, "Most parliamentarians are landlords, some are industrialists; But no one who has a nine-to-five job or who has to show up for work on a daily basis can be a parliamentarian, because you won't get the time to do both." Fifty-six year old Rehman is the proud mother of four sons, three of whom are Ivy League graduates. Her husband is the former President of the Lahore Chamber of Commerce. Now, one of her sons sits on the board. Her family has industrial ventures in the fields of pharmaceuticals, leather and glass. Rehman discloses that they incurred heavy losses in the textile sector and so closed the factory they ran.
A graduate from Kinnaird College, Lahore, Rehman was hand-picked by Benazir Bhutto for one of the reserved seats for women in 2002. "At that time, women were just considered props, [it was like] they don't know anything, just place them here," she says speaking on the phone from her home in Lahore. "But much has changed since then. Now you will see women in nearly every committee. They worked hard and have gained acceptance among men."
Rehman has been a member of the Public Accounts Committee (PAC) since 2008 and serves as acting chairperson when Chaudhry Nisar is unavailable. "We have had countless meetings, all days except weekends; sometimes we meet twice the same day!" As an oversight committee, the PAC looks at whether there was appropriate utilisation of allotted public funds. "Rs 130 billion were recovered on the PAC's directives and deposited in banks last July. The Auditor General is supposed to submit reports to us, and on the basis of these we refer cases to NAB, the FIA etc. In fact, members of these agencies, and sometimes the attorney general, and even the police sit in on our meetings. Occasionally the workings of the PAC have created uncomfortable situations with my own party members."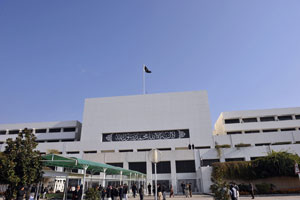 Rehman points out that her salary does not amount to much in today's economy, and discloses that most of the foreign trips she has been on as part of parliamentary delegations have been sponsored by private organisations. She rejects the notion that parliamentarians from the moneyed class should not demand a salary in a cash-strapped country like Pakistan. But she concedes that Maulana Mohammad Hussain Mehanti from Karachi, who was a member of the last assembly, refused to take even a penny. In the same assembly, however, she declares, "there was an imam from Peshawar who lamented that he used to earn Rs 25,000 as imam while as MNA he got a meagre Rs 13,000!"
Rehman contends that a minister's pay scale is less than that of other MP-1 scale officers like the PTA chairman, who according to her gets three-and-a half lakh rupees monthly as salary, in addition to having five or six cars at his disposal. "Likewise," she says, "the OGRA Chairman's total pay package is Rs 10 lakh." However she concedes, where the minister trumps the others is the level of authority he/she can exercise, since several institutions fall under his/her purview, each with many employees. And Rehman acknowledges that "Corruption is a challenge — a department may hire someone for three lakhs when the stipulated pay scale is Rs 50,000. But the principal accounting officer of every department is ultimately the federal secretary not a minister. A minister cannot sign any cheque or file, nor can he approve a file. That is always the responsibility of the secretary, which leads to the minister always being dependent on his/her secretary," she says. But she admits secretaries too have their compulsions: "We ask the secretaries why they come under pressure from the ministers, and they usually say 'if we don't comply they could transfer us.' Also they usually have a stake in what the minister wants to get done."
Rehman also blames 'desensitised officers,' for financial mismanagement. "Mismanagement is also a major cause for the wastage of tax-payers money. The officers don't have awareness, they think the money [allocated for projects] is free and there is no one to cross-check them. So often they will intentionally go slow on a project till one has to pay escalation costs, hence doubling the original cost of the project."
She believes ministers and parliamentarians should not get development funds. "An MNA will come and say his constituency needs a road in so-and-so area; the PWD will do a survey and make a budget for the project; the PWD will ask the MNA which contractor is most suitable for the project. And it is here that collusion with contractors occurs. The contractor makes a bill and the project which could be done for five lakh rupees is estimated at Rs 10 lakhs — with 10% or more going to the MNA."
Sheikh Rohail Asghar disagrees with Yasmeen Rehman's contentions. The PML-N MNA from Lahore is back in the National Assembly for the first time since the 1985 non-party elections. He hasn't missed a session yet, but does return to Lahore over the weekend to attend to his electric cables, biscuits and smelting factories. As chairman of the Standing Committee of Professional & Technical Training, he doesn't have a personal secretary or assistant. His son writes his letters and manages his salary. He has never been abroad as part of a parliamentary delegation. Speaking on the phone from Lahore he says, "The Rs 5-10 million development fund is not cash. You submit proposed schemes for your areas and there is an executing agency. You cannot hide corruption easily."
Asghar feels that unfair criticism is meted out to parliamentarians. Sitting among people from his constituency, in his office at Baghbanpura, Lahore he says, "A grade 22 officer does not have to stand for election. We do. The people come to us for help in fixing their sewerage problems, transfers, postings. Employment is always a huge issue. But still it's a gamble. You can't predict the decision of the constituents. I lost by 3,000 votes in 2002! We are the lawmakers. But look at the salary packages of the people who define the law as compared to ours. A Supreme Court judge gets Rs 4-5 lakhs per month, a High Court judge gets Rs 3-4 lakhs, a sessions court judge makes Rs 2-21/2 lakhs and a civil court judge makes Rs 1-1/2 lakhs. Additionally, they can incur unlimited utility bills, their water and electricity bills are free. Our status is that of a four-star general, but look at their privileges and look at ours!"
He also sees the medical facility offered to parliamentarians for private hospital care as too cumbersome to ever avail. "I had dengue fever last year. For 10 days I stayed in a private hospital. I could have claimed compensation for that bill under the rules but the process of first seeking permission to utilise the facility and then getting the money reimbursed was so lengthy and embarrassing that I simply tore up the bill."
"This is an issue that parliamentarians and senators do squabble over," says Iftikharullah Babar, secretary Senate, sitting in his office in the parliament, while referring to the private hospital medical bills. "Usually in far-off districts like Bannu, Dir, Khuzdar and Gwadar etc, where no proper government hospital exists, a senator will ask whether he can go to a provincial doctor in a main city in the province. And that is usually okayed. But a private hospital will ask a parliamentarian to get a letter from the Senate affirming that his bill will be reimbursed." However, Babar maintains, the staff at the Senate fulfills its obligations in this respect. "Our job is to support the House, the committees and the members."
Indeed, members of parliament are usually facilitated in every possible way. There is a dispensary for them, two doctors on full-time duty to attend to them and a cafeteria with a 60-item menu that has everything at subsidised prices. Beat reporters often lunch there and parliamentarians entertain their guests at the cafeteria during lunch break. If only the general public were so lucky!
An unlikely supporter for the representatives of the assemblies comes in the form of Ahmed Bilal, Executive Director PILDAT, whose organisation has kept a vigilant eye on the quality of work done in both houses of parliament. Remember how in school, one's attendance was a bench mark of how serious and dedicated a student one was? The PILDAT score card report on the third year performance of the 13th National Assembly (2010-11) did the same — it gauged the National Assembly's third year performance in detail. In 2010-11, NA had 12 sessions which amounted to 140 days in total, including public holidays and breaks. However, if the holidays are removed, then the actual working days total just 104, with members spending an average of just 3 hours per day in the Assembly. Thirty-four government bills and 17 private member bills were introduced during this time. Of these 25 were passed by our NA. On the other side of the border by comparison, the Indian Lok Sabha passed 40 bills. The PILDAT score card for the Senate (2010-11) registered 111 days in 10 sessions, with actual working days reduced to 84 and actual work hours a mere two hours 48 minutes per day. The Indian Rajya Sabha on average passes 44 bills per year, while the Pakistani Senate last year passed a mere 13.
PILDAT's report 'Performance of the NA in Budget Session 2011-12' details how a mere 17 working days were spent on deliberating the budget, with just 35 hours spent on debating the contours of the budget by 139 opposition and government members — that of a total strength of 342 MNAs. This is a far cry from the time spent in Canada on approving a budget — four months, or even India — which takes 75 days.
And considering that no matter what kind of law is passed and no matter what size of the development funds allocated, the truth is that the parliamentarian's constituencies remain socially and economically backward.
All this notwithstanding, Bilal says this kind of thinking misses the point. "Compare the allowance of an MNA with anyone else in the corporate sector who has this level of responsibility. These people earn one-third or one-fourth of private sector heads. This perspective is missed by the media. [In the old days being a parliamentarian] used to be a small part of one's life. Now it's a 24/7 job where you are attending two to three committee meetings a day, constantly working for your constituents. There's a set pattern of governance in other countries. But here, the rural and uneducated classes get their routine work done through MNAs. This is the main job of an MNA! He works as an intermediary between them and the government. He gets people their national identity cards, recommends people for jobs, and goes to the local police station to have their grievances addressed. There is no other link apart from him between the common man and the government." He also points out other jobs done by MNAs. "Dozens of constituents come and meet their elected representatives here in Islamabad, who have to entertain them and provide them food. This is not covered in their allowance. In other parts of the world, there is a system that supports public representatives; they get offices, administration staff, etc. But all our parliamentarians get is Rs 4000 or so to support their staff." According to Bilal, the complexion of parliamentarians is also changing, as absentee landlords are being replaced by people from various professions in the Assembly. As such, he says, "We must compensate them so that they can make both ends meet."
The parliament can have a consultation on the package allocated to the chairman/speaker of the Senate and House, and then two deputies, but can only vote to approve or disapprove the packages of the 446 parliamentarians. Will Pakistan's Parliament continue to overvalue the work of its lawmakers and continue to provide them the perks and privileges that, though owed to them by their job, over-exceed the requirements that should be in place for a developing country?
This article was originally published in the September issue of Newsline.
Next