Mira Nair's The Reluctant Fundamentalist was the opening film at the 69th Venice International Film Festival on August 29, 2012 and will be a gala screening at the Toronto International Film Festival from Sept 6—16, 2012 in Canada's cultural hub. "There's only one Saturday night gala in Toronto and that's us!" said Mira Nair, excitedly to this scribe on the phone from her home in Kampala, Uganda. There will be much talk about this film about Pakistan on the international festival circuit, directed by the diva of cross-cultural cinema. Who can forget Nair's eclectic ouevre: Salaam Bombay(1988), Mississippi Masala (1991), Kama Sutra(1996), Monsoon Wedding (2001) and The Namesake (2006).
On the eve of the film's world premiere, Newsline spoke to the internationally celebrated filmmaker as well as acclaimed Pakistani novelist Mohsin Hamid about Nair's latest film, based on Hamid's novel, The Reluctant Fundamentalist, which was shortlisted for the Man Booker Prize in 2007. The conversation with Nair was down-to-earth, zany and fun, interjected with her passion for Pakistani music, her love for Lahore and her desire to depict people who straddle two, even three, worlds at the same time. She found a similar trajectory with Hamid and saw his second novel as a springboard to create a dialogue between the subcontinent and America.  Here's to Opening Night. Break a leg Mohsin and Mira!
What was your reason for choosing The Reluctant Fundamentalist? Was it the story, the characters or the relevance of the themes in the book?
I operate enormously from intuition and through the years of making films, I understand the privilege of inspiration; that it doesn't come often and when it does, I always obey. My father was a Lahori, he grew up there, went to Government College and then came to India after Partition. We were raised in modern India, quite completely Lahori, without even realising it. My father was in the civil service and was posted in Orissa and remote eastern places, but he only spoke in Urdu and we were surrounded by a culture that comprised Faiz's poems, ghazals and sha'iri — I didn't know at that time what Lahori was, really. And it was just five years ago, when I was invited to Pakistan for the first time to speak and show my movies as part of a Friday Times event, that I finally realised I was in the culture I was raised in. It was enormously moving, as it usually is for many North Indians who visit Pakistan, and for me remarkably so. People outside Pakistan don't have a clue of how ancient, how cool and how confident and refined it is. I was struck by that and I wanted to immediately make a film about contemporary Pakistan. And, quite unusually, I was given the manuscript of Mohsin's book, before it was published. Like many of us, I already loved his first book, and saw his second as a springboard for the dialogue between the subcontinent and America. It is one thing to make a film about just our part of the world and hope that the others see it and it's another thing to, within the same film, have a real see-saw, which is what I saw as potential in The Reluctant Fundamentalist. This was five years ago. As a film director, I always look at books and other sources of material as springboards from which you can leap off and create a world that I want to create. And that's what I have done. The dialogue is in the book, the relationship between two worlds is in the book, but of course the clothing with which I have invested it is my interests — that's how it began.
What do you think was lost in adaptation?
I really hope nothing. I always had Mohsin by my side and the great gift of this experience is our friendship and our families' friendship, which is so beautiful. I hope nothing is lost even though film is a completely different medium. This film is multi-layered and is embellished with my love of music, of fun and of beauty.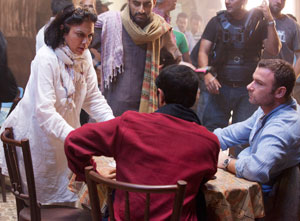 What do you find different between the Jhumpa Lahiri and Mohsin Hamid adaptations?
The Namesake, the book, is the story of a young man called Gogol, but I was more inspired to tell the love story of his parents. My adaptation was more about the older couple, of what is love between two strangers who cross oceans to be together in stranger climes, how they deal with it, how they eventually deal with their children and who their children are relative to who they are. It speaks of the immigrant condition and generational conflict, much more in the family zone. The Reluctant Fundamentalist is a political thriller; it's about what is going on in the world today, about the wall and the schism between East and West; the suspicion with which both America and the Muslim world look at each other; the real equation of fundamentalism — not just the one associated with terror and religion but also deeply associated with money and economics. Changez is a reluctant fundamentalist in both worlds — of money and terror — and the films deals with this twin issue and is a critique of our times.
Look at the banking scandals and how they have been exposed. That's what's really intelligent about this story: it is based on issues that are at the core of the world right now. And yet it is also an entirely human story about a young man who gradually finds out who he is. That journey is a universal journey which a lot of us who live between places want to know, because we are living it every day. It's a story of how to find one's own voice — whether we crossed the oceans or not — who we are and what we are doing in this world. The story has a much bigger umbrella and combines many worlds — corporate America, an ancient and artistic culture, and the new very fractious relationship between Pakistan and America — and it asks whether love is possible in this crisscrossing.
The Reluctant Fundamentalist straddles two worlds — East and West. With the ever-widening gap after 9-11 how difficult was your job?
Whether we like it or not, 9/11 changed the world, but what I lament is that it created a real schism — a constant and consistent misunderstanding between the western world and Islamists or our part of the world. I really don't think of my film as a 9/11 film — it isn't, I hate to even say that — for me it is a coming-of-age story of a young man in the 10 years pre and post 9/11 who was in love with America, lived the American dream as fully as he possibly could, then fell out of love with it and came home.
Several of us who've lived in other continents know this see-saw and understand this feeling of wondering where you really belong. You could call it the disease of our generation. My attempt has been to make a film about the divided self in a globalised world. In the last 25 years I have actively crisscrossed three continents — I have homes in Kampala, New York and New Delhi. I know that see-saw and as I get older I try to to process this feeling, and not be confused by it, but be enriched instead. Therefore, the landscape of the film, very fluidly juxtaposes the ruthlessness of corporate America with the extraordinary lifestyles of the East where biryanian pak rahi hein, qawallian chall raheen hein aur shaadian ho rahi hein! The film is about a young man who feels at home in both worlds but who is eventually looked at differently in the western world, especially nowadays. What the book gave me is the dialogue, what I call the duo between Changez and the American who he speaks to, called 'You' in the book and whom we call Bobby in our film. They are both extremely intelligent, acute-minded young people, and I hope we have portrayed them with great balance as they circumvent the two worlds many of us know intimately.
What aspect of the book were you really inspired by to make the movie?
The real core of the book that compelled me to make the story was what the publisher in Chile (in our film it is in Turkey) tells Changez, the story of the Janissaries — an elite corp of the standing army of the great Muslim Ottoman Empire — comprised young Christian boys taken away from their families and converted to Islam by the Ottomans. Raised without memory of their forefathers, they became the most lethal killers of the Ottoman regime against their own kind. And it's this story that the Turkish publisher tells Changez, who is then clear about where he is in the world and where he wants to be. That discussion is the reason why I made this film. As young people we often don't hold a mirror to what we are doing and without realising it we suppress who we are to serve some kind of modern master who could possibly be profiting from dominating one's own kind.
To what extent does the director dictate the script, especially the way the characters are fleshed out?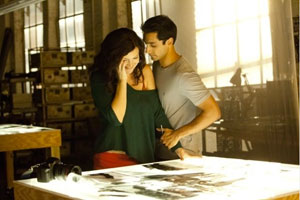 The director, in my case, is hugely involved. I never credit myself with any writing but I am always with the writers, in every film, but more so in this one. The book is a monologue and we had to entirely create and invent Bobby, the person Changez speaks to in the book, who is played by Liev Schreiber, one of the greatest actors, literally, of his generation.
I wanted it to take on the language of a thriller, and as friend of mine put it, it is a human thriller, a very human story about two people finding out who they really are. I am a lover of women, and I can't stand the fact that entirely Muslim stories are mostly about men and women being tortured, hung, honour-killed and whatever the hell. That's not my world at all. Humour is essential to me, family is essential to me and generally, our mahaul is essential to me. So there's a brother of Changez mentioned vaguely in the novel, that we convert into a sister, played by Meesha Shafi. Changez's family, Abbu and Ammi and Dina, were vital to me, because it's about humanising and understanding where we come from. I moved to Lahore for a couple of weeks and wrote the second draft with Mohsin and Ami. The movie is also full of na'ach gaana and fun and when we were working out the script, Mohsin would laugh and say 'Mira, you are making Monsoon Terrorist!' This film also has the vibe of Monsoon Wedding and that vibe is our families. I was also really taken by the television serials in Pakistan, specifically Jutt and Bond, and in the movie, Dina, Changez's sister, becomes a television actress who is the Bond chick. In the film I put in the small things about Lahori life that I love that people abroad don't know about…the vivacity and electricity of Pakistan's young people who are out there doing what they want to do with such talent and aplomb.
Does Pakistani talent feature in your film?
I was determined to fill the film with Pakistani talent; there's Atif Aslam, Meesha Shafi, Ali Sethi and Zahra Khan — Mohsin's wife — who sings the most amazing song; it's short but beautiful. The film starts with an eight-minute live qawalli with Abu Mohammed and Farid Ayaz and ends with an alaap by Ustaad Naseeruddin Saami — these are truly some of the people that I love. I have included two songs: the first inspired by Tina Sani's 'Mori Araj Suno' but I wanted a male voice because it had to be Changez's cry from the heart, so I got Atif to do it. The second is Faiz Ahmed Faiz's 'Bol' — the song is actually inspired by 'Bol' and is an original nine-minute song composed by Peter Gabriel.
I also worked with Mehreen Jabbar who is a dear friend; she was the casting director in Pakistan as well as the second unit director until such time that she couldn't; so Saquib Malik, of music videos and commercials fame, took it over. There's no point in making a Pakistani film and then sitting in India and hiring all the usual suspects. The only exception in the desi cast is Om Puri and Shabana Azmi (as Changez's parents) who are great, and Om is literally a Lahori Punjabi and Shabana is the real thing! In terms of the ups and downs of film schedules, it was very hard to cast every single person from Lahore and Karachi.
You recreated Lahore in New Delhi? Why didn't you just film in Lahore?
We shot in Lahore for four days and then we recreated parts of it in New Delhi. If you know Lahore like I began to know, it's quite simply Delhi's sister city, where one can find exact pockets of Lahore. It was also uncanny that the home I chose for Changez's family home in New Delhi, was modelled on a Gulberg bungalow in Lahore — the usual large bungalow built by a father and divided three ways among siblings — which is exactly the way it is done in Delhi and I live in a place just like that. The original larger family home is much less elegant in Delhi, but I found a gorgeous home of my childhood friend's parents on Amrita Sher-Gil Marg which worked as our set. Interestingly, the owner said that it was built by a family from Lahore but they left before Partition. And not to mention that it was located on the classiest street in Delhi, named after Amrita Sher-Gil who painted and died in Lahore. For me all these lovely secrets and messages from the past and from history were really beautiful.
Unfortunately, we couldn't film all of it in Lahore because we were not allowed film insurance and one can't subject actors and movie stars and the whole crew to any kind of insecurity.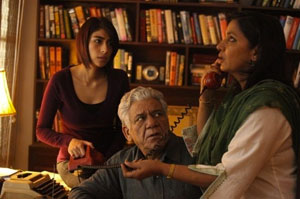 How was your experience of working with a remakable actor like Kate Hudson?
Working with Kate Hudson was one of the most rewarding experiences — she is completely unpretentious, intuitive and totally unafraid to jump off to any place I would like her to go. She was unfettered and unafraid in the very brave role in which she is cast. It is really nothing like you've seen her do and is her best performance in years. Also, the chemistry between Riz and Kate was phenomenal, really sizzling! Riz's family is from Karachi but he's lived in the UK so he is very British. But he is familiar with colloquial Urdu and worked very hard to come across as a bloke from Gulberg. We didn't want a dialect coach, so we had Ali Sethi record the whole dialogue (he's in the film as well) and Riz was totally steeped in getting it right.
What really stands out for you personally during the process of making this film?
This was the most difficult film of my entire career and it involved a lot of sacrifice on my part. My husband was in East Africa, my son had left for college, and I was attempting to raise money in New York. Fundraising was like a yo-yo — people would come and go and it began and collapsed three times. It was a bleak and tough period but music kept me going and I would basically sleep to Coke Studio's 'Mori Araj Suno' and 'Mundari.' Also everyone I worked with in Lahore were inspiration to keep me at it and I am determined to have a wonderful and major release in Pakistan.
My husband Mahmood — who makes his acting debut in the movie as a New York taxi driver — and my son both believed in this film from the very beginning, and were enormously supportive and intimately involved, and will be all to the way to Venice and Toronto.
This interview was originally published in the September issue of Newsline.
The writer is a former assistant editor at Newsline