Haute Men: Male Modelling in Pakistan
Bibi, Iraj and Vaneeza have already achieved it.Ayaan is almost there. Step outside Pakistan and you'll find dime a dozen — from Christy to Karlie, Naomi to Heidi.
You just know a model has made it to the top when you're on a first-name basis with her face, whether it's a pouty pictorial in a fashion glossy, or a toothy grin on a TV spot.
But looking at the roster of these modelling one-name-wonders, both internationally and in Pakistan, one question becomes glaringly obvious: Where are the boys?
You might have gathered by now that this is not exactly going to be a hard-hitting piece of journalism. But still. Fashion remains one of the few fields where women command more attention, and often more power, than their male counterparts. And be it the high-end offerings that cost a mortgage payment, or the more wallet-friendly high street wares, fashion is big business. Big enough that people should take note of how it is progressing and expanding. And one subworld that doesn't seem to be moving much, at least from the outside perspective, is the one occupied by unreasonably attractive men.
When you think of Pakistani fashion you might picture heavily embroidered joras that brides-to-be pine for. You might also think of daring gowns that go straight from the runway to red carpets. And you'd think of lawn. Lots and lots of lawn. Naturally then, TVCs and ramps are dominated by female models. Outside of Pakistan's fashion circles (and if rumours are to believed these circles don't always want to intersect with each other), most Pakistanis would be hard-pressed to name a leading male model.
Keeping this in mind, why would any young, attractive man want to venture into a career that he would not be able to make a name for himself in? This lack of visibility also means less money, making it all the more perplexing why droves of men do in fact show up at salons and agencies across Pakistan in the hope of entering the estrogen-friendly world of fashion.
So maybe Farooq Mannan, Ameer Zeb Khan or Abbas Jaffri — all proud winners of the Lux Style Awards Best Male Model trophy — aren't exactly household names. But Aijazz Aslam and Adnan Siddiqui, certainly are and both started their careers as models. There's also the famous model-turned-actor Imran Abbas, who is perhaps a more prolific actor than a talented one, and Azfar Rehman, who put his gift of gab to good use and made a mark on television with his own talk shows. The male modelling world couldn't be some kind of black hole then.
But nobody, not even the models, can understand the male modelling scene in Pakistan better than renowned stylist and photographer Khawar Riaz. And he knows it.
"Mein aik kitaab hoon aur logoan ko mujhe parhna chahiay (I am a book people should read)," explains Riaz, who has played a pivotal role in grooming and launching the careers of various models. And although this includes both male and female models, Lahore-based Riaz is best known for churning out top male models.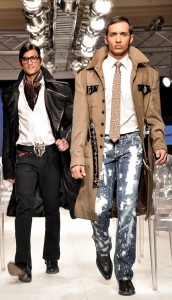 Over the years countless young men have showed up at his door, usually saying something along the lines of: "Sir, I wants to be a model." And he won't have any of it. A veteran in the industry, he by now knows that most of the young men who approach him expect easy fame. By turning them away at the door, and nipping disillusionment and negativity at the bud, Riaz believes he is doing the young men a service. So instead of responding to solicitations, he keeps his eye open for potential male models everywhere he goes, knowing that a haircut here and a change in diet there can transform an unassuming young man on the street to a male modelling star on the ramp.
Grooming, therefore, plays a key role. And when it comes to Riaz, this comes in the form of the modelling hopefuls being absorbed into his aura. Those are his words. Not mine.
"You can't change someone's upbringing. But I'm able to talk to these boys on a level that makes sense to them, in a way that their parents can't. I might as well write a book on psychology."
And what does it take to be a top male model?
"Well, according to international standards he should be around 6'2" and lanky," discloses Riaz. "He should also look masculine and appeal to both sexes."
Omer Shahzad certainly fits this bill. A young, emerging model from Karachi, he always knew that he had in him to be a model. While most high school aged boys pay little attention to their physique, Shahzad noted that he was too scrawny for his height and it was during his matric days that he first started working out.
He explains, "Aik nasha sa ho gaya tha. I became addicted to gymming." And the years of working out have paid off. Shahzad most recently appeared in a National Foods television commercial and the recognition he has received through modelling has helped him get a start in acting as well.
But Shahzad's foray into modelling wasn't quite seamless. A couple of years ago, when he was still completing his bachelors in media sciences, Shahzad walked into Nabila's salon at Park Towers, Karachi in the hope of getting signed on. But he didn't have a portfolio with him — a must for proving to stylists and other fashion industry bigwigs that you know how to work the camera. He had a portfolio made, dropped it off to four different agencies and waited for a response. Nothing.
Shahzad went back to his studies and later, whilst pursuing his Master's, decided to give the modelling career another try. This time he went to Arjumand Murad's agency and after a long audition process was finally signed on.
But that was only half the battle. The deluge of male modelling aspirants — "Modelling ka shauq to sab ko hota hai (everyone wants to be a model)," says Shahzad — combined with the scarcity of opportunities means stiff competition.
Shahzad's first ramp experience is a good example of that. For the 2011 Bridal Couture Week, male models from Lahore, Karachi and even Sargodha came for auditions. The audition process lasted four days, after which the 70 odd models were whittled down to eight. Shahzad was one of the lucky ones who got the call-back and since then he has gone on to walk at major fashion shows in Pakistan.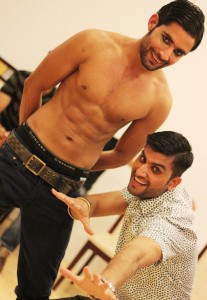 "The competition is intense. It's like you're in a race with your friend.Dost dost nahin rehta (friends don't remain friends). Behind the scenes at the shows you'll hear people going, 'mujhe show start karna hai (I want to open the show),' 'mujhe best outfit pehenna hai (I want the best outfits),' 'mein show finish karoon ga (I want to be the showstopper).'"
And with all these models trying to make it to the top, some of them may first have to make a detour to the casting couch. Shahzad, who is an articulate and confident speaker, became somewhat tight-lipped when the question of sexual favours came up, conceding that "thora bohat tau hota hai (it does happen a bit)."
This "thora bohat" according to fashion journalist Zurain Imam could be as high as 80%. In fact in an interview for Images in Dawn, Imam asked Khawar Riaz about this casting couch business to which Riaz replied, "Taali do haaton seh bajti hai (You need two hands to clap)."
Imam, who firmly states he doesn't partake in such casting couch activities, believes that there is much truth to Riaz's assertion. "Many male models actually anticipate it. You walk into a room to meet a model and he'll have his shirt off for you before you know it. It certainly takes two to tango."
Imam and Riaz, well-established players in the fashion industry, can make such statements. But models, who have a lot at stake in their careers, are certainly more careful.
And the world of male modelling is host to other controversies as well. One of the most recent ones had to do with the best male model award at the Lux Style Awards earlier this year.
After Karachi-based model Iffy Zafar bagged the award last year, Khawar Riaz, who felt that his models had more high-profile work to their credit, asked all of them to boycott the 2012 awards. This left a noticeable gap in the category, leading Imam to call up one of the models from the emerging male model category.
"Abbas Jaffri has done some pretty good work this year so I called him to ask when exactly he started modelling. The requirement for the main male model category is that you must have been in the industry for three years and Abbas, although newly famous, did do a project for Tehmina Khaled roughly three years ago," explains Imam, justifying the LSA's decision to tweak the nomination requirements.
Jaffri, who sports a striking maulvi-chic look complete with a long beard, has been making waves in the fashion industry lately, but Khawar Riaz isn't impressed.
"I really admire all the work that goes into the LSAs and the organisers have been doing a great job. But it's not what it used to be anymore," Riaz asserts.
But change is not always bad. While Riaz may be unhappy with the male model nomination process, Shahzad believes that models from Karachi too deserve a break. And with Men's Fashion Week just around the corner, there is hope that the men's fashion industry too will grow. This would not only result in more opportunities for the models but also lead to collaborations between large factories and menswear designers. And when men's fashion finally takes off, there will be no shortage of male models to become the face for the various brands and campaigns.
This article was originally published in the September issue of Newsline under the headling "Haute Men."
Zehra Nabi is a graduate student in The Writing Seminars at the Johns Hopkins University. She previously worked at Newsline and The Express Tribune.
Next