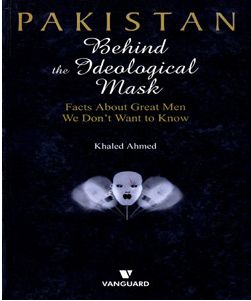 The enduring intellectual deprivation of Pakistanis has created an environment in which facts, somehow, seem less important than opinions. Consequently, the slogans we raise tend to drown out serious debate. Today, there are a very small number of people, even among the supposedly well-educated, who take the trouble of reading newspapers and books or contemplating the state of national and international affairs. As a columnist, Khaled Ahmed has led the struggle against this indolence of the Pakistani mind. Academically inclined, he is forever exploring the truth lurking beneath the morass of lies and deceit of our ruling ideas.
This book is a collection of 40 plus columns which relate mainly to the lives and ideas of our national leaders. Both the design and presentation of the compilation projects its journalistic content. In fact, the title is more like a combination of three headlines: Pakistan — Behind the Ideological Mask — Facts About Great Men We Don't Want to Know. And like a good headline, it reveals the substance of the columns selected for the volume.
The recycling of thoughts is a hazard that our newspaper columnists are generally prone to, although the pegs on which observations are hung are often varied. Khaled Ahmed, however, has a large palette of ideas. His forte is the book review in the form of an interpretative article. Hence, his writings compile a treasure of facts, information and interpretation whilst resonating with crucial observations on distinct or similar issues.
Allama Iqbal's opposition to hudood punishments in modern times is a theme repeated a number of times, based on the deposition by Justice Javed Iqbal (Allama Iqbal's son), at a conference called by General Zia in 1986. When Khaled's paper on this subject was published in The Ravi, the Punjab Assembly summoned the principal of Government College to respond to charges of publishing material that was 'against the ideology of Pakistan.' It is this very ideological fixation that Khaled has sought to challenge by revealing a number of "facts about great men we don't want to know."
It is not that these facts are not on record. Our tragedy as a society is that we continue to ignore them, perhaps as a defence mechanism, to be able to hold on to our ideological fantasies. Khaled Ahmed has made a great contribution by "letting the mask slip." He does not feel inhibited about telling the truth about respected and honoured individuals. In many ways, the appeal of this book is in its biographical sketches. In one article, he gives his own list of "Ten Great Pakistanis," which offers an insightful commentary on the author's respect for creative individuals of outstanding merit. This list comprises: Ashiq Hussain Batalvi ( historian), Ghulam Ahmed Pervez (scholar), Sibte Hasan (thinker), Ali Abbas Jalalpuri (philosopher), Faiz Ahmad Faiz (poet), Saadat Hassan Manto (writer), Abdus Salam (scientist), Akhtar Hameed Khan (social worker), Abdus Sattar Edhi (social worker), and Asma Jahangir (lawyer).
Yet, in spite of the scholarship inherent in these articles, they remain very readable and, at times, quite amusing. However articles like, "What if Mr Jinnah returns?" and "What if Allama Iqbal were to visit us today?" are too conjectural in their delineation, and do not seem to belong in the company of more serious and analytical writings. It would have been appropriate to state the dates at which these columns were published, to make a better sense of references to time.
The value of the book, however, lies in the information and insights that it offers. Essentially, it encourages the reader to look at our history and our destiny in the light of realities that we ignore only at our peril. We must contend with these facts if we are to find our way out of the ideological prison that the establishment has built for us.
Ghazi Salahuddin is a respected senior journalist in Pakistan. He currently works with the daily The News and the Geo television network.