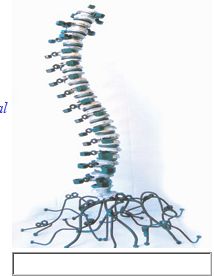 The annual Degree Show 2003 of the Visual Studies Department at the Karachi University literally took off with a bang when rabid elements vandalised the exhibits, inviting widespread comments on their actions. The outburst was vehemently condemned throughout the local press, earning the VS Department extra media footage. However, highlighting campus politics shifted the focus away from the raison d'etre of the show, i.e. showcasing the aesthetic endeavours of the final year students.
Established in 1999, this was the department's first major turnout of degree students. Thesis projects on display pertained to the disciplines of fine arts, graphic design and communication, industrial design and textile arts and design. The audio-visual section of the graphics department was subjected to hooliganism, and smashed computers and television sets told a sorry tale of projects that were. The head of the VS Department, Durriya Kazi, revealed that instead of the usual advertising campaigns, the graphics department students had opted for more subtle choices. They had attempted difficult subjects like animation. One of the students had assembled a five-minute animation which, she said, takes a long time to compile. Another had worked on virtual sets and their usage. This was again something that could only be seen on the screen — still another had produced a music video which had triggered the fracas. It was smashed up, as was the documentary and slide presentation of yet another graduating student.
Artworks of other faculties escaped damage and were open for viewing. Fine arts student Amra Mukhtar focused on the miniature and sculpture. Her theme was [email protected] and her metaphor was the sewing machine. Miniature paintings and sculpture in wood, stone, iron and copper, built around machine parts like needles, threads, bobbins, pedals and plates expressed her interaction with her own mother. Wacky humour and down-to-earth reality personified her observations, bringing forth a true-to-life and honest endeavour.
Inspired by flowers, Zhalay Sarhadi's major was painting and her theme was about rhythms in life. By projecting rhythms in nature, she tried to comment on their loss in real life. Her series culminated with the soft, calm vibrations found in life under water as a direct contrast to the hectic pressures of daily life. Miniature artist Naveed Iqbal reflected on transition and memory of friends through open doors, bus and platform tickets as painterly subjects. Another student protested against computer technology invading our private lives through installations. A spinal column for every occasion was how Erum Ghani constructed her sculpture thesis. In her wardrobe of spines was a vertebral column made of tea strainers for working in the kitchen, a soft spine of cotton wool in which one could relax, a column of springs, nuts and bolts for a bumpy ride on a bus, a funky, snazzy spine for party wear and a bandaged column if one was injured.
Print-making was represented by etchings, woodcuts and mezzotint. Subjects verged on exploration of the inner self through a plethora of organic symbols and imagery.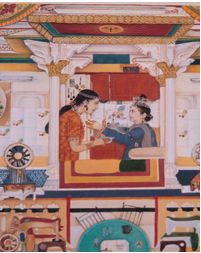 The VS department courses on textile design aim to prepare students for a role in the textile industry, both for fashion and furnishing textiles and for adding value to traditional crafts. This degree show had a fair share of woven, knitted and assembled goods with market value — Saba Sarwar's sunlit screens were a smart alternative to the traditional, heavily carved wooden partitions in common use. Made of thin plywood and covered in designer fabrics with smart bamboo or wooden frames, they came in a variety of sizes. Similarly, hand-woven blinds by Faiza Khatoon and hand-painted blinds by Nuzhatara Aslam were another way of draping windows. Inspired by the "sussi" fabric of interior Sindh, Azeem Rana wove thick sturdy upholstery for sofa and cushion covers. Almost all these products complied as furnishing materials for home interiors, offices, lobbies, restaurants and waiting areas. Designer Hina Shahid had opted for designs for a Japanese restaurant interior and Abdur Rauf experimented with patterns for wedding shamianas — both have been popular themes with young graduates for the last few years.
Exhibiting a hands-on feeling for materials, the degree students expressed themselves freely through a variety of media. By and large, all of them tried to relate their ideas with life, the immediate environment in which they moved and the people they interacted with. They seemed to have a grasp of concept and technique and most products, especially in the textile department, had an air of completeness about them. Kazi explained that the curriculum has an integrated arts programme where students study all the disciplines till the third year and then have a choice of doing one or all five in the final year. Their courses are inter-disciplinary and contextualised, with a strong theoretical base underlying their practical nature. This is perhaps the city's only art institution offering courses in industrial design, specially evolved to suit the needs of an industrial hub like Karachi. "We are so used to copying imported works cheaply that it is imperative to develop a sense of design to initiate product-manufacturing," remarks Kazi. Plans to establish an affiliation with an Italian design institute in Milan are in the pipeline.
For an institution which has yet to establish itself, the VS department seems to have made a sound beginning. Degree show 2003 manifested the students' thinking ability and physical effort, and even though some tried and tested themes were also attempted, clearly visible was the endeavour for individual expression.