Indian fashion designers Suneet Varma and Rina Dhaka, along with three Indian models, were the highlights of a fund-raiser fashion show that lured Karachiites into spending a stupendous amount of money in the name of charity…yet again. The show was held for the benefit of the non-profit Teachers' Resource Centre, dedicated to that most deserving of Pakistani causes — the improvement of school education.
The show established that Pakistani zardozi craftsmanship is far superior to the Indian version. Rather than be accused of letting my native pride colour my perceptions, it's best to quote Indian fashion designer Rina Dhaka, who said that "the major difference between Indian and Pakistani fashions is the quality of your zardozi. It is far better, more intricate and beautiful than ours."
The show opened with Suneet Varma's collection. The designer has made a transition from a primarily western-wear design philosophy to ethnic chic. The transition, however, remains to be completed. The most prominent feature of Varma's collection was his use of colour. A veritable explosion of colour bamboozled the senses, with bright yellows, screaming reds, fuchsias and mint greens — often in the same outfit — battling for attention on the catwalk. Combinations of gray and brown, yellow and blue, white and apple-green worked — and proved that fashion truly is colour-blind. According to Suneet, "for me fashion is a polite way to spell sex." If 'Chaos of Sex' was the theme of Suneet's collection, then he certainly succeeded for chaos definitely reigned supreme.
Sana Safinaz's chic, understated and extremely wearable collection followed Suneet's, their soft colours soothing the senses after the flash and pizazz of Varma's couture. The kaftan-inspired drop-shoulder tops with straight pants, both worked along the edges, provided an unusual visual presentation of flow meeting structure. The line highlighted that the duo's clothes are not just for anorexic waifs. The collection aimed to be sensual rather than downright sexy, and made the point brilliantly
Rina Dhaka's Indo-Pak desert-inspired collection — vibrant, gregarious and very statement-oriented — followed the subtlety of Sana and Safinaz. Having grown up in a haveli in Rajasthan has left a deep impact on her design philosophy. With teddy-girl shirts and cigarette pants, Rina's silhouette harked back to '60s chic. Her reinterpretation of the look was contemporary although unfortunately, it didn't go far enough. Dhaka's segment was a little over-the-top, Bollywood style, and could have done with a tad more simplicity — and without the colourful parandas and yogi-like face stripes.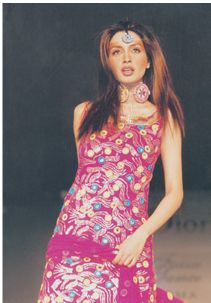 While Suneet Varma's knowledge of Pakistani fashion was limited to only to the pages of Libas, Rina seemed to be well acquainted with the Pakistani style scene and its movers and shakers. She has worked with Faiza Samee and Deepak Perwani and is an admirer of Rizwan Beyg's design philosophy, often using Pakistani textiles in her collections.
Faiza Samee's traditional embroidery and zardozi harkened back to old world beauty and elegance. Samee's traditional numbers were far superior to any of her contemporary outfits. Rather than trying to modernise, she should stick to what she does best.
The much-touted Dior "collection", mostly comprising t-shirts, jeans and Dior accessories, seemed off the rack rather than off the runway. The few fringed dresses — in red, khaki and black — seemed out of place and failed to qualify as couture.
With Tariq Amin doing the hair, make-up and styling, the show, produced by Frieha Altaf, brought together Indian and Pakistani designers on an elegant and philanthropic forum. Charity begins at home — but it ain't a bad idea to bring the neighbours into the act .
Next