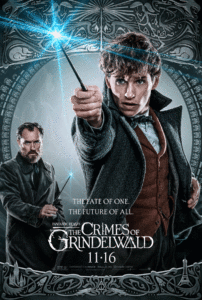 A dark shadow looms large over the wizarding world as magic returns to the silver screen. Picking up six months after the events of Fantastic Beasts and Where to Find Them, Fantastic Beasts and the Crimes of Grinderwald is darker than its predecessor – and the stakes are higher than ever before. 
It is 1927, and Gellert Grinderwald (played by a rather drab looking Johnny Depp) stages a grand escape while being transferred from the United States to England. The action-packed sequence unfolds amid a thundering storm, creating a sense of urgency, which much to the viewer's dismay, fizzles out through the course of the film. Grinderwald immediately resumes his quest to gather more pureblood followers, and begins his search for the deeply troubled Cradence Barebone (Ezra Miller) who is travelling through Europe with a magical circus, in the hope of finding the truth about his birth parents. Meanwhile, in England we're introduced to a young Albus Dumbledore (Jude Law), who recruits Newt Scamander (Eddie Redmayne) to run a search mission of his own. Scamander, banned from international travel by the Ministry of Magic, crosses borders illegally (in the wizarding world, that means travelling through a water bucket).
Harry Potter enthusiasts are sure to jump in excitement as the series introduces Hogwarts before the days of the golden trio. The film makes a conscious effort to stay as close to its roots, as it possibly can, frequently making references to familiar names, and storylines that were first introduced in the Harry Potter series. A scene in the film sees Newt come face to face with his boggart (a shape-shifting creature that takes the form of a person's worst fears) – much like millenials in 2018, the wizard from 1927 fears being stuck in a desk job. The scene is all too reminiscent of Harry Potter, as Neville Longbottom faces his boggart – a towering, intimidating, professor Snape. 
Like all of Rowling's stories, Crimes of Grinderwald too, albeit larger than life, is rooted in a truth universally accepted, good always triumphs over evil. The latest film in the Fantastic Beasts series, quite like its prequel, sets the stage for what is to come in the later instalments, but leaves much to be desired. The sequences in the film are wonderfully done, but fail to fall organically within the fabric of a single narrative. Characters are introduced hastily and not given enough screen time to develop. There are numerous references to the crimes of Grinderwald but no explanation follows. Depp, undoubtedly an ace actor, fails to make his mark as the villainous wizard who influenced Voldemort, and instills fear in people wherever he goes. Eddie Redmayne as Newt Scamander has grown significantly into his character since the first film, but is not nearly as lovable as 'the boy who lived.' It also doesn't help Redmayne's case that Newt has been reduced to a love-struck boy who risks everything to tell his crush that what she read about him in the papers isn't true. It's strange to see a grown-up act so childishly when his storyline is juxtaposed with that of dying babies and mass destruction. 
But the film is not devoid of standout moments and performances. Jude Law is everything one would imagine a young Professor Dumbledore to be, mischievously charming and impossible to ignore. Ezra Miller as the young and conflicted Cradence Barebone is compelling to watch. A surprising reveal, that no one would have seen coming, will leave fans desperately waiting for the next film. In that, Crimes of Grinderwald successfully manages to raise expectations for what is to come. But, as a stand-alone film, it is tiresome in places, introducing unnecessary details and convoluted plots that are rushed to closure. For a film that jumps right into action from the first scene, and has so much going through its 133-minute run-time, it is surprisingly devoid of an actual storyline. 
A journalism graduate, Zoha's core areas of interest include human and gender rights issues, alongside which she also writes about gender representation in the media and its impact on society.
Next