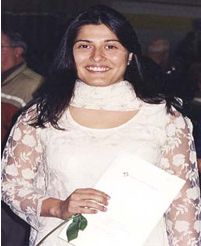 The plight of Afghan children, within the country and in exile abroad, has been the subject of numerous articles, films and documentaries, many of them award-winning. But having reaped a financial bonanza from the pathos of the children's lives, most of the foreign journalists have distanced themselves and moved on to the next story.
Not so 24-year-old, Stanford Masters student, Pakistani Sharmeen Obaid. Approximately eight months ago, while studying at Smith College, Obaid wrote to New York Times Television, with a proposal for a documentary about Afghan refugee children in Pakistan. New York Times Television, a documentary production company that makes almost a 100 hours of television for local and cable channels, is inundated with similar proposals, and as the president of the company, William Abrams would tell you, "Few are ever worth pursuing."
Obaid's proposal however, obviously was. Not only did the company cough up 10, 000 dollars for Sharmeen's film — an unprecedented gesture for an unknown aspiring filmmaker with not one project to her credit — but Abrams went to the extent of offering Obaid a job. In a letter of recommendation to Stanford University, Abrams wrote: "When you're done educating her, please send her back our way. There will be a job waiting for her at New York Times Television." Obaid had been freelancing for the Canadian weekly newspaper, The Coast, and while doing a story on Afghan refugee children in Pakistan for the paper, she decided she would expand on this theme by making a film on the Afghan camps in Pakistan. Says Obaid: "I felt that Pakistan had always been unfavourably represented in the western media, despite the fact that we were a frontline state in the war against terrorism. When I visited Pakistan in December 2001, I learnt that an increasing number of Afghan refugees had made their way into Karachi, and while interviewing several of them, I realised that the voices of these children had been lost in the hype of September 11, Osama bin Laden and Al-Qaeda. I wanted the western world to see how these children lived, and to understand the enormous burden on Pakistan's resources from housing and feeding close to two million refugees."
Obaid managed to obtain a grant of 6000 US dollars from her college, Smith, for the film, but needed at least another 10,000 dollars to make it happen. Thus, began a fund-generating drive that had Sharmeen writing out to the producers of assorted news programmes, including Dateline and 20/20 . All of them expressed keen interest in her project, but that did not translate into funds. New York Television Company, however, was clearly substantially impressed — and Obaid's film became within reach.
By now Obaid had acquired a partner for her proposed enterprise: New York-based Pakistani, Mohammed Naqvi of Pakistani origin. Mohammed received primary and secondary education between America and Pakistan, so he is very much a product of both worlds. It was while attending high school in Pakistan, that Mohammed was drawn towards performance and art. After graduating from UPenn, Mohammed founded an off-off Broadway theatre arts company going by the name of B.L.A.H Productions, in January 2002.
Obaid and Mohammed headed for Pakistan, and spent a scorching summer there, in madrassas, camps and on the streets, interviewing dozens of Afghan children. "Miraculously," says Obaid "We managed to get unprecedented access to the children, even those in madrassas, where a young woman, accompanied by an all-male television crew, is not exactly smiled upon." The virtually unfettered access gave the duo an insight into the children's lives and their minds. It was a disturbing journey of trauma, fears, and uncertainty — but also of dreams and hopes. And that is what the film is about: real-life accounts of children of war and exile.
"These eight and 10-year-olds have no future. It's no wonder then, why so many of them are attracted to the madrassas, where they get free food, clothing and shelter," says Obaid.
The film, Terror's Children, is to be aired on March 25, at the launch of a new channel in North America, the Discovery Times Channel, a collaborative venture between The New York Times and Discovery Communications. Interestingly, the channel is promoting it as the personal journey of a Pakistani woman, and the buck doesn't stop there.
Several other channels have also offered Obaid/Naqvi a slot for their film. On January 6, at the Television Critics Association meeting in Los Angeles, where she had been invited to speak, Obaid met with several journalists from leading publications such as TV Digest, the San Francisco Chronicle and Multi Media News, who interviewed her about the film.
All this, even before the film has aired!
Next