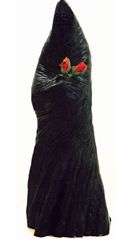 Awards enjoy a dubious reputation in our art fraternity as merit is seldom a deciding factor and selections are often engineered. The premier Pride of Performance award is mired in controversy and institutional trophies like the Shakir Ali, Zahoor ul Ikhlaq and Haji Sharif awards have a limited ambit and do not generate much excitement. The erstwhile Sadequain Award can easily be declared infamous, and stories concerning the last National Exhibition Awards are still doing the rounds. In this scenario of skepticism, one wonders how the recently instituted M. A. Rangoonwala Visual Arts Awards is going to fare.
Issued in the memory of M. A. Rangoonwala, a great philanthropist and patron of the arts, the award fortunately emanates from a concern whose commitment to community service is well established. M. A. Rangoonwala not only founded the ZVMG Rangoonwala Trust which supports the VM Art Gallery (responsible for the award), but also mandated that the gallery be a non-profit institution dedicated to art education and the promotion of deserving talent. This is in accordance with the Trust's objective of "service to humanity."
Since its inception in 1987, VM Art Gallery has hosted over a hundred exhibitions of local artists and 20 international shows. Today, as a state of the art gallery, it also arranges art lectures, slide and talk shows, workshops, cultural exhibitions and presentations, and boasts a full fledged ceramic unit. Art director and curator VM, Riffat Alvi, a prominent artist in her own right, is the moving spirit behind this success story. Working tirelessly and selflessly, she has managed to initiate an arts scholarship fund to support deserving art students who are financially handicapped. The 'Emerging Talent' exhibition organised by her has become an annual VM presentation, showcasing a choice selection of thesis works of art institutions from all over Pakistan. Similarly, the Rangoonwala Visual Arts Award has also been created to support and encourage young artists who have the potential to define tomorrow's art. The architect of the award, Riffat Alvi has been lobbying for it for the past three years.
When the management of the ZVMG Trust announced the award, posters and emails were posted at vantage points and sites of art schools, colleges and galleries, inviting artists to participate. It was delineated that the award would be presented to the most promising artist, who had been working/exhibiting professionally for the past five years. Numerous entries were received by way of slides depicting work in mediums of oil on canvas, sculpture, prints and videos. An anonymous, independent jury was appointed to judge the artworks and shortlist the deserving candidates. Four artists were nominated for the coveted laurel, and yet another jury, was invited to select one from among them. The final winner, adjudged by a double jury was awarded the Rangoonwala Trophy as well as a sum of one lakh rupees as a cash prize.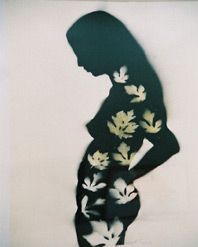 The recipient of the first Rangoonwala Award for the year 2005 was young artist/sculptor Jamil Baloch. Artworks of about 19 other contestants were also on display at the VM Gallery. The entire show could be approached from three aspects: the winning entries, the works of the remaining three artists nominated for the top slot, and some significant others whose art stood out either on account of skills, concepts or techniques.
Jamil Baloch had submitted two pieces, a small sculpture called 'Valentine's Day' and a spray paint on paper painting called 'Misty.' Baloch is essentially a sculptor who has a firm grip on the medium of his choice. It was not just his winning entries that cast the vote in his favour. It was also the distinct innovative flair visible in his publicly exhibited works in the last couple of years that helped clinch the award. 'Valentine's Day,' a burqa/chaddar clad figure, was a typical Jamil Baloch sculpture, very simplistic and direct, yet harbouring deep sociopolitical concerns. A bouquet of roses in the hand of a veiled figure speaks about stifled human aspirations among the deprived and underprivileged. Viewed on a national scale, the idea of deprivation emanating from a Balochi landscape assumes a political context. His other entry, 'Misty,' a nude silhouette marked by proverbial fig leaf patterns, was the sensitive portrayal of a young female figure. The leaf impressions were decorative, but it was their obvious allusion to censorship and cover-up that brought interest to the viewing experience. It is this double-edged apparent boldness issuing from an otherwise plain or naïve symbol that accords Jamil his special place among artists with potential. Hopefully he will retain his forthright candid expression because that is his real strength.
The other two nominees, Ali Azmat and Mughees Riaz have also been under observation on account of the quality of work they have been producing and exhibiting lately. A strong, single-minded focus and dedication to their oeuvre has been visible in their canvases — and it seems they are still painting without succumbing entirely to market demands. Sculptor Jabbar Gull, the fourth nominee, is also a consistent and fairly prolific artist who has diversified his attention from mainly sculpture in wood, to oil and canvas also. His minimalist approach endowed his wooden pieces with a quiet elegance, and viewed together as 'Circle I, II and III' they had a strong cultural presence.
The award exhibition also generated interest on account of fresh entries by relatively new or hitherto unknown artists. A painting titled 'Scientist' by Syed Ali Abrar had a presence. A stylised landscape by Salman Farooqi was handled with confidence and flair. The blinding glare of the omnipresent sun was well captured in the shimmering Thari desertscapes by Syed Ali Abbas. He also handled the figurative elements in his compositions with a rare sensitivity. A junk metal sculpture by Asad Hussain titled 'Waiter' was a creative mixed of tradition and modernity. Saadia Hussain from Islamabad submitted mixed media art on paper — an oriental potpourri of eyes, amulets, coded text, numerals and other magical connotations rooted in the concept of superstitions. Artist Abdullah Syed's delicately rendered mixed media on wasli called 'Let's keep our Country Clean' and his digital prints titled 'Diaspora: Stars and Crescents' centered on political messages regarding border conflicts and superpower hegemony as well as the bicultural sensibility of diaspora artists. Usman Ghouri's hybrid offshoot of miniature and western art was also very inventive.
This Rangoonwala initiative has yet to prove its worth, but being a product of the ZVMG Trust its credibility is already well established. As a first art award from the private sector one hopes it will create an impression and generate the requisite ripple effect.