September 10 was a shocking day for the Pakistan Muslim League-Nawaz (PML-N). After getting a favourable decision from the Supreme Court on August 23, Mian Nawaz Sharif chose this day to end his seven-year-long exile. The apex court's decision clearly stated that under Article 15 of the Constitution of the Islamic Republic of Pakistan, 1973, both Nawaz and Shahbaz Sharif have an inalienable right to enter and remain in the country as citizens of Pakistan. The decision also directed that their entry to the country should not be hampered or obstructed by federal or provincial government agencies in any manner. With the court on their side, the party leadership thought that the government would not dare stop Nawaz Sharif from entering Pakistan.
They were also hopeful that lakhs of people would welcome the deposed ex-prime minister back, especially against the backdrop of a newly formed political alliance of opposition parties (sans the PPP), the All Pakistan Democratic Movement (APDM).
But on that fateful day, nothing went as expected. Nawaz Sharif remained on Pakistani soil for only four hours. During that time he was detained and humiliated by low-ranking officers of different government agencies and sent packing, again, to Jeddah. Except for three female workers who succeeded in getting close to the airport, none of the PML-N party workers were in attendance. It was the first real opportunity in seven years for the PML-N to show its street power, but despite tall claims by its leadership of bringing out one million supporters to receive Nawaz Sharif, only a handful of diehard activists forced their way into Islamabad Airport — and most of them were arrested. Moreover, after pledging their full support to the PML-N, the opposition parties tied to the APDM were nowhere to be seen.
Most PML-N leaders held the government responsible for their flop show. According to them, government agencies arrested more than 4,000 workers throughout the country and also blocked roads leading to Islamabad on September 10, making it impossible for PML-N workers to reach the capital. Fifty-six police checkposts were set up in Rawalpindi alone to stop PML-N processions coming from other cities towards the Islamabad airport.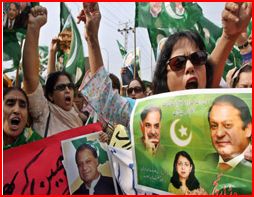 But they used more menacing tactics too. "The workers and leaders of the PML-N who were involved in planning and coordinating the welcome programmes for Nawaz Sharif were arrested throughout the country. That is the main reason why we failed to welcome Nawaz Sharif according to our wishes," said the PML-N finance secretary, MNA Pervez Malik. "Secondly, roads were blocked and transporters were stopped from giving buses to the PML-N." Malik told Newsline that it was accurate that the PML-N did not have a 'Plan B' because "we were not expecting the government, after receiving such clear-cut directions from the Supreme Court, to behave that way." He said it showed that the government had no respect for the courts.
Pervez Malik admitted that the PML-N is disappointed with the performance of its political allies on September 10. "They had assured the PML-N that Mian Nawaz Sharif would be welcomed on the APDM platform, and that they would bring the maximum people to the streets, but we did not see workers of any other party on September 10."
Liaqat Baloch, central leader of the Muttahida Majlis-e-Amal (MMA) and APDM, said that blaming the APDM for the poor show on September 10 is not the right approach. "It is true that we had offered full cooperation, but the PML-N did not respond properly to our offer. We were not included in any kind of planning regarding the finalisation of programmes to welcome Nawaz Sharif." According to Baloch, it is not true that the MMA did not welcome him because Saudi Arabia was involved in the matter. "In fact, we have strong reservations over Saudi Arabia or any other country's involvement in Pakistan's internal matters." If Nawaz Sharif's own party was not serious about getting people on to the streets, "How could we do it?" he asked. He believes that Nawaz Sharif's acknowledgement of having a deal with the Saudis and the Pakistan government, no matter for what term, five or 10 years, at the very last moment caused great political damage to him and his party. "He also sent negative signals to the people by not allowing Shahbaz Sharif to return to Pakistan with him."
Some PML-N leaders also admitted that some critical personal and political moves by Nawaz Sharif just minutes before his return from London created confusion. Despite the original plan to return through Gulf Airlines and reach Pakistan around 11:30 a.m., Nawaz Sharif landed at Islamabad through a PIA flight (PK-786) at 8:42 a.m. "I was really surprised by the decision. The party leadership in Pakistan was not consulted before taking the decision of changing the flight," said PML-N Secretary General Zafar Iqbal Jhagra on September 10 while talking to Newsline.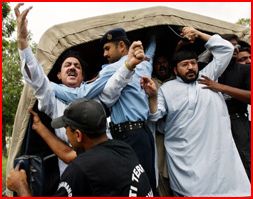 But other PML-N leaders are turning their gaze towards their own party, and they are finding fault. Rana Sanaullah, a PML-N parliamentary leader in the Punjab Assembly, believes that although a political party with an organisational structure like PML-N can manage political and electoral processions successfully, when it comes to confronting state repression, "It is unable to do so." The MQM is the only political party in Pakistan, according to him, that has the potential to deal with state tyranny. He admitted that while there is infighting in the PML-N, "It was not responsible for the failure to welcome Nawaz Sharif. In fact, we did not plan anything at all."
The PML-N did, however, file a constitutional petition with the Supreme Court on the very same day against the deportation of Nawaz Sharif. The petition was filed by PML-N MNA Khawaja Asif, under Article 204 of the Constitution, challenging the sending of the former prime minister into exile in contravention of the August 23 verdict by the apex court.
While taking to Newsline, PPP central leader and prominent constitutional lawyer Aitzaz Ahsan strongly criticised the government's decision to send Nawaz Sharif back to Saudi Arabia. "I think it's a clear-cut case of contempt of court," he said.
Government officials, though, are obviously not ready to consider the whole episode as amounting to contempt of court. Punjab Law and Parliamentary Affairs Minister Muhammad Basharat Raja told Newsline that Nawaz Sharif had not been deported but, in fact, the government had given him two choices: either to go to jail or leave the country. "He opted for the second and left the country once again instead of going to jail," he said. Regarding the arrests of PML-N workers, he said this: "We only arrested the people who were threatening a law-and-order situation and announced that they would enter Islamabad Airport on September 10."
Many can successfully argue that the government should not have acted the way it did on September 10. But it can also be argued that the PML-N and its political allies gave a free hand to the government. They did not pose any challenge to the government and even after the exile of Nawaz Sharif, his party failed to stage strong protests in cities considered PML-N strongholds, such as Lahore, Faisalabad, Gujranwala, Chakwal and Sialkot. The PML-N is clearly divided into groups, and these groups do not coordinate with each other. Besides, there is a feeling that Nawaz Sharif is not too keen to let any new leadership emerge within the party. Many think that Makhdoom Javed Hashmi has been sidelined in party matters; he was not included in taking crucial decisions in the planning of Nawaz Sharif's return. This sent a negative message to the workers. All the arrangements and planning to welcome Nawaz Sharif were made by a group led by Chaudhry Nisar Ali. Many PML-N leaders are also being criticised for their 'volunteered' arrests from their homes on September 10.
It is interesting that none of the party leaders who made the 'welcome' plans for Nawaz Sharif are ready to take the responsibility for the poor show put on by their supporters, and so far, the PML-N has not formed any committee to investigate the failure of the party to accord a proper welcome to its Quaid on September 10. This is creating a lot of problems within the party. In late September, Makhdoom Javed Hashmi was about to announce his resignation from party office, taking full responsibility for the party's failure to welcome Nawaz Sharif. He refused to change the decision on the requests of local leadership, and in fact, had called a press conference to announce it. But at the last moment, on the intervention of Nawaz Sharif and Kulsoom Nawaz, he decided not to resign.
Meanwhile, free and safe on the streets of London, Shahbaz Sharif has also reportedly chimed in on how the party let his brother down. A senior leader of the PML-N, on condition of anonymity, told Newsline that Shahbaz Sharif, in his telephonic address during a party meeting on September 12, expressed his anger and displeasure over the poor welcome arrangements made by the local party leadership. Shahbaz Sharif was allegedly very upset over media reports that no PML-N worker made any serious attempt to reach Islamabad Airport, leave alone efforts by the general public.
But perhaps, in the end, the autopsy of the events of September 10 is an academic exercise. Maybe the Sharifs are just not that popular, nor powerful, anymore.
Next