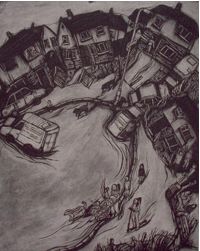 With the clash of civilisations escalating and differences between nations becoming irreconcilable, bridging cultures with art opens more humane levels of communication and understanding. Visual art exchanges that centralise on aspects of culture, their historical and contemporary significance and interpretation, sharing of ideas and, above all, freedom of expression alleviate hostilities by generating awareness, tolerance and respect for each other among the participating nations. The recent Festival of Muslim Cultures: UK 2006 was one such catalyst that prompted extended dialogue through varied media. The Festival of Muslim Cultures Print Project, initiated by the Swansea Print Workshop, was a direct outcome of this prevalent mindset. Its exhibition titled Contemporary Pakistani Printmakers, curated by Sarah Hopkins and Sameera Khan, was designed specifically to inform the West of current art practices here. Apparently, the show had a revealing and lasting impact on the host communities. The recent Contemporary Welsh Printmakers Exhibition displayed at VM Gallery is a sequel to the Pakistani version and is also underscored with the idea of sharing Welsh talent, culture and heritage with the communities of Pakistan. This is a new interaction and it deserves to be viewed in its larger context.
Formerly modest, the art scene in Wales has now been energised by an enthusiastic younger generation, as well as a great influx of creative talent from beyond the Welsh borders. However, the artistic infrastructure has not grown to keep pace with the new developments. There is, as yet, no Welsh National Gallery or a contemporary Welsh art magazine, but Wales is now well served with printmaking facilities. Swansea Print Workshop is the newest of these, and when plans for its expansion are completed it will be one of the best in Britain.
The current VM exhibition represents 20 artists living and working in Wales and includes 45 original prints reflecting the contemporary cultural landscape of the principality. It is a robust, exciting and engaging show that impacts the mind instantly. Printmaking, one of the lesser genres in our milieu, can benefit from the varied styles, techniques and expressions that have gone into the making of these prints.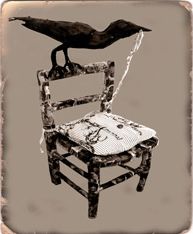 In the vibrant graphic print, 'Welcome to Swansea', Jackie Ford accesses her immediate environment and speaks of her physical interaction with the materials she uses, some of which had to be carved out as part of the process. Equally explicit and striking but with a different tenor altogether, Stuart Evans' hand-coloured linocuts are inspired by the mid-Wales landscape and history of the area. His artwork, 'Borth,' printed in black, oil-based ink and painted over with watercolour, narrates stories of Ceredigon. Valerie Ganz concentrates on the landscape of South Wales. Her print, 'Dawn Departure,' is a study of the Welsh mining industry. The urban environment of industrial monstrosities, concrete facades and polluted landscapes, also peculiar to South Wales, provoke Sarah Hopkins to produce illustrative prints like 'Blast Furnace,' which evoke the ugly atmospheric and structural physicality, but still retain the beauty of an artistic presentation. Giving an abstract non-objective interpretation to the modern rural landscape and coastline of Wales, Ian Williams' print 'Chosen' emphasises the print-making process of creating forms, textures and marks rather than the subject itself. Alan Williams is another artist for whom tactile surfaces are important. His print of a small bronze horse seen in a museum, 'Phaistos Heart', explores the expressive possibilities of woodcut and collograph.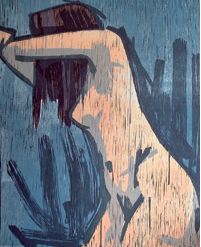 Other than the focus on the land, the people and the Welsh culture are also showcased by several printmakers in very individual approaches. Kate Basset's collographs and drypoints investigate the fun and reckless working-class lifestyle and environment around Ely Council estate, where her family is based. The melancholy yet humorous works express the behaviour and attitudes of the people and the general disorder of the place. By externalising her experiences, she is being both critical and sympathetic. The 'My Madonna' series by Pete Williams has evolved from the artist's interest in early Italian Renaissance paintings. He has depicted his wife and family, who take the place of Madonna and the Child, not necessarily replacing these figures but carrying equal importance in his life. Sameera Khan's prints centralise on self and surroundings, as well as ethnic influences pertaining to her Pakistani origins. Her narrative text and imagery incorporate autobiographical elements and oral traditions of Pakistan. Others, like Hannah Streat and Robert MacDonald, also access the figure in very individual forms, which are reflective of contemporary trends.
Besides promoting cultural connections and reciprocal opportunities, the Welsh prints exhibition was distinctive for its radical approaches regarding concept and technique. It raised the notion that diversity needs to be kept alive and communicable in order to create new forms of synergy
Next