Miniature painting did not always enjoy the revered status that it holds today in the western world. In fact, there was a time when it wasn't even fully recognised as an art form. All that has changed in the past few decades, thanks to Shahzia Sikander, a graduate of the National College of Arts, Lahore (NCA), whose booming success in Europe and the USA paved the way for other miniaturists like Imran Qureshi, Nusra Latif, Ayesha Khalid, Talha Rathore, Usman Sayeed and many others. While a niche market for this art form always existed here, miniaturists are now being aggressively pursued by collectors and curators from all over the world, particularly those based in England and America.
A decade ago, the NCA was the sole institution churning out miniaturists by the dozen. However, in the last four or five years, miniature departments have sprung up in other colleges in the country and miniature painting is now a major area of study in institutions such as the Indus Valley School of Art in Karachi and the Visual Studies Department at the University of Karachi as well. Most faculty members teaching or heading these departments are NCA graduates, some of them renowned artists such as Sumaira Tazeen, who teaches at the Indus Valley School of Art.
Earlier this month, the VM Gallery, Karachi hosted an exhibition of miniature paintings by young graduates, titled, "Sensibility." Out of the nine participants, four of them, Aliya Yousaf, Ameena Raza, Fatima Emiko Shah and Javeria Kazi, were Indus Valley graduates, while Amra Mukhtar, Fariha Subhani, Naveed Iqbal, Sanya Arif and Sheema Khan were graduates of the Karachi University. The summer months, a lax period for most galleries, is a good time to give students and emerging artists an opportunity to showcase their talents.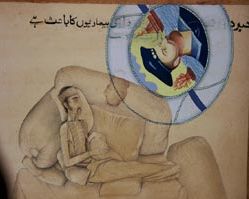 The exhibition was the usual offering of miniatures — some artists conformed to the arbitrary style and format, depicting romantic, dreamy cityscapes and interior spaces and scenes from imaginary or well known tales and fables, while others tried to push the boundaries of their craft and create a more individual language. Most of the artists' works lacked any thematic consistency and were still at an experimental stage. A variety of themes and techniques were explored to achieve different results, some of which were effective, while others failed to evoke much interest.
Aliya Yousaf, in an attempt to break away from the controlled format of miniature painting and "explore the randomness of the social, cultural, environmental and politically related concerns of our time," created uneven maps and grids with various symbols randomly scattered within and outside. Another Indus Valley graduate, Ameena Raza, painted a very quirky double self- portrait, with her reflection mirrored in water, the heads combining to form a sperm-like shape.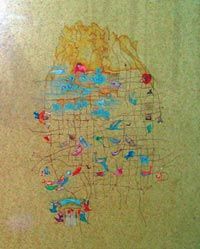 Sheema Khan, though slightly muddled and unclear about her concerns, created a couple of very bizarre and interesting images. In one of them, titled "Dying Inayat," we see the image of a dying man lying on a takht, layered over by the logo of Gold Leaf cigarettes. In another untitled image, beneath the portrait of Mumtaz Mahal, in an oval format, lurks a crouching man, probably a hypnotist or magician, holding severed goat's heads in each hand, making allusions to black magic.
The most noteworthy paintings in the show were created by Naveed Iqbal, whose work was on another plane as compared to his contemporaries. However, to be fair to the other participants, Naveed has had a lot more exposure than them; in addition to being a part of VASL's "Taaza Tareen" Residency in 2005 and the "Theera Artists International Workshop" in Sri Lanka this year, Naveed has also been teaching at the Visual Studies Department at Karachi University since 2004.
Depicting thirst, which to his mind is the thirst for power, Naveed created a series of politically loaded images. The most outstanding of his works was titled, "New Shapes of Thirst," a stark and hauntingly barren image with an assortment of empty bottles and jars and a tap emerging out of nowhere. Unlike his other works, also strong paintings in their own right, this image went beyond the subject matter and took on a life of its own, recalling the withdrawn, meditative quality of Italian artist, Giorgio Morandi's still lifes.
One of the problems faced by students studying miniature art is the time factor — because miniature painting is a slow and laborious process, it takes a lot more time to create a substantial body of work for the thesis display. Therefore, miniaturists devote a lot less time to conceptual development as compared to those majoring in painting and sculpture. Perhaps a minor in painting, as opposed to photography or print-making, should be recommended to complement this area of study.
Next