The 2008 polls saw as many as 64 women candidates, according to statistics provided by the Election Commission of Pakistan (ECP), competing against electoral opponents, both male and female, for 60 constituencies across Pakistan. The numbers had only slightly gone up from 2002, when 60 women candidates vied for the general seats of the House — a battle that has traditionally been fought by the male bastions of politics. And as the number of contesting women increased, so did the number of elected women candidates to the general seats of the National Assembly. There are now 17 women MNAs who have been elected on general seats.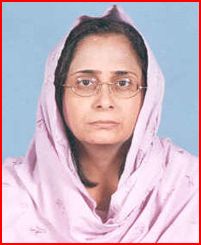 It is interesting to note that most of the elected women legislators are no strangers to the assembly. MQM's prime candidate in Karachi, popular TV host and educationist, Khushbakht Shujaat, is one of the new entrants into the coveted House, who secured 53,295 votes from NA-250, against PPP's Mirza Ikhtiar Baig among 10 others. She is also the only female winner out of five women fielded by the MQM. However, Khushbakht's electoral win is marred by rigging allegations from the opponent's side, and the ECP has ordered for a recount at some polling stations in the constituency. Two other first-time winners are PPP candidates, Rahela Parveen, daughter of former MNA Shehadat Baloch, who dislodged PML-Q's Raja Ali Khan Baloch from NA-78 (Faisalabad-IV), and Aseem Daultana, who bagged 49,172 votes from NA-168 (Vehari-II), beating former state minister for information technology Ishaq Khan Khakwani and PML-N Vice President Tehmina Daultana. Having suffered defeat in that constituency, Tehmina Daultana came around in NA-169 (Vehari-III), where she beat PML-Q candidate Aftab Khan Kachhi and independent candidate Saeed Ahmed Khan Manais.
The PPP fielded the highest number of women in the election race, out of which nine claimed victory. Among the forerunners in the PPP women candidates was PPP co-Chairman Asif Ali Zardari's sister, Azra Fazal Pechuho. Pechuho won from her longstanding constituency NA-213 (Nawabshah-I), where she secured 108,096 votes against PML-F candidate Syed Zahid Hussain Shah, earning the distinction of obtaining the highest number of votes among female candidates.
The constituency NA-111 (Sialkot-I) was won by PPP's Dr Firdous Ashiq Awan, whose victory ended the long rein of PML-Q candidate and former National Assembly speaker Chaudhry Amir Hussain. Hussain has been elected five times from this constituency before. Awan had earlier defected from the PML-Q to join the PPP, and had often been at loggerheads with the former speaker when he assumed the role of acting president at the time of his campaigning. His alleged clout in the government led many to believe he would win. However, the election outcome may have gone Awan's way owing to the sympathy vote following Benazir Bhutto's assassination.
Another PPP candidate, Hina Rabbani Khar, beat PML-Q's Khalid Ahmed Gurmani on NA-177 (Muzaffargarh-II). Khar is one of many who had followed the tide of defection from the PML-Q and jumped ship when she was refused a ticket from the party leadership. She later joined the PPP and has now defeated the candidate by her former party by obtaining 80,200 votes. Khar has worked in important government positions: she was the minister of state for economic affairs division and the parliamentary secretary for economic affairs and statistics.
PPP's Samina Khalid Ghurki won herself a second consecutive tenure in NA-130 (Lahore-XIII) with 44,691 votes. Ghurki had expected a fierce battle with her traditional rivals, the Diyals. But this time it was PML-N's Sadia Shabbir who gave her a tough fight, securing 41,041 votes, while Ashiq Diyal lagged behind with 12,813 votes.
In NA-225 (Badin-cum-Tando Mohammad Khan), Dr Fehmida Mirza of the PPP defeated PML-Q's Bibi Yasmeen Shah, bagging 88,983 votes. While PPP's Shamshad Sattar Bachani was able to retain her seat in NA-223 (Tando Allahyar-cum-Matiari ) with 84,669 votes, and Tasneem Ahmed Qureshi won NA-66 (Sargodha-III) with 69,943 votes.
PML-Q candidate Sumera Malik returned to the political forefront when she emerged victorious from NA-69 (Khushab-I) with 61,076 votes. Malik faced off independent candidate Umer Aslam Khan. Malik has served as minister for women development and youth affairs.
Ghulam Bibi Bharwana of the PML-Q retained her position in NA-87 (Jhang-II), where she beat Syeda Sughra Imam, daughter of Begum Abida Hussain, and Syed Asad Hayat, brother of former interior minister Faisal Saleh Hayat — both belonging to the same family. Bharwana bagged 63,515 votes against her influential opponents. Many attributed her win to the split in the family vote bank of her opponents. Bharwana has previously served as the minister of state for education.
Farkhanda Amjad Warraich of the PML-Q won the NA-92 (T.T. Singh-I) seat, bagging 68,858 votes.
Sumaira Naz of the PML-N downed another male political counterpart in NA-115 (Narowal-I). She defeated former health minister Muhammad Naseer Khan by almost 2,000 votes. Similarly, PML-N's Saira Afzal Tarar, daughter-in-law of former president Rafiq Tarar, was declared the winner from NA-102 (Hafizabad-I) after she beat traditional rival Shokat Bhatti, son of former parliamentarian Mehdi Hassan Bhatti.
Saima Akhtar Bharwana contested independently and won the NA-90 (Jhang-V) seat by defeating her longtime foe, PML-Q's Sahibzada Muhammad Nazir Sultan, with 64,789 votes. Bharwana had defeated Sultan in 2002 as well, when he contested as a PPP candidate. Later, she joined the PML-Q, but when the party awarded the electoral ticket to her rival, Bharwana went on to contest the election as an independent this year.
Going by the numbers and given the dim history of women's participation in politics, the performance of female politicians in the 2008 elections has been encouraging. But the fact that the female candidates were less than 3% of the total candidates running for general seats in the assemblies goes to show that there is still a long way to go before women can truly be represented.
Next