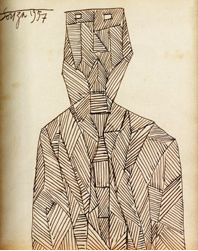 Aziz Kurtha's monograph, Francis Newton Souza: 1924 — 2000, Bridging Western and Indian Modern Art, is an acerbic volume best consumed in small portions. A quick flip through the first few pages is enough to make one realise that the artist is complex and the art disturbingly intense. The text, extensively researched and insightful, the picture plates lavish and professionally produced, reveal hitherto unpublished details and images of a compelling body of work. Intimate documentation of Souza's vast oeuvre through collection and faithful reproduction of 250 paintings accessed from largely varied sources may have been an arduous task perhaps but it is an effort that gives the artist a new life.
While acknowledged as the pioneer of Indian modernism, awareness and viewership of his work nonetheless has been very limited because he chose to work in the west. Born in April 1924, at Saligaon in the former Portuguese colony of Goa, India, Souza left the country for London in 1949 where he lived and worked productively for several years before moving on to New York. At the age of 77 he breathed his last while on a visit to Mumbai, in March 2002. In Pakistan, senior members of the art fraternity may recall Souza and his art but for the younger generation, only vaguely familiar with his name, this publication can serve the purpose of reinventing him. It also widens our own historical perspective on pre-and post-partition modernist art in the region.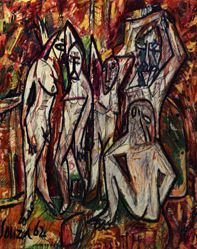 Aziz Kurtha's acquaintance with Francis Souza began in the early 1970s and he discloses that "The idea for writing this monograph came partly from Souza. He sent me notes on a few of his works which could be used as captions, and encouraged me to reproduce his works." A collector of Souza's works from those initial years, Kurtha remained in touch and followed developments in the artist's life closely. His profile examines him from different angles and through various phases of his life. But the text, inspite of its revelatory nature, is often over shadowed by the savage imagery of Souza's art. Not even the most hard-bitten viewer can contemplate this oeuvre without a degree of awe — a sensation not always identical with aesthetic pleasure. Souza has painted some bad, absurd pictures indicating 'the lazy aspect of his work' but among his good paintings some are so powerful, and in such a weird way that they utterly transfix the eye. His aggressive impasto and penetrating black outlines may restrain his expressionist flamboyance but at the same time emphasise his neurotic realism.
The vehemence and torment visible in Souza's paintings is corroborated by Kurtha's account at various junctures. Souza possessed some burdensome qualities which directed his art. He suffered from a serious drinking problem, was financially constrained and dependent upon stipends but it was, above all, his strong beliefs and uncanny vision that was responsible for the bizarre, the grotesque and the macabre in his art. Very early in life he had renounced Catholicism for Communism, igniting a life-long war with the clergy. In his personal writings, 'Words and Lines,' Souza wrote in 1955: "I can't differentiate good from evil, purity from perversity and all the nice little recipes for human conduct laid out in platitudes and sermons and if I could, I'd always chose evil and perversity, hell and brimstone, fornication and corruption. Perhaps God loves me but I don't know it."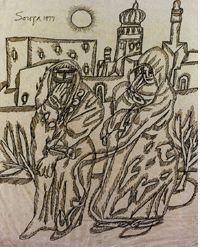 This predilection for violation was largely responsible for his aberrant art which was forcefully vented through his anti-clerical paintings. Kurtha tells us that it was "Souza's fascination with martyrdom, and the twin phenomena of pain and ecstasy that lay behind much of his paintings on religious themes." He was a tortured soul and the striking arrowhead struck in the neck of most of his subjects, especially priests, could well be a personal expression of pain — a thorn in his side.
Souza was inspired, at the beginning of his career, by South Indian bronzes and the relief carvings on the Khajuraho temples, especially the female sculptures. This was the beginning of the other major theme of Souza's work, the woman. The theme of a woman bathing and woman with mirror are frequent as is his, almost lewd, imagery of the old man and the young woman. He never attempted to make attractive nudes and while some may be pleasing to an extent, most are resplendent in erotic or horrific glory.
Another interesting aspect of the book is the detailed trace Kurtha establishes on works painted by Souza while under the influence of greats like Titian, Rembrandt, Chaim Soutine, Manet, Matisse and, above all, Picasso. His "Young Ladies in Belsize Park" is directly referenced from Picasso's famous "Les Demoiselles d'Avignon." It is this influence alongwith Souza's rather strained personal take on Expressionism that places his work in the western camp. However, he still maintained the strains of his Indian heritage and his work was eventually a synthesis of both, either overtly or covertly. Kurtha also takes pains to establish comparative equations between Souza's work and that of Francis Bacon, but while Bacon became a celebrated artist Souza's successful London years came to an end and he moved to the US.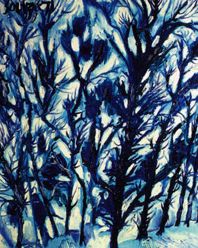 Critically acclaimed, this "profound iconoclast" was a tormenting combination of narcissism and nihilism. Kurtha remarks, "one could see in some of his works intimations of impending doom." He is also almost convinced that Souza will gain his rightful stature posthumously not just because art auction houses are now promoting Indian contemporary art but because, he points out: "His vision was graver and grander than most of his contemporaries and he was an artist who knew how to arrest you. His talents transfixed you and his passions, whether for painting, writing, sex, sin or against religious hypocrisy, were compelling. It may not be an over statement to say that the originality of his vision lifts him into the pantheon of the greatest painters of his generation."
It is worth noticing that Souza, an insider of the London art scene of his time, was never truly owned by the British as one of them and, ironically, inspite of his Indian origins, he never wholly owned India as his own. John Berger's assessment that his art straddled many traditions but served none is relevant in this context.