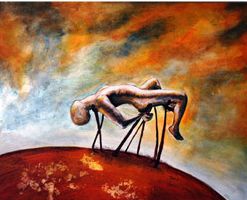 Since its inception, art exhibitions at Amin Gulgee's Gallery have been few and far between, but almost all of them qualify as quality shows. The present exhibition titled 'Artists Voices: Calligraphy and Body,' co-curated by Sheharbano Hussain and Amin Gulgee, is divided into two collections which are being shown independently, one after the other. The first focuses on calligraphy while the other revolves around the human figure. The curators' attempt to motivate the artists to 'engage' with these two apparently contradictory but conjoining themes, brings significant meaning to the display. The show should therefore be viewed and understood in context.
While new ideas have rejuvenated the miniature, other genres here are either languishing in apathy or subsisting on complacent art. Exhibitions like 'Artists Voices' serve as reminders to artists that fresh levels of inquiry are necessary for the growth and invigoration of art forms. Moreover, they also serve to direct a confused younger generation of artists towards an epicenter. The figure is an essential component of art and an infinite array of expressions can be related to it. Likewise, the possibilities of reinventing calligraphy, an indigenous art form, are manifold. In this exhibition, artists with established signature styles have made a distinct effort to engage with the two genres within the ambit of their own idioms, and without compromising their identity. Amin Gulgee and Athar Tahir are the only two artists in the exhibition whose original expression is script-oriented; for all the others it was a challenging exercise which they took on with aplomb.
Viewers familiar with virulent figurations in Tassadaq Sohail's art may need to look anew at his relatively innocuous rendition of 'Allah.' Similarly Moeen Faruqi has put aside his figurative vocabulary to construct his 'Alhamdolillah' in a geometric complexity of the square kufic, evoking European modernist, Mondrian. Riffat Alvi's spiritual odyssey and romance with earth pigments resurfaces in an installation of clay-moulded Arabic alphabets spilling out of a clay-crafted, divine book. Roohi Ahmed, a sculptor, chose to build her idea on parchment-like paper with the alphabet 'Alif,' a measuring unit in a script. Mehr Afroz, known for sombre, intense imagery has crafted an illuminating set of three boxed surfaces encrusted with mirrors in the centre to reflect the divine word. Shakil Saigol's scripted expression reiterates the name Faiz Ahmed Faiz, and Tapu Javeri's three-dimensional projection from the centre of his painting support is a distinct shift from his photo painting. While many artists stepped beyond their usual boundaries to initiate a relationship with calligraphy, some chose to incorporate it within the range of their established expression. Artists Lala Rukh, Noor Jehan Bilgrami and Sheharbano are known to evoke the metaphysical in their very personalised imagery, and for this show they chose to align calligraphy within the rhythms of their compositions. A host of other works like Nazish Attaullah's calligraphy on cloth, Anwer Saeed's on the body, and exquisite penmanship by Wajid Ali and Afshar Malik, have a novel stance which impacts the mind.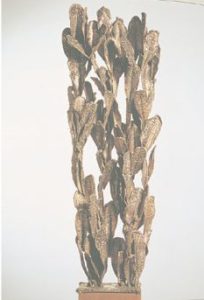 If the Calligraphy exhibition is eclectic, the Body show is more so. Artists play on the presence or absence of, and the symbolic inference or allusion to, the figure. Amin has opted to display an organic brass sculpture of plant origin with copper leaves titled "Eden Plant 4: Where is the Apple," as his take on the body, and Asim Akhter chooses to speak through a black and white photograph of a magnolia flower. An installation by Roohi Ahmed made from fabric, silk threads and lights mourning the loss of her mother, is a body and soul evocation while Sheharbano's exhumed form is another aspect of the inner body. Saeed Rehman's photographic print focuses on the body as a gender issue and Akram Dost's dismembered image reminds one of Picasso's portrayal of Dora Maar. Diverse use of materials and icons of popular culture also give definition to the objectification of the body. Adeela Suleman has assembled a sculpture using drain covers and screws and Auj Khan choses to critique a luscious ice cream advertisement with his C print called Magnumb.
By focusing on the psychological, personal, metaphysical and socio-political, the artists successfully break the myth that the body is just a physical decorative piece.
Familiar sounds of the Islamic world incorporated in a performance, video and sound installation by Shah Murad Aliani on the opening day further enlarged the scope and message of the exhibition. While the show underscores the need to innovate, a reminder of past experiments with calligraphy also need to be considered to place it in its true perspective. As early as the 1950s, artists like Shemza, Hanif Ramay, Shakir Ali and Rashid Arshed had begun infusing it with the modernist spirit. Prolific production by Sadequain, Gulgee and even Jamil Naqsh, carried this further. Today such exhibitions reiterate the fact that every age has to generate a spirit and level of engagement which is representative of its own time and cultural climate.
Next