Rather mystified by all the unwarranted criticism – and regardless of it – I liked Superstar. And I don't even like chick-flicks. The film is a fresh take on romance, packaged in a beautifully designed production that is directed by TV's ace director, Ehteshamuddin, who makes his debut in cinema. Set against the backdrop of some real-life incidents, meticulous attention has been given to every aspect of the film; hence the meaningful dialogues, the measured sequences, the tasteful humour, the exquisite sets, the tastefully glamorous wardrobe, and the memorable song and dance numbers. Even the paintings hanging on the walls of some of the living room sets are straight out of an art collection. While Ehteshamuddin excels, he is let down by the choppy editing in certain places which disturbs the otherwise smooth flow of the film.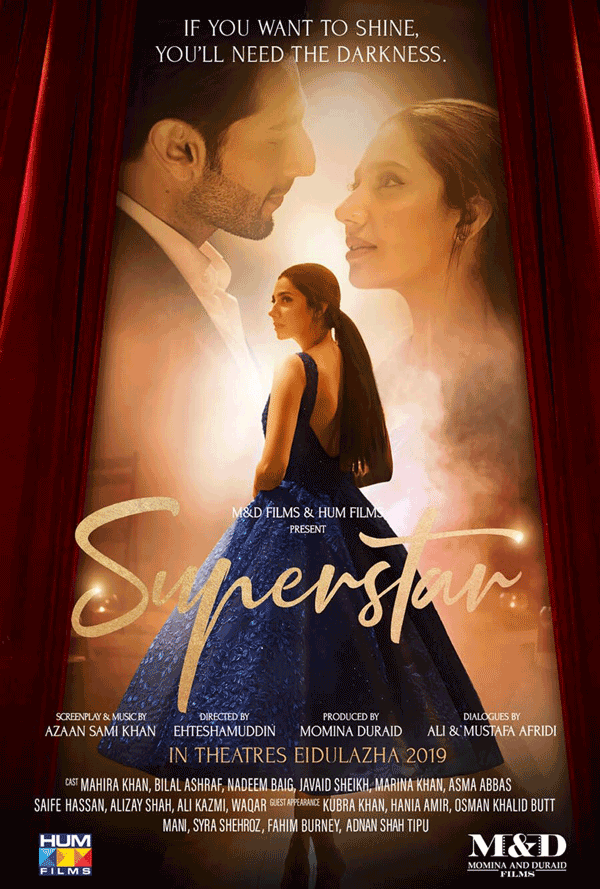 Beauty – and an actor's performance – lies in the eye of the beholder. I am no great fan of Mahira's but in Superstar, she has undoubtedly come into her own, and given a rich performance, full of nuance. In her role as Noor, she has exhibited a gamut of emotions, first as a struggling young theatre actress who gives regular performances at the Khawbgah Theatre, run by her uncle, Agha Jaan (Nadeem Baig), a veteran film director of yesteryears who is now relegated to directing plays, and later a star-in-the making who has been abandoned by her beau.   
With stars in her eyes, Noor patiently takes up working in commercials of dubious brands while waiting for her big break in films. When opportunity presents itself  – a commercial with Sameer Khan, the reigning silver screen heartthrob – her agent, who is a loyal friend, snaps it up and drops it into her lap. It's a mixed blessing because the ad in question is for a toilet bowl cleaner – reminiscent of an actual commercial starring a well-known TV actor, that drew guffaws from the audience.
Sameer arrives several hours late for the shoot, dampening Noor's initial excitement. He makes matters worse when he persistently distracts Noor from delivering her lines and ends up getting her fired from the set. Realising his mistake, Sameer makes it up to her and by the end of the commercial shoot, the ad director acknowledges Noor's talent.
Beguiled by her charms, Sameer traces Noor to Khawabgah with his close friend and aspiring film director, Shaan (Ali Kazmi), and both are stunned by her acting prowess. Shaan immediately decides to cast her in his debut film opposite Sameer. As romance blooms between the two, Noor is elated that she is so close to fulfilling her dreams – but just as quickly, reality strikes a crushing blow, shattering Noor's prospects overnight – and that of Shaan's as well. Sameer's disappearance without a trace – and reappearance three years later – without a hint of  remorse, hoping to pick up the threads of his relationship with his lady-love who he has not kept in touch with all those years, is a sticking point in the film.
Quibbles aside, Bilal Ashraf – looking his buff-best – gives a breakthrough performance as Sameer. He plays the handsome, easy-going, albeit ambitious, actor with a skyrocketing acting career.
It's not just the lead stars in Superstar who appear to have broken out of their respective shells. TV actor Alizeh Shah as Chutki, Noor's younger sister, gives an enjoyable performance as the star-struck, cocky, mischievous facilitator who jumpstarts Noor and Sameer's romance. Alizeh's role is the complete antithesis of her lead role in the drama serial Kunfaya Kun (now renamed Tu jo Chahay) as the weepy Mashal, who is totally devoid of any self-confidence. Hats off to the director for drawing out the best from his actors – perhaps it was the month-long coaching in theatre acting that some of the actors underwent which paid off.
Not in need of any lessons, veteran film actor Nadeem in his role as Agha Jaan plays an instrumental part in the second half of the love story, giving the film considerable depth.
Another striking feature of the film is its lilting melodies by singer/musician/actor Adnan Sami Khan's son, Azaan Sami Khan.
Despite cruel digs at the lead actress prior to the film's release and a few editing lapses, Superstar is certain to pull in audiences with its contemporary love story, which is intelligently told, and enjoy a successful run despite the many films released this Eid.  
The writer is working with the Newsline as Assistant Editor, she is a documentary filmmaker and activist.
Next