Many see the post-2014 India as antagonistic to the state's secular ethos. The election of Narendra Modi as the Prime Minister has created a Hindu nationalist India, where religious, ethnic and caste-based minorities are under siege, and where Pakistan is the ultimate scapegoat.
The hyper-nationalist wave orchestrated by the Bharatiya Janata Party (BJP) appears to have created a saffron-tinted lens for the Indian film industry over the recent past.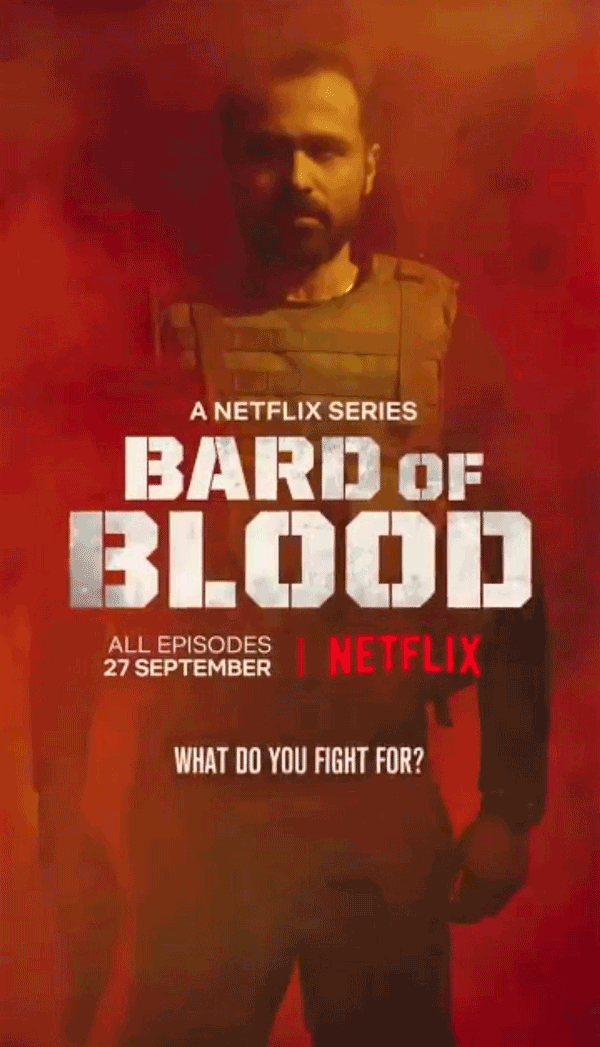 The earliest signs of hyper-nationalism under the current BJP rule came in the immediate aftermath of the Pathankot attack, in early 2016, that brought India and Pakistan to the brink of war. Hindutva groups protested against the presence of Pakistani actor Fawad Khan in the Karan Johar production Kapoor & Sons, released a couple of months after the attack.
September 2016 witnessed the Uri attack, a month after which another Dharma Productions film 'Ae Dil Hai Mushkil' – also directed by Johar and featuring Fawad Khan – was scheduled for release. Following a tumultuous summer in Indian-held Kashmir, where unrest had increased over the killing of Hizb-ul-Mujahideen commander Burhan Wani, and then the Uri raid, there was growing pressure on Johar to actually ban Ae Dil Hai Mushkil in India.
As a result, not only did the filmmakers have to alter the story which originally had a Pakistani character, and significantly chop down Fawad Khan's screen-time, Karan Johar had to release a video statement apologising for casting a Pakistani actor to ensure his film's release.
The depiction of Muslim emperor Alauddin Khilji alongside Hindu queen Padmavati in Sanjay Leela Bhansali's Padmaavat – formerly titled Padmaavati – also saw mass protests of radical Rajput groups across India in 2017, resulting in the film being released in January 2018, after a delay of several months.
Alongside these incidents was a visibly growing trend of Bollywood stars cosying up to the ruling BJP, and especially Prime Minister Modi. This was epitomised by the 'Modi selfie' with a Bollywood delegation in January this year, four months before the general elections. The selfie featured celebrities ranging from A-list superstars like Ranbir Kapoor, Alia Bhatt, Ranveer Singh and Varun Dhawan to actors with a fast-growing repute of portraying 'substance' like Vicky Kaushal, Ayushmann Khurrana, Bhumi Pednekar and Rajkummar Rao, to big banner filmmakers like Rohit Shetty, Ekta Kapoor and Karan Johar.
Bollywood's support for Modi in this year's election wasn't just apparent in photo-ops. Films like The Accidental Prime Minister and Tashkent Files directly attacked the Indian opposition party All-India Congress, which was shown as weak, indecisive and in shambles. The Accidental Prime Minister starred Anupam Kher, an ardent supporter of Modi and the BJP, in the role of former Indian Prime Minister Manmohan Singh, who is showcased as a puppet of the Gandhi family that rules Congress.
Movies like Uri: The Surgical Strike and PM Narendra Modi intended to glorify the BJP regime under Modi as well. Even though the latter's release was pushed by India's Election Commission till after the elections, it had generated sufficient noise on behalf of the Indian premier. The rallying cry, 'How's the josh?' from Uri: The Surgical Strike in effect became the BJP's war-fuelled chant during the elections where campaigns heavily featured Pakistan-bashing.
One of the India's biggest superstars, Akshay Kumar interviewed Narendra Modi before the elections, where none of the really critical questions were asked and the focus was on depicting a softer image of the Indian premier, with innocuous questions such as, 'Your favourite mango?'
With the hypernationalist tide sweeping India before the elections, the aerial dogfight between the Pakistan and Indian air forces in February, in the aftermath of the Pulwama attack, saw the ante being upped on jingoism.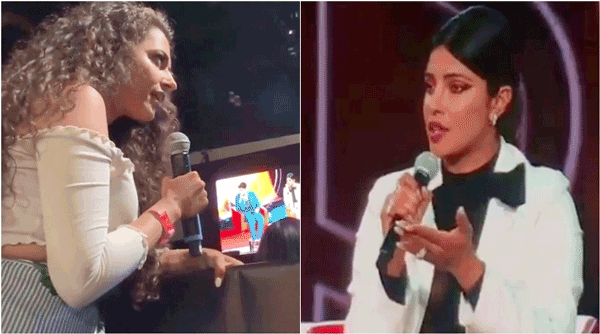 Among the many Bollywood stars cheering on the Indian Army was Priyanka Chopra, a goodwill ambassador for UNICEF. After the Indian Air Force's Balakot strikes, Chopra tweeted "Jai Hind #IndianArmedForces," which resulted in wide-spread criticism. The Indian actor was accused of 'supporting nuclear war,' first by a Pakistani-American, Ayesha Malik, and then by PTI's Human Rights Minister, Shireen Mazari, in an official letter to the UNICEF chief, Henrietta Fore. Pakistani-Canadian film actress Armeena Rana Khan also too took to Twitter to express her displeasure at Chopra's distasteful and condescending reply to Ayesha Malik's comment and criticised the Bollywood celebrity for her pro-war rhetoric. Khan, in her personal capacity, also submitted a letter to the UNICEF office in London, citing her concern at Chopra's appointment as their goodwill ambassador. While Malik was lauded for her courage in taking Chopra to task and Khan for voicing her support, Mazari was asked to focus on the various human rights violations in Pakistan.
Legendary Indian-Muslim actors such as Naseeruddin Shah and Amir Khan have underlined the growing intolerance in India and the rising anti-Muslim sentiment, only to be labelled 'anti-national.' And following the BJP's move to revoke Articles 370 and 35-A in Jammu & Kashmir in August, a further crackdown on dissent has been observed, as Bollywood plays the role of a cheerleader for the ruling party. Indian film actor Shahrukh Khan's Netflix series, 'Bard of the Blood,' couldn't have come at a more inopportune time. Khan's thousands of followers across the border are lambasting him for his anti Pakistan/Muslim series.
Pride of Performance recipient Mehwish Hayat, who has recently been making appearances on international news channels demanding fair representation of Muslims and Pakistanis in TV and cinema, voiced her concerns following the trailer release of Khan's new production. Hayat is of the opinion that the constant vilifica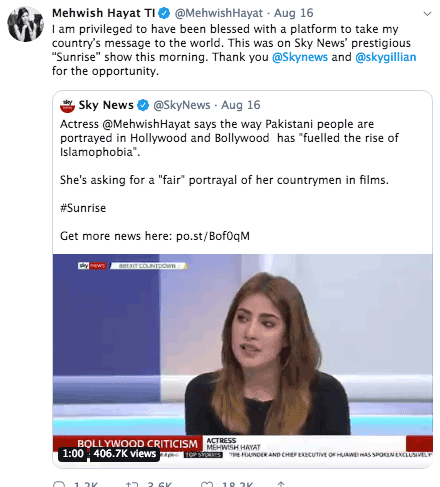 tion of Muslims in the media has fuelled the rise of Islamophobia around the world.
While it could be argued that Armeena Khan, Mehwish Hayat and perhaps Mazari too have their heart in the right place, the latter along with other Lollywood celebrities have been at the receiving end of serious criticism from their own countrymen. Both the human rights minister and local film and TV stars have been faulted for their misplaced priorities; while they rarely take a stand over the wrongs within Pakistan they are quick to target India. In fact, the local film industry is accused of being even more blatantly hyper-nationalist than Bollywood.
The 1990s and the 2000s – were the most regressive period for Lollywood – with the release of films such as Waar, O21 and Yalghaar which were accused of being highly propagandist.
Furthermore, it didn't take Pakistani films very long to cross over from jingoism to religious bigotry, as seen in the Moammar Rana-starrer Azaadi, released last year.
And just as their Indian counterparts are cheering on their ruling party and the army, Pakistani stars like Shaan Shahid, Hamza Ali Abbasi and, more recently, Veena Malik have been seen doing the same on this side of the border.
"Pakistani artists post statements to appear intelligent, relevant and socially conscious," says film and cultural critic Ally Adnan. "Very few, if any, have genuine feelings motivated by religious, political, social or artistic beliefs. They, almost always, make these statements to make news in social media."
"Sadly, the intellectual calibre, political sensibility and academic standing of actors in both Bollywood and Lollywood is not at a level where they would take a genuine and passionate stand against war and aggression. We are years away from producing a Susan Sarandon," he adds.
While Adnan says bigotry has significantly increased in India under the current BJP regime, he maintains Bollywood has long upheld hyper-nationalism, whenever it has been in its interests.
"Bollywood only wants to produce successful films which make a lot of money. It does not care about religion, art or politics. So, whenever the national climate is hyper-patriotic, Bollywood tries to cash in on jingoist sentiment," he says.
Indian commentator and columnist Koral Dasgupta, author of Power of a Common Man: Connecting with Consumers the SRK Way, agrees that this isn't a new trend in Bollywood.
"We have seen Sridevi ji, Rekha ji and Hema Malini ji picking up the khaki during '70s, when Indira Gandhi was inspiring Indian politics with a strong feminist leadership. Times change, expressions evolve, art resonates," she says.
Dasgupta urges celebrities to be silent unless they are qualified or authorised to speak on a subject. "Especially on sensitive issues – this applies to both sides. Many of the actors from either side may not have any clue about what they are talking about. Uninformed discourse is always irresponsible. It needs a lot of maturity to be unbiased, fair and conscious. I don't think Twitter has ever been a space for productive debates; they are impulsive and boost gossip content," she adds.
She further maintains that celebrities should steer clear of diplomacy: "diplomatic relationships are different from emotional relationships. It would be nice if artists were to disinvest themselves from diplomatic conversations and concentrate on building up their emotional narratives. Playing on the strength is wiser."
Ally Adnan, however, believes that artistes can play a major role in bridging differences. "In fact, their responsibility is greater than that of regular citizens because their celebrity affords them a more effective platform to speak, motivate and influence. People try to emulate celebrities and take their ideas, thoughts and beliefs. So the power to influence people, which is a consequence of celebrity, must come with increased social responsibility."
Next