Movie Review: Parey Hut Love
Loosely based on the British romantic-comedy Four Weddings and a Funeral, Parey Hut Love makes for a fun holiday watch with the family.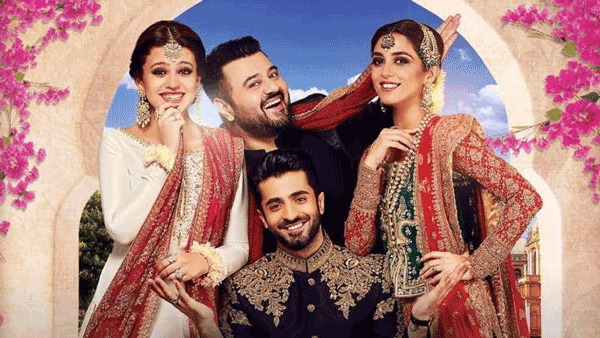 The film revolves around Sheheryar, played by Sheheryar Munawar, a commitment-phobic struggling actor, and Saniya (Maya Ali), a driven and headstrong graduate student. The two meet in Karachi at a cousin's wedding where song, dance and romance ensue. While the night is still young, Sheheryar takes Saniya out to explore the city; 15 minutes, two songs and some flirty banter later, the pair falls in love, making grand promises of staying in touch. But, Sheheryar's inability to keep a promise and truly commit to Saniya results in the end of their short-lived relationship and by the time the film's hero realises his mistakes, his lady love has moved on in life. However, their paths are destined to collide again, and this tumultuous journey of love is set against the backdrop of three more weddings and one far too Karan Johar-esque funeral.
Parey Hut Love combines all that Pakistanis as a nation are most excited about: weddings, weddings and some more weddings. And while it may be based on a British rom-com, it borrows heavily from films across the border. The conversation between Sheheryar and Saniya where they recite Faiz's poetry is far too reminiscent of the scene between Bunny and Naina in Yeh Jawaani Hai Deewaani and the overall cinematography – albeit picturesque – is essentially the same as every Dharma Production movie ever made.
Despite the all too predictable screenplay, the actors do the best with what is handed to them. Munawar, who has significantly improved, going from having the emotional range of a teaspoon in his TV debut Zindagi Gulzar Hai to successfully portraying the various shades of Sheheryar's characters as he finds himself change from a commitment-phobe to a man in love. He seamlessly transitions from an irritating immature boy to an often helpless and vulnerable young man you can't help but sympathise with. While the rest of the cast too have given noteworthy performances, Parey Hut Love is a Sheheryar Munawar movie through and through. Maya Ali too, as the strong, independent and every bit a modern Saniya in some parts and a demure daughter in others, shines in her character. However, it is unfortunate that her character does not have as much meat as her male counterpart's. The film's supporting cast is every bit as commendable: Zara Noor Abbas as Shabbo, a bubbly small-town girl, and Ahmed Ali Butt as Sheheryar's best friend, bring much needed comic relief to the film, courtesy Imran Aslam's crisp and punchy dialogues. Zara, even in her limited screen time, brings an inimitable energy to the screen. However, TV veteran Hina Dilpazeer is a caricature of a character, often times overdoing her bit as Sheheryar's unnecessarily loud and melodramatic mother. Nadeem Baig as Maya Ali's father, a writer from the golden era of Pakistani cinema, is a treat to watch. In an especially moving sequence, the ace actor narrates Munir Niazi's "Hamesha Dair Kar Daita Hun Mai," evoking an unsettling feeling within the audience as the film's narrative takes a serious turn.
The costume design and the music of the film are a treat. Umar Sayeed has done wonders with the wedding wardrobe. From the royal-looking red angrakha Mahira Khan dons in the melodic "Morey Saiyaan" to Maya Ali's trendy floral lehnga in "Hayee Dil Bichara," the women's costumes are every desi girl's dream. Azaan Sami Khan has emerged as the winner this Eid season. His compositions ranging from the peppy "Hayee Dil Bichara" to the romantic "Behka Na" and the soul-stirring "Zihal-e-Miskeen" add much needed depth and drama to the film.
With so much going for it – a stellar cast, chartbusting music, scenic locations, beautiful cinematography and costumes that could give Manish Malhotra a run for his money, it is unfortunate that Parey Hut Love's storyline left much to be desired and what could have essentially been the best film released this year ended up being all fluff and no substance.
A journalism graduate, Zoha's core areas of interest include human and gender rights issues, alongside which she also writes about gender representation in the media and its impact on society.
Next