A t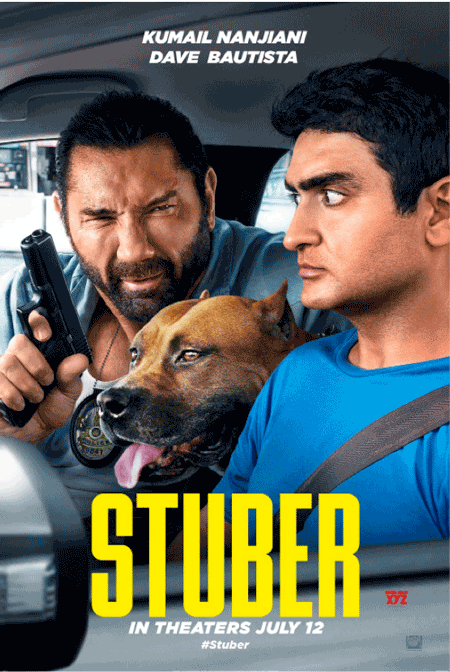 hrowback to a genre more common 20 years ago, Stuber is a cross between a buddy comedy and an action crime thriller. There is also a distinct subplot on the contemporary perceptions of masculinity man-splained by director Michael Dowse. The lead stars are polar opposites of each other and conflicting examples of masculinity: timorousness and toxic machismo.
In the action-packed prologue, Vic Manning (Dave Bautista) a LAPD detective, is in pursuit of a drug kingpin, Oka Tedjo (Iko Uwais), with his partner, Sara Morris (Karen Gillan). Both walk into an ambush and shootout that tragically ends in the latter's death. Six months later, Vic is still hell-bent on tracking down the gangster responsible for killing his partner, but he is nowhere close to finding any trace of him.
On the hottest day of the year in Los Angles, Vic undergoes a Lasik laser eye surgery to rectify his poor vision and is strictly instructed to avoid driving during his 12-hour recovery period. Incidentally, the same day he is also scheduled to attend his sculptor daughter, Nicole's (Natalie Morales) first gallery exhibition, so she installs the Uber app on his cell phone to make it convenient for him to attend.
Seconds after he leaves the eye surgeon's office, the nearly blind Vic receives a valuable tip-off on Tedjo's whereabouts and having no other choice, immediately calls for an Uber and Stu (Kumail Nanjiani), a polite, mild-mannered driver responds; trying hard to maintain his five-star rating by being extra amiable to his passengers, offering them bottled water, candy or an iPod. But despite his efforts, his ratings are on the verge of dropping and his financial future hinges on not losing his Uber job.
Barely earning enough at the sports goods store where he is employed, Stu is moonlighting, driving for Uber, earning the extra cash he needs to become a business partner of a gym with his college-crush and best friend, Becca (Betty Gilpin), for whom he harbours feelings and has never had the nerve to tell her.
Vic strong-arms a very nervous Stu into being his seeing-eye partner and driver for the day and embarks on a rampage to track down Tedjo. The increasingly alarmed Stu only thinks of how to ditch his passenger, whose bulldozer attitude is causing damage to his leased electric car and dragging him into a quagmire.
The roles seemed to be tailor-made for the lead actors: Bautista as the old-fashioned, action hero with a damaged alpha male ego, who hates asking for any kind of help, even at the cost of damaging personal relationships; Nanjiani as the sensitive, timid and befuddled Stu, who desperately wants to end his shift and run to Becca to give her his undivided attention while she is having an emotional crisis.
Thrown together, the mismatched pair are hilarious as they clash with each other through shootouts and car chases. The odd-couple chemistry between the brawny Bautista and the scrawny Nanjiani, and their excellent comic timing gives the action-comedy its edge. Equally hilarious are the scenes of showdown between the two in the sports goods shop and when a piqued Stu accidentally shoots a thug.
Incidentally, both men have problems that only the other can resolve and the film looks at the middle-ground between them. What drives the story is the relentless pursuit of the drug lord; the squabbling partners end up needing each other to succeed.
Of course no Hollywood comedy is complete without off-colour jokes and dialogue. Toning them down, along with some of the more violent scenes, would have made Stuber a refreshingly funny comedy, perfect for family viewing. Nevertheless Stuber is a fun combination in which the lead actors have clicked, making a strong case for future collaborations between the ex-World Heavyweight wrestling champion, Dave Bautista and Pakistani-American actor, Kumail Nanjiani.
The writer is working with the Newsline as Assistant Editor, she is a documentary filmmaker and activist.
Next