"It's my homage to the old masters," Irfan Hasan says of his latest exhibition of portraits, titled After, at the Canvas Gallery. Drawing inspiration from the Renaissance period as well as the works of more contemporary artists, Hasan's works are a nod to all the greats of Realism, from Leonardo da Vinci to Lucien Freud.
When Hasan speaks about his art idols, it is with an infectious enthusiasm. But, despite the fact that he is painting other people's subjects, the exhibition feels personal. This is because Hasan is not just recreating works of the past, but going back to his own roots as an artist, which gives the exhibition a more intimate feel. After is as much about his idols, as it is about himself.
When he started out as a painter, the Karachi-based artist and current faculty member at the Indus Valley School of Art and Architecture, says that he would buy portrait books of the "old masters" and reproduce their works, to develop his own skill and to better understand human flesh and anatomy.
The portraits featured in the exhibition are 'copies' of the artworks of other famous artists from the past, with Lucien Freud's self-portrait, Hans Holbein's Henry VIII and Dirk Bout's world-weary Christ all making an appearance. Some may find the concept 'uncreative' or lacking in originality, but that would be an unfair assessment, since the works aren't duplications, in any case, but reinterpretations, that vary from the originals in many ways.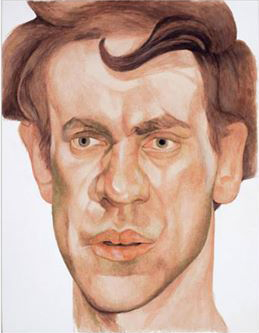 For starters, Hasan uses watercolour as his medium of choice, as opposed to the traditional oil on canvas, which gives the paintings a more sensuous appearance. He also employs a more localised, Indo-Iranian miniature style, and in the case of the 'Chronicles of Portraiture' series, uses a set of inkjet prints on archival paper — something popularised by the likes of Andy Warhol and Roy Lichtenstein in the West, but still discouraged in Pakistan, he feels — with one, original hand-painted piece.
Moreover, the exhibition is more about style than substance. That is not to say the works don't 'say' anything, but simply that the subject becomes secondary when appreciating the finer details in the creation of the painting.
Though Hasan credits Leonardo da Vinci as his main source of inspiration, the first thing that comes to mind when stepping into the gallery are the contemporary sculptures of hyperrealists such as Ron Mueck and Evan Penny. The paintings have a three-dimensional quality, and to get a sense of just how minute and life-like the details on the portraits are — the play of light and shadow which forms each crack, crevice, freckle and wrinkle on otherwise smooth complexions — one has to see them up close, in the flesh.
Many of the faces, that are almost mask-like in texture, have a line of water-paint dripping downwards, which looks as if the skin is melting — or perhaps that the artist is leaving a unique signature. In 'After Anthony van Dyck-4,' the two bald heads of Cornelis van der Geest are connected, forming what looks like a bumpy terrain. A tree branch shoots out from one of them, as the eye and the rings around it resemble a tree's hollow, highlighting the 'organic-ness' of his works.
In 'After Dirk Bouts — 1,' a long-haired Christ appears with his hands clasped together. His eyes are tired and the crown of thorns is replaced with a Maoist star. "It's a socialist Jesus," says Hasan.
One work that stands apart from the rest is a video clip inside a thick, gold-rimmed frame. Two animations of his portraits are depicted on screen as wisps of smoke or water droplets. Like a puzzle beginning to make sense, the droplets come together, only to disperse again in splashes. Despite the quick movements, the animation has a soothing, meditative quality to it.
"I'm trying to upgrade my work and introduce more mixed-media," Hasan explains. "Rashid Rana has been a big influence. He's one of the founders of the new media in Pakistan; previously, no one — other than a few diasporic artists — were doing it. He's a pioneer." Hasan is very obviously in awe of a local 'master,' who is making waves, both at home and abroad.
This review was originally published in Newsline's May 2014 issue.
The writer is a journalist and former assistant editor at Newsline.
Next