Cover Story: Cracks In The Media
In the early evening of April 19, veteran journalist and Geo News' lead TV anchor, Hamid Mir, landed in Karachi to record a special transmission — something he had done numerous times in his long and storied career. But little did he know what was in store for him on this day.
As his car passed under a bridge over Shahrah-e-Faisal near the airport, an unknown gunman fired nine shots from a 9mm pistol aiming at Mir, who was sitting in the passenger's seat. Six of the nine bullets found their target, and Mir's driver revved up the car's engines and sped towards Aga Khan University Hospital (AKUH) where he was immediately rushed to an operation theatre.
As Mir fought for his life, Geo News immediately went on the offensive, condemning the brutal attack on one of their own. It aired a pre-recorded video message of Mir. This video had been entrusted to Amir Mir, Hamid Mir's younger brother, with the instructions that should anything happen to him, the video was to be aired to the public.
In the video, Mir claimed that he had received threats from Pakistan's intelligence agency, the Inter-Services Intelligence (ISI). In the event that something happened to him, they were to be held responsible, he said. Mir's brother, Amir, soon released a statement echoing the allegations. But it didn't end there. Geo News flashed DG ISI Zaheer-ul-Islam's picture alongside the allegations. Things slid downhill from there.
As Mir lay in critical condition, concerns over his health that had captured everyone's attention and stoked tempers, had changed dramatically to a brewing media war. Within hours, a clear divide had emerged.
The ISPR immediately issued a statement condemning the attack and objecting to the allegations levelled against the ISI and its chief. On the other hand, it took the government 48 hours to issue a response — albeit an apparently reluctant one — which came from the ministry of defence in the form of a letter addressed to the Pakistan Electronic Media Regulatory Authority (PEMRA), seeking the revocation of Geo News' licence and calling for action against its editorial team. The volcano that was until this point only threatening to erupt, finally erupted.
But it was not the government's response that caused the furore. It was the line that various media groups and journalists subsequently adopted that took the media by storm. Battle lines were drawn. Two groups had emerged: One called for strict action against Geo for tarnishing the image of a national institution. This group welcomed the letter and supported the shutting down of Geo, while labelling it as "anti-state." The other side maintained that this was a blatant attack on press freedom and called out the other side as being pro-establishment. Both sides were seen to be "plugging" agendas.
Subtle undertones no more, the content of news bulletins, editorials and talk shows became coloured with personal and political rivalries. The media stood divided. But was there ever such a thing as a united Pakistani media?
According to various senior journalists, the rifts have always existed. There was always a divide, but the way it manifested itself this time around shows that it has spiralled out of control. There are groups within groups. Journalist associations are at odds with one another, as are working journalists, who have personal scores to settle.
"It is an ominous situation," says Talat Aslam, editor of The News. Those who stood united, at least when a member of their fraternity was attacked, don't do so any more. "Petty jealousies and egos have prevented channels from taking names of other channels when they've been attacked."
Kamal Siddiqi, editor of The Express Tribune told a similar story. "When the attacks were on us, we felt the division more," he says. "Very few turned up at the Press Club for the protest when our staff was attacked." Unfortunately, the news media has come to embody much of what it criticises others for. The popular phrase 'laashon pe siyasat' used excessively for politicians is not too irrelevant for the media today.
The view that corporate media is responsible for fanning flames of discord is gaining momentum these days. Channels and newspapers, people believe, are being run as personal fiefdoms and employees are being used as tools in that effort. Kashif Abbasi, an anchor for ARY News says, "Personal battles are being fought at the expense of journalism."
The growing belief is that personal rivalries and the political leanings of media owners are responsible for much of the agenda-setting and narratives found on television and even in print. There is unanimous acceptance of the notion that the professional editor is an "endangered species" on its way to extinction.
Azhar Abbas, president and CEO of Bol  News, says that while the business arms of organisations have a role to play in the overall policymaking, the problem arises when, "it gets involved in the day-to-day, hour-to-hour affairs, which undermines the role of news directors."

While the degree of involvement varies from organisation to organisation, it is a significant driving force today. According to senior journalist and political commentator, Talat Hussain, "TV is a bigger investment so the management will not sit idle. But managing TV hands-on is one thing and directing news flow, quite another."
"What we are seeing here, is the death of professional journalism," observes, senior analyst, Zahid Hussain. "Opinion is being presented as fact. Opinion should be featured on the op-ed pages, not on the front page as news." The distinction between news and opinion has been blurred.
Abbas attributes this to loose editorial control. "On television, there is news and then there is the presentation of it," he explains. "The handling is important — to what extent do you project something." Talat Hussain elaborates this point saying, "Balancing mechanisms are important. When you run a story, some basic principles must be applied: sourcing, the other side's point of view and how it is presented."
What's missing, most experts say, are strong editorial controls, internal systems and clear policy lines. And in the absence of these, along with the threatened institution of the editor, what is being presented in the name of journalism is eating away at its very core.
And while the business arms may be responsible for the lack of professionalism, another disconcerting side of the media is the close ties between journalists,  and the agencies and political parties they are supposed hold accountable.
"Political and military elements have acquired people within media groups," says columnist I.A. Rehman. Speculation regarding journalists being on the payrolls of agencies or toeing a certain line has always been attached to the media and those within it.
But this particular incident, says Aslam, "has exposed who is speaking on behalf of whom — some we knew of, others have come out of the closet."
Today, condemnation gives way to suspicion, unity to opportunistic point-scoring. The media, whose fundamental job is to act as a watchdog and shine a light on instances when those in power abuse that power, is now stooping to the same level as those whom it is supposed to keep in check.
"It's tragic; the unfortunate and deplorable attack on Hamid Mir should have united rather than divided," says Abbas. "Senior editors should have taken a stand instead of allowing divisions. Yet, journalists are not thinking beyond their organisations."
"Everybody is fighting their own fight," adds Asma Shirazi, anchor for Dawn News. "Proxy wars are being waged through the media." As a result, the debate now centres on keeping the 'monster media' in check.
Part of this problem was created by the government's lack of response. When the allegations were first levelled against the ISI and its chief, the government remained mute. This silence raised questions. Why didn't the government 'rise to the defence' of its premier agency? Many felt this stand was rooted in the on-going civil-military conflict. While Prime Minister Nawaz Sharif paid a visit to Hamid Mir, and army chief Raheel Sharif to the DG ISI, it was not till 48 hours later that the government responded officially.
According to lawyer and columnist, Babar Sattar, "The government should have condemned the attack in the strongest terms, promised to conduct a thorough investigation in accordance with the law, promised to take into account the concerns of the victim and his family, and then stated that everyone is innocent until proven guilty. They should have said that presumption of innocence attaches even more when the person involved is a public official and warned that it will tolerate no media trial of the head of a vital intelligence agency pending the outcome of the mentioned inquiry/investigation. That would have struck the right balance."
Had the situation been countered with an immediate and level-headed response, it may have stemmed flaring tempers. Instead, a delayed reaction meant that by the time the government responded, people had already made up their minds about who stood where, and who supported whom.
While there is agreement that the ministry of defence was well within its right to file a complaint, seeking to revoke Geo's licence is an excessive demand to some. Geo clearly "crossed a line" in its handling of the attack and allegations, however calls to shut it down are something to be wary of.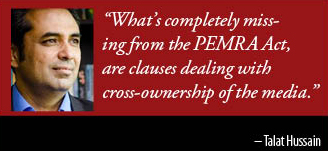 "If Geo goes, we will all go," says Abbasi. But this isn't quite registering with media personnel endorsing the revocation of Geo's license. By focusing on the immediate and short-term goal of score-settling and bringing down an arch-rival, the threat it poses to media freedom as a whole is lost on them.
The role of PEMRA, too, has come under scrutiny. "Where was PEMRA when all this was happening?" asks Shirazi. While some feel PEMRA should have put a stop to what was happening, others say it is a toothless body, heavily influenced and lacking independence.
"If you are asked to act and have tobe stirred into motion, then how can you be independent?" asks Abbasi. According to Sattar, PEMRA enjoys no regulatory autonomy. The idea of having independent regulators, he says, is to ensure that no one can influence its actions. It also ensures that when a regulator does take action, it has an inherent credibility attached to it.
"Here we have PEMRA essentially for purposes of barter — to strike deals between media houses and the ruling interests," Sattar observes."We need an overhaul of PEMRA and then have it meticulously enforce the code of conduct, instead of carrying out witch-hunts or cutting deals."
But by far, one of the most important and overlooked issues concerning all of this is cross-ownership. "What's completely missing from the PEMRA Act, are clauses dealing with cross-ownership of the media," explains Talat Hussain. According to him, regulating market forces — which is the job of a regulator — is currently not part of the law. It is the regulator's job to ensure that a level-playing field is provided to all actors, he maintains.
Today, the media is about power politics. Media organisations have become intoxicated by their ability to play the kingmaker and make or break governments at their whim. And unless the media as a whole does not wean itself of that high, stringent controls will be placed on it from outside and from above, warns Zahid Hussain. The business arms of these organisations will need to take a step back and restore editorial control back into the hands of the editors. Failure to do this will only come back to haunt them, as sooner or later, the power some now wield so recklessly will be reined in by force.
"We need to go back to basic journalism," says Abbasi. We need to go back to the fundamentals, which is to present the facts in an objective and impartial manner.People need to stop handing out "treason certificates" say Abbas and Shirazi. The labelling of people as 'traitors' or 'agents' also needs to stop. As I.A. Rehman says, "People need to come down from their ideological pedestals. This matter should not be decided by emotions. There needs to be accountability on both sides — media and state institutions."
Too often, national interest and image have been used to prevent accountability. The question is: Where does one draw the line between damaging national interest and the reputation of state institutions, and holding them accountable? Sattar's contention is that, "We will have to err on the side of accountability in striking the right balance between secrecy and accountability. We need to subject our doctrine of national security/national interest to a fundamental rethink to determine if such a doctrine has actually promoted the security of the average citizen, for that is the purpose of a national security doctrine: enhancing the security of citizens and not the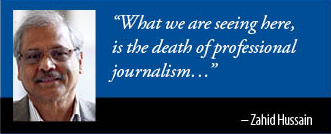 impunity that national security institutions enjoy."
Pakistan's worst kept secret is that the ISI has played an active role in influencing politics. This role, it is believed, has been extended to the media as well. The perception that mouthpieces are strategically placed within media groups to do their bidding is a commonly held one. And those who refuse to toe the line are threatened with dire consequences. Journalists accusing members of the ISI of threats, abduction and torture of media persons is also nothing new.
During the Senate session on April 21, senators were of the view that a media trial of the ISI and its chief was inappropriate. At the same time, there was also a view that the ISI should clear its name by cooperating with the probe into the attack on Hamid Mir. While cautioning that one should not jump to conclusions, the Leader of Opposition, Senator Aitzaz Ahsan, remarked in his speech: "The ISI has a chequered history." MQM Senator Nasreen Jalil suggested that the ISI accept the allegations as a challenge and assist in the investigations to clear its name.
The rush to lay the blame at the ISI's doorstep comes with the risk of overlooking the involvement of non-state actors in attacks. The media has not exactly been spared the wrath of political parties. And the most recent and emergent threat is the Tehreek-e-Taliban Pakistan (TTP). Responsibility for the attack that claimed the lives of three Express Media group staffers in January 2014 was taken by the TTP.
Following the January 2014 attack (which was the last of the three attacks that took place in quick succession),The Express Tribune issued instructions to its writers to "tone down" their criticism of militant groups. This invited fierce criticism from various sections of the media. Responding to some of it, its editor Kamal Siddiqi wrote in a column for Outlook magazine: "After the attacks, we looked at our policy on the comment and opinion pieces. On some occasions, we felt contributors went overboard. We did not stop reporting on militant outfits. We did not censor incidents… While we have a duty to inform our readers, we also have a duty to our colleagues to not put them in unnecessary danger… I have repeated time and again to colleagues that no news story is worth the death of a journalist. Stories cannot be killed. But people can."
Whether this decision was right or wrong is another debate. Whatever positions on this may be, the fact of the matter is it shouldn't boil down to saving a story versus a human life. In preserving the freedom of the media, ensuring the elimination of threats — be they from state or non-state actors — is essential. Otherwise, more and more groups and journalists may resort to self-censorship.
In the debate over accountability of the media and state institutions, the protection of journalists remains a moot point, says Talat Aslam. Who is responsible for the security of journalists? To what extent is the government responsible, and how much of that responsibility rests on the shoulders of the owners?
According to Sattar, it's difficult to protect all targets in society, which includes journalists. But media houses should be responsible for providing private security to their staff/buildings, which hardly exists for now. "The government has the prime responsibility of investigating sources from which the threats emanate and neutralise them. It must start by looking at the attacks that have already transpired and bring closure to them by finding the culprits and trying them," he says. "But without reducing the ability of violent groups to carry out attacks, these things will keep happening."
Abbasi, though, believes that journalists should not accept government security. "This is the kind of VIP culture we criticise politicians for and stand against, so we cannot endorse it as journalists," he says. "But what I do expect is a secure office environment, insurance for employees, and basic things such as flak jackets for reporters. What we also need is security training — what to do and how to react when faced with a certain situation."
Given the escalation in the attacks on journalists, PML-Q Senator Mushahid Hussain proposed the formation of permanent standing committees of the National Assembly and Senate, on journalist safety, to address this on a continuing basis. The Senate session also brought up the need for transparent investigations and making commission reports public, which presently is subject to the discretion of the federal government.
The irony in the firestorm about media wars, state institutions and journalist safety is that, as Abbasi rightly points out, "We've forgotten a person was attacked! Where is Hamid Mir in all of this?"
Just like Mir is regrettably accorded a passing mention, there are others who have simply been forgotten. Numerous journalists have been attacked and many have lost their lives. According to a report by Amnesty International, some 34 journalists have died in the line of duty in Pakistan since 2008. It's very well to recognise them as heroes when they get attacked. But the question is: Why should they be attacked in the first place, for doing their jobs? If things are to change it is imperative that media owners and state actors undertake and fulfil the demands of their role in society. And for that to happen, media owners and state actors will need to curtail their excesses first. It's easy to point fingers at others, but every once in a while they need to take a critical look at themselves.
This story was published in Newsline's May 2014 issue.
Farieha Aziz is a Karachi-based journalist and teacher. She joined Newsline in 2007, rising to assistant editor. Farieha was awarded the APNS award for Best Investigative Report (Business/Economic) for the year 2007-2008. She is a co-founder and Director at Bolo Bhi, an advocacy forum of Digital Rights.
Next