As London, Paris, Milan and New York geared up for their respective fashion weeks, the Pakistan Fashion Council organised Fashion Pakistan Week (FPW) Spring/Summer 2014. The three-day event proved one thing: When Pakistanis do things well, we do them really, really well. And if the rest of the world isn't taking notice, they're missing out on something extremely exciting.
Day One
Kicking off the show was the man-of-the-moment Hassan Sheheryar Yassin (HSY) — who, as always, did a stellar job in choreographing and co-hosting the event as well — with a serious, snakeskin-themed assortment titled Venom. The collection, almost entirely in black and gold, had geometrical designs and reptilian patterns paired with black beads.
Next up, right after an impressive display of their works by students of the Indus Valley School of Art and Architecture, was Lala Textiles, who marked their debut at FPW with their brand ambassador, the ever exclusive Iman Ali. Other than Iman, another favourite who had flown in from Lahore was the lovely Noor Bhatti. However, despite the star-power that they brought and the gypsy-chic feel to the prints, it received a lukewarm response from the fashionistas present.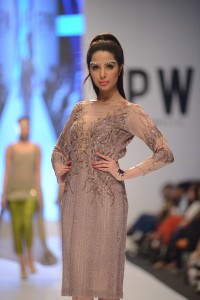 Similarly, Aamna Aqeel's spunky collection received a mixed reaction. While some found the collection to be too "scattered" and lacking in theme, I personally loved how each piece was so unique and different from the previous one.
Unlike the previous two acts, everyone agreed that few designers pull off white as well as Nida Azwer, as was evident with her 'Arabesque' collection – pure fabric silhouettes accentuated with gold and silver embellishments.
Deepak Perwani closed the first session of Day One with his western-wear line. Mostly using silk, the collection was a mixture of sleek, semi-formal and formal wear — flowy dresses and skirts, light jackets and cropped cigarette pants and dangerously thin stilettos.
After a break, the second session kicked off with Levis, a brand one doesn't expect to see at a fashion week. However, the audience was pleasantly surprised by the youthful freshness of Levis' 'California-cool' denim-wear, and also by an appearance by model and director Adnan Malik.
Zainab Chottani, who is perhaps best known for her bridal wear, proved she is equally gifted when it comes to pret. Her collection was elegant, hip and extremely wearable. The designer made rich use of colour, with delicate embroidery and black-and-white checks being a recurring feature
Adnan Pardesy closed the first day with a modern, streamlined collection with traditional, rich and highly intricate gota work.
Day 2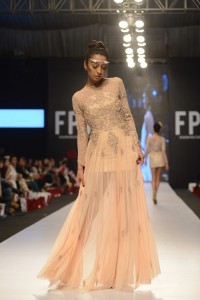 The second day opened with Fahad Hussayn's Aristo-Ararchy, his collection of well-structured and elegant outfits in pastel shades, with tasteful embroidery and digital prints.  Dramatic was the use of origami storks to highlight the models' eyebrows.
The Tony and Guy segment, choreographed by Frieha Altaf, had designer Maheen Karim's couture collection and showcased hair trends. Cute and coy Ayesha Omer, the show stopper in a black gown, looked like a house on fire with flaming red streaks in her hair.
Models, in trendy jackets and chic trousers by eminent designers Sania Maskatiya, Sara Shahid and Sanam Chaudhri and holding placards that read 'Blink Big,' 'Viva Red' and 'Fashion Rules,' were part of the Maybelline Trends show. Pink, maroon or red lipstick; brown cheeks or pink; poker straight hair or wavy curls — take your pick, as it's all in on Maybelline's fashion meter.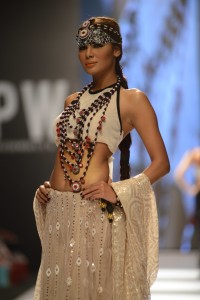 Nauman Arfeen's Haute After Dark collection, featuring the menswear line, in chocolate brown and royal blue/black collection was a striking east/west fusion of suits and sherwanis along with Jodhpur style pants/pyjamas. This gentleman is distinctly stylish and his show stoppers, Deepak Perwani and HSY, wowed the audiences.
The high point of the second day was most certainly Inaya's rillicollection, which was truly engaging. Naushaba Brohi's unique style was a knock-out visual feast of an ethnic crafts interwoven with contemporary cuts to create a magical and mystical effect. Using a hint of orange, red and beige in the rilli borders of her outfits, she heightened the impact of every piece. Steeped in Sindh's rich tradition, Brohi is a designer to watch out for.
Next, female models dressed in prints in Sync with the Jafferjee logo, displayed the new leather merchants, mostly black and white, with the occasional orange, red and green. The travel bag, being pulled by a male model, was rather eye-catching. Straps in psychedelic colours around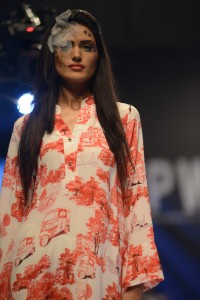 the wrists and ankles of the female models co-ordinated well with the leather range.
Maheen Khan's Kolachi collection, presented under the Gulabolabel, was fun and funky. Digital prints of Karachi's topography on white, interestingly informal silhouettes and cute bags won the day, in Maheen's memorable tribute to Karachi.
The finale of the second night was Shamaeel Ansari's Tughracollection. Unlike her earlier Kashmir and Persian-inspired range, this one took its inspiration from Turkey's Iznik tiles. And, as always, Ansari did not disappoint.
Day Three
From the Far East to the far out, a range of influences and a varied colour palette of cool and warm hues could be seen on the runway on the third day.
First up was Tapu Javeri, with his Tapulicious handbag collection. The man who could be seen behind his camera during the first and second day was now centre-stage himself, as models wearing Kamiar Rokni, HSY and Mohsin Ali carried Javeri's designs. HSY, whose face was etched on one of the bags, also made a surprise appearance as one of the models. Javeri mentioned that he was inspired by art trends around the world, and the collection included everything from Mondarin-styled colour blocking to animal prints.
From the more commercial (and easier on the pocket) prêt wear, Daaman was definitely the most impressive, with an extremely wearable light cotton collection in cool, summer colours, proving that comfort doesn't have to be compromised when it comes to style.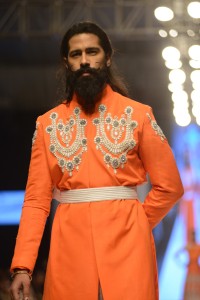 There's a reason why Gul Ahmed remains the king of kapra. The digital silk and lawn prints, draped on the bejewelled models with their matha pattis and other gold trinkets, exuded a regal splendour. Royal blues, deep purples, metallic silvers and oranges dominated the collection.
Lemon, orange and peach are not just fruits; they were the three most dominant colours on this year's runway. Pakistani fashion's blue-eyed boy, Ali Xeeshan, who has been the talk of town ever since he showed at the Sindh Festival, mesmerised with his collection inspired by what looked like a mix of the Far East, India and Buddhism. For Xeeshan, orange is is indeed the new black. With kitsch Bollywood tracks likeJumma Chumma De De (it was a Friday, after all…) blaring, models sashayed down the ramp in flowing robes and neatly tailored cuts. It was an exuberant, fun collection, and Xeeshan seemed to be having a great time, too, as he took a bow dressed as a Buddhist monk himself.
Wardha Saleem, on the other hand, moved away from her customary bright colours, to work with a more subdued colour palette. It may have been a 'safer' ensemble than many of the others that were exhibited that day, but it stood out in sheer elegance. Like HSY and Perwani, Saleem adopted reptile-like patterns for many of her designs in soulful browns, warm golds and deep maroons.
Faraz Mannan's pastel collection was subtle, understated, and stunning to look at. While it's tough choosing a favourite, Mannan's sophisticated and feminine formal-wear collection with delicate kaamwould definitely figure somewhere at the top.
Listen up, girls. Women's month is around the corner, and designerMahin Hussain has a message for you. With the DJ playing Beyonce'sGirls, and an obvious theme of women's empowerment – models wore large hoop earrings and placards on their body that screamed 'LISTEN' and 'GIRL' – Hussain's latest collection of handbags and accessories, inspired by the poetry of Parween Shakir, won over the audience.
Kayseria's lawn was perhaps the most 'rooted' in the land. Evidently taking inspiration from the Thar desert, Kayseria's Magic in Print was magical in person too. Neha Ahmed, the dusky beauty with bangles covering her arms, who could easily pass off for a Thari woman, blew yellow rung in the direction of the cameras.
As the clock hands approached closer to midnight, audiences eagerly awaited the final act by Nomi Ansari. Just in case anyone had been dozing off at this point, this next collection was sure to wake them up. Neha appeared in a miniscule, metallic dress and an 'out-of-this-world' mohawk, followed by other dystopian punks, gothic prom queens, fading stars with beehive up-dos and Lennon glasses and various other creatures from some science fiction/fantasy realm. Most of the clothes may have been utterly un-wearable, but the festiveness of this act was a fitting closure.
All in all, save the minor delays in timings and some confusion with seating arrangements — regardless of how civilised one looks, claws come out when it comes to guarding a front row seat and protecting freebies from fashionable pick-pockets — FPW showcased a perfect medley of commercial and couture wear.
Additionally, the models have never looked better. All credit goes to the stylists who were responsible for hair and makeup: Saba Ansari and her team at Sabs (Day One), Raana Khan and Depilix (Day Two) and Nabila's team at N-Pro and N-Gents (Day Three).
Photographs by Tapu Javeri
This article was originally published in Newsline's March 2014 issue.
The writer is a journalist and former assistant editor at Newsline.
Next