The last month witnessed a flurry of activities involving the National Accountability Bureau (NAB) — including the filing of three references and a string of arrests — in regard to the fake bank accounts and money laundering case.
As evidenced by these events, the NAB now seems set on rounding up the big fish, the small fry, as well as some carrion. Those in this list include business magnates, such as Omni Group patriarch Anver Majid and his son A.G. Majid, former Summit Bank chief and Karachi Stock Exchange (KSE) chairman Hussain Lawai, businessman Younus Kidwai, sugar mill owner Dinshaw Anklesaria, and Nadeem Hakim Mandviwalla. Bankers have also been picked up, including the relationship managers of one of the banks where these fake accounts were opened. Then there are the "minions," as referred to by the joint investigation team (JIT), small-time employees who either served as cash mules or, unbeknownst to them, had bank accounts opened in their names that were used to transfer large sums of money.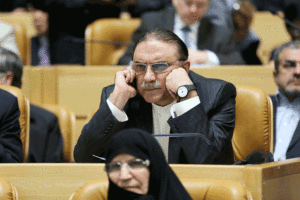 For the investigators, though, the whale in this ocean of ill-begotten gains is the former president, Asif Ali Zardari.
NAB contends it has a strong case, equipped as it is with the JIT report with its recommendation of filing 16 references in the case, with Zardari and his sister Faryal Talpur among the accused in multiple cases.
Zardari has brushed aside the idea that there is a case against him, or that it is illegal to have 'benami accounts.' He claims it is common practice in the business community and has raised questions about the NAB's legality and methods, using the recurring refrain of it being a "black law" used by autocrats for purposes of political expediency. He has also alluded to parallels between himself and Nawaz Sharif, who went through a similarly protracted trial before being convicted on a technicality.
The NAB is certain that it will get Zardari, despite his confidence. While following a money trail and proving white-collar crimes requires a meticulous investigation over a prolonged period, and depends heavily on collaboration with associated individuals/companies and agencies, the bureau says it has collected enough evidence to expose the scam.
In March this year, after a series of delays, a banking court transferred the fake accounts case from Karachi to NAB Rawalpindi. Since then, there has been a visible upswing in the case.
However, the question lingers, is there enough substance in the JIT report to put Zardari in the dock?
Read more in Newsline's May Issue 2019, available now.
Next