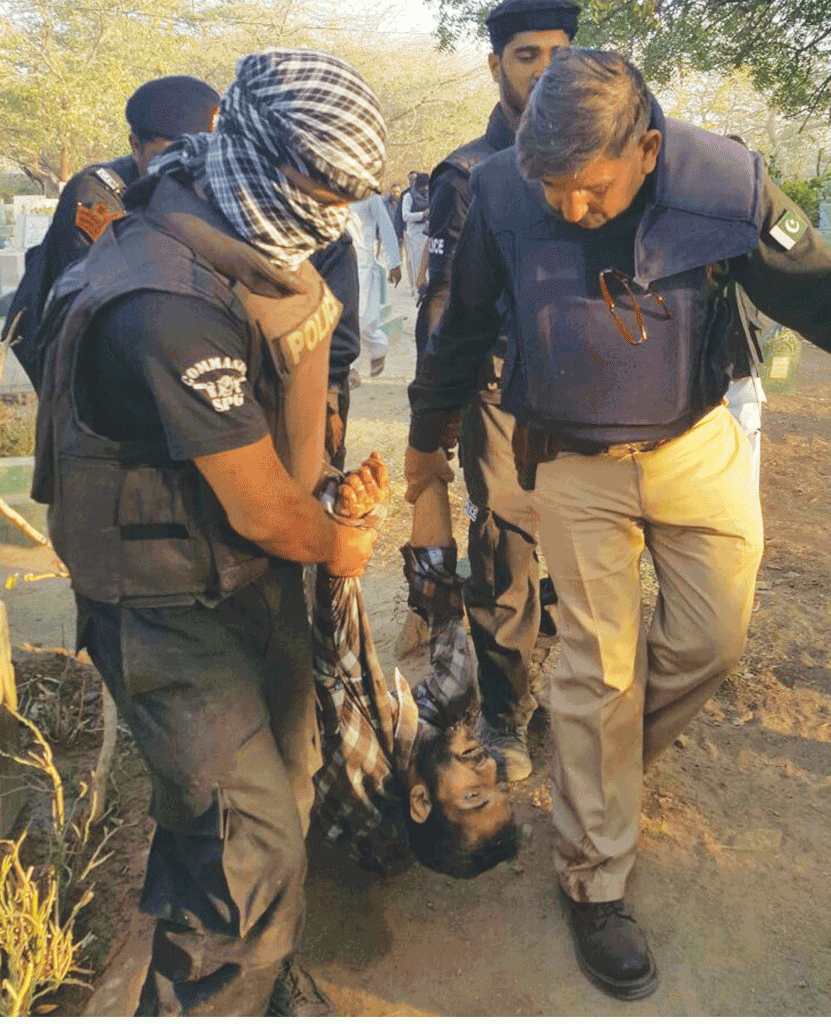 The graveyards on the outskirts of Karachi have many grisly tales to tell. They are the final resting place of informers eliminated by militants and of those killed in 'encounters' by the police. Once these graveyards used to mark the end of settlements, whether formal or informal, and the beginning of uninhabited lands. Whether it is the Mewa Shah Graveyard in Lyari or the Paposh Nagar cemetery opposite the Abdullah Girls College or the parcels of land acquired for burials by the various clans from Mawach Goth on the Hub River Road, these graveyards signalled the end point of residential settlements. The unchecked expansion of Karachi, thanks to its growing population and unchecked migration, however, have led to a mushrooming of informal settlements which have erased the boundaries between the city's burial grounds and the residential areas which surround them.
For residents near graveyards in Zia Colony in SITE, Rahim Shah Colony in Orangi Town, Mawach Goth and Dawood Goth in Baldia Town, Janjal Goth in Sohrab Goth, the graveyards are eerie for unusual reasons. The silence in these final resting places is often broken by the sounds of police sirens and ambulances. As they arrive at the graveyards, people will be asked to remain indoors. Handcuffed and blindfolded men will be offloaded into the graveyards and told to run. Echoes of bullet fire are heard.
A resident of Zia Colony said, "Whenever the sirens of police mobile vehicles and ambulances are heard we know that handcuffed militants have been brought to the graveyard. They will be killed and then taken by the ambulances to a hospital or morgue. Fifteen minutes after that, there will be tickers on news channels of an alleged encounter with militants, where there was an intense battle and exchange of fire in which the militants were killed but no injuries were sustained by the police." All such bulletins are the same, with the only difference being the number of alleged militants who are killed. Those who take part in these staged encounters are feted on TV channels. The families of the victims often voice their complaints but their testimony is soon forgotten. Those who approach the courts to find out what happened to their loved ones are mostly ignored. One lawyer said, "The court asks police officials to probe the cases of people who have gone 'missing' and in some cases joint investigation teams are constituted but the police use their usual delaying tactics and the courts can do nothing other than grill them."
In a hearing of one such case on April 19, the father of a steel mills employee Ammar Abid Ali had to tell the court himself that his son was killed along with three others in an encounter on April 3, which was led by none other than SSP Malir, Rao Anwar. Anwar had accused them of having links to the banned militant group Lashkar-e-Jhangvi (LeJ). The court asked police officials to register an FIR against Anwar. The very next day, however, seven policemen guarding polio workers were killed and all talk of an FIR stopped.
An SHO from an area with the highest number of attacks on police officials and a large presence of militants said, "We have been assured of full support in case there are any issues with the legality of our actions." He added, "There are clear instructions not to arrest militants associated with banned outfits like the TTP and LeJ. Instead, we are supposed to kill them and hand over their bodies to their families. In the case of criminals and arsonists, we are supposed to shoot at their ankles so that they recover but cannot continue their criminal activities."
When posted in a Baloch locality, said the policeman, "I killed two gangsters and displayed their bodies in a pick-up van in such a way that their heads were hanging from the edges and could be seen by the public.
Another police official, speaking about the handing of special powers to the Rangers, said, "We are happy with the presence of the Rangers and the powers given to them. It decreases the pressure put on us by political figures or media reports of police excesses."
The leeway given to the police is not restricted only to action against alleged militants. The Rangers operation has reduced the power of politically-backed criminal gangs and extortion rackets have been broken up. The police has picked up the slack. For the past few decades, political parties — mainly the MQM — were 'mediating' on behalf of market committees and traders groups, leaving the police with comparatively little influence. Raids by law-enforcement agencies have stopped unit and sector offices of the MQM from operating freely and the police is playing a greater role in extortion.
Last July, Rangers officials sent a letter to police chiefs about the involvement of officers in kidnappings for ransom and other financial crimes. Among those named were SSP Akram Abro, Sub-Inspector Mumtaz Mehr, police officer Rana Hanif and police officer Bilal for involvement in kidnapping for ransom. Other officials, including Inspector Chaudhry Azam, Sub-Inspector Sarfraz, ASI Raja Khalid, ASI Nasir Urooj, police officer Kamran Beater, Farooq Shah, Babar, Ramzan Beater and Imran Memon, were accused of extortion and Inspector Wasif Qureshi was accused of aiding criminals.
The special branch of the police also submitted a 150-page report on the involvement of the police in extortion and taking money from drug peddlers and gambling rackets. In fact, a drug dealer from Gulshan Ghazi in Baldia Town says that the operation in Karachi has increased the cost of drugs and reduced their profit margin.
The owner of a burger stall in Orangi Town complained that all stall owners had to pay Rs 600 per month to the MQM in order to ensure that sweepers would regularly clean the market and their business would run smoothly. But now, he says, the police and anti-encroachment officials regularly visit the market and take away their stalls, giving them back only after they are paid three to four thousand rupees. According to him, they have now come to a settlement and have to pay Rs 2000 a month to the police station and Rs 100 every day to the police van. Traders from Baldia Town, Benaras Bazaar and other areas share similar stories.
In recent months, many police officials, including an SHO, have been suspended for involvement in extortion. Police officials were also barred from carrying out raids in plain clothes and travelling in vehicles without registration numbers, although these new rules are rarely obeyed. Ammar Abid Ali, who was killed in the police encounter on April 3, was also picked up by police officers in plain clothes, who demanded Rs 5000 from his family on behalf of Rao Anwar. He was shot in the head with a single bullet while being handcuffed, which is known to be a hallmark of Anwar and has earned him the moniker "merchant of death." That description increasingly seems to apply to the rest of the police too.
Ali Arqam main domain is Karachi: Its politics, security and law and order
Next