Driving towards Saddar and the neighbouring areas of Karachi takes you back in time, to the memories of eating khara biscuits in a Persian bakery, planning for the future, sharing woes while drinking a cup of chai from a tea stall or buying books from street vendors whom one knew by name and who can still be seen on roadsides. Two of the oldest Iranian cafés come to mind as well; Café Subhani and Khairabad Coffee House. These cafés have served Karachiites for more than 30 years and are now showing their age.
The New Café Subhani is located near Lucky Star and looks worn out, with heavy traffic and ramshackle buildings surrounding it, with its exterior in need of a serious uplift. I stepped inside Café Subhani, thinking back to my childhood when, on Fridays, my brother and I would sit with my dad in one of the booths and order Chillou Mahi (fish) or any other dish that delighted us. The loud chattering inside the café brought me back from my sweet reverie. The café was jam-packed with customers as usual. And spacing my way through the throng of customers, I thought to myself, "Who says this café is battling long odds to survive?" As I reached the counter, a broad-shouldered man threw me a skeptical glance. I discovered he was Mr Subhani, the cafe owner. After convincing him to give an interview (which took two days of marching in and out of the café), he finally relented. Speaking about the good old times, Subhani looked like a child as he animatedly talked about how his grandfather came here before Partition in the '30s and fell in love with Karachi and so decided to settle here. "I have been working since the time when trams used to operate around the city. I have studied and gotten married in this city and it's quite close to my heart," Subhani said with a warm smile.
DSC_0208Karachi is no longer what it used to be back in the '60s, and similarly the Iranian cafés in Saddar and the adjoining areas such as Lucky Star, I.I.Chundrigar Road etc., lost their previous glory and charm to a great extent. Besides Saddar, Iranis settled in Karachi set up cafés in other areas as well, for instance, Nazimabad, Kharadar, Ramswami and Tower. It was a long time back when Iranian cafés were the popular hangout joints for office-going people, businessmen, students, brokers and political activists.
"We still have a lot of customers as you can see for yourself," says Subhani, pointing towards the horde of people. "But earlier, we used to know them on a one-on-one basis. I remember college students from the surrounding areas coming here to study or debate, or to just sit here for a while and in the meantime, ordering as many cups of chai as possible, creating a ruckus in the café," he said, with a chuckle. "But nowadays people just hurriedly go about doing their work. They just come here, eat and are out the door in a jiffy."
It all started in the 1880s, when farmers from a village Yazd, in Iran, started moving into the subcontinent. Poverty, unemployment and depression forced them to open tea stalls in Karachi and Mumbai (Bombay at that time). According to Abbas Ali, the third generation owner of Khairabad Coffee House at Chundrigar Road, "Iran was going through a rough patch at that time and the tea business in Karachi was flourishing." The café business survived even after Partition and did exceedingly well in the '60s and '70s. Saddar used to be the main hub of activity, where people from all walks of life whether they be rich, poor, government officers or migrants, shared the same space in these cafés.
Abbas Ali, who introduced himself as "Abbas, son of Ali," says his grandfather came to Karachi way back in 1932 upon his friends' insistence to try his luck in the tea business. "After coming here and interacting with people, he moved with bag and baggage to Karachi, and from then on my father (till he was alive) and I have carried forward his legacy."
This is precisely the story of most of the Iranians who settled in Karachi in the early '30s.
Abbas admits that the cafés in Karachi are in decline and that people now have multiple places to go to whet their appetites. "We have Pakistani, as well as Iranian, dishes to suit our customer's tastes. But most of them opt for biryani, karhai and kebabs. Only those customers choose Irani dishes who have tasted this food before or want to experiment with something new. We have had to make some changes in our menu according to the changing times." And this was quite evident, after looking at the menu, as it had only a small list of chillou dishes under 'dishes for foreigners.' Most of the cafés have competition in the form of fast food outlets, pizza parlours and biryani centres, as well as roadside stalls on Chundrigar Road, which serve decent lunches for just a few rupees.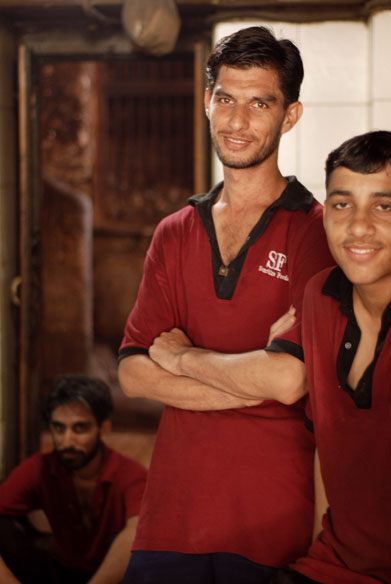 Mohammed Ali, owner of Darakshan Café, located near Nishat Cinema, which has been running for the past 30 years, shares the same view as Abbas. In order to cater to customers who demand variety, he had to open a fast food joint beside the old café to save himself from financial constraints. So people who like the simple and subtle taste of Iranian dishes go to the old Darakshan café while others go next door to eat, where the most famous dish on offer is biryani."
Subhani jestingly comments, "There was a time when we (the café owners) were the KFC and McDonalds for the middle-classes but now the times have changed and we are trying to adapt as well."
Speaking about the middle classes, Mohammed Ali, sitting behind a dais and keeping his eyes on the activity in the café, points out that inflation and recession has resulted in the downfall of our middle classes. "Mehengayi ki waja se middle class toh bilkul pis kar reh gayi hai (the middle class has been totally crushed because of inflation and recession). Thirty years ago things were much simpler, it was easy to start a business on partnership because there was a guarantee that it could be sustained for a long period. The middle class was hugely responsible for our success."
Changing times is not the only reason for café owners to flee from Pakistan. Incidents of target killings of Iranis by unknown people served as a catalyst for many to close shop and settle abroad. Ali tells me in a grieved tone about how his son was brutally killed in the café one morning. With repressed anger, he asked me, "What did my son do to receive such a cruel punishment? We still don't have any clues as to who killed my son." Ali wanted his son to take his place and carry forward the legacy, which had been passed down for three generations and also because Ali needed a break from running the business. After graduating, the son showed interest in the café business. But fate had something else in store for the young one as two gun-toting men entered the café on July 7, 2007 and opened fire on Ali's son, who was sitting behind the counter. He died on the spot.
"The authorities pacify me by saying that they are working on the case and trying their best to capture the murderers but for me, what matters is that my son is never coming back again," added Ali ruefully, his eyes glistening with tears. "And that's the reason why many Iranians have fled from the country. I call it targeted killing and it's a part of sectarian violence as well since most of the Iranis are Shia," he said firmly, adding, "Not many café wala's would admit let alone speak to you about it because they are scared of what might happen to them if they opened their mouth."
When I asked Subhani about this incident, he nodded his head in agreement and said, "This is not the first time Iranians have been targeted. There used to be this Iranian bakery in Kharadar by the name of Hamsheri Bakery, owned by Abdul Hamsheri, who was also the president of Anjuman-e-Iranian. He was gunned down in his own shop along with his nephew. Then there was Café Iran in Ramswami where the owner was killed in broad daylight. Either we do as they say or we close our shops and run away, which I can't do at this age. How can I leave a city and the people which have given me so much respect? Even if I try, I can't think of where else to go." Pointing towards a haggard-looking man sitting nearby, Subhani said, "He started working for me when he was a mere boy. I have made him my son and all the boys who work for me are like my family now. I can't imagine my life without these bachas and the respect I get from them," he said rather glumly.
More than security issues, inheritance squabbles are rife between café owners and an educated young Irani generation, uninterested in running a low-cost tea shop. Abbas feels that the Irani youth must cooperate with their forebears to keep this business flourishing. "I don't know what will become of this shop once I'm dead, as even my children don't show interest in this business because they have studied medicine and engineering, and think it would be a waste of time taking care of a shop whose future is bleak at the moment," Abbas said with a sad smile.
It's a known fact that the two cafés; Khairabad Coffee House and Café Subhani have been given notice to vacate the premises by their respective landlords. The case, which has been going on since 1986, is still pending in court and both the parties involved are refusing to give in. Subhani told me that his customers ask him to change the setting according to modern times but he insists that is not possible. "The landlord wants to build a high-rise building here, as it's situated on prime property and will earn him a lot of money." Pointing towards the sitting area, Subhani said that he can't even refurbish it as his lawyer has advised him against it. Shrugging his shoulders he said, "Let's see what happens now, I have complete faith in our legal system as well as in the people who are the reason why this café has survived for so long."
Just before I left, Subhani introduced me to his workers and apologised for being a bit crabby before giving the interview, admitting sheepishly that he was scared of what I might ask him. "I love this place and job, at this age I couldn't have asked for more. This country is like a home to me and it would kill me to leave it."
These cafés are a part of Karachi's cultural heritage. Just like we have food streets in Lahore now and the Saidpur Village in Islamabad, the Iranian Cafés in Karachi need to be preserved as well. Uncertainty is ripe in our country as we are facing one hardship after another. In these times of strife and stress, people need a place to unwind, and the nostalgic value these cafés offer should help to do just that.
Next