Appropriately called East West Connections, this is a brand that straddles the continental divide, using eastern techniques to craft upmarket home accessories for a mid to high-end western market, a home-grown one, and for those of generation next with stirring nesting instincts. From lush top-of-the line carpets – and tribal rugs with a twist – to tapestries, trunks, urns, lamps, and baskets, each piece in Ahsan Amin's studio tells a unique story.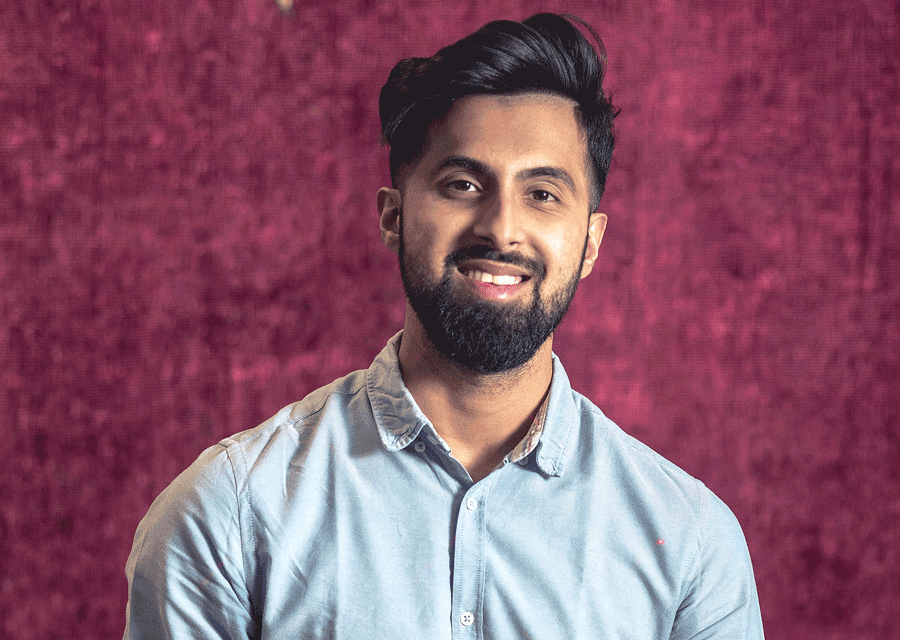 Amin had been exposed to local craftsmanship from an early age courtesy a family interest in the subject. But his plunge into the carpet-manufacturing industry owed less to his desire to go against the tide, ie. the career fields most parents hope their children will choose, than in making some quick cash to pay the bills and keep up with the Joneses. His last two years of college were spent getting small shipments of rugs across from Pakistan to Canada and selling them to the locals. It was when the third shipment from Pakistan arrived that Amin realised there was more to the carpet-selling business than making quick money. With new resolve and seriousness, Amin set out to measure his mettle and experience his first real taste of adult interaction with the public — he held an exhibition. He had spent more than six months trying to secure a spot at the local Sunday Antique Market for his show, and since that stint, there has been no looking back for him.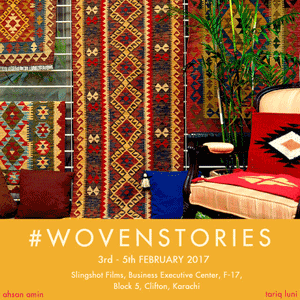 Since he first returned to Pakistan from college, Amin has come a long way. In December 2015, he acquired a studio space after trying for months. East West Connections, Ahsan Amin's flagship store in the heart ofKarachi's suburbs, does not reveal itself completely in one look. On the outside it is just another run-of-the mill store in one of Karachi's upmarket commercial areas. But once inside, there are the handicrafts serving as teasers for the real magic. First a rilli (alternatively called ralli) – a traditional patchwork quilt made by women in Sindh and Western India – hanging on the wall,  catches my eye. I mention how that is one piece I need no introduction to, but 30 minutes into our conversation he shows me a rilli that blows me away. Intricate, colourful, and quite like a painting, this Rilli, created for author and researcher Patricia Stoddard, features in her book Ralli Quilts and has been exhibited in various textile museums across the United States. This is the kind of work that sets Amin apart;he has reinvented the wheel — or in his case, the loom — to create art from craft. He has infused new life, and provided sustained labour to a generation of young and several old craftsmen languishing in the rural backwaters with no other skills but those taught to them since birth, and no access to outside markets.
Amin regularly showcases his work internationally. His first trip after he returned to Pakistan was an exhibition in Germany. From working with designers like Ralph Lauren, to doing commercial projects for the Aga Khan group, Amin has taken local crafts where no one else has ventured. He has been working on an exclusive project for the Aga Khan group for over a year, designing carpets inspired by themes from the 14th and 15th centuries. Each carpet, planned to the smallest of details, is unique in its own regard; but it is the lack of control over the final dye – no two colours ever look the same – that gives each piece its inimitable character.
One of the carpet designs born out of East West Connections hangs in the Portland Museum of Art – a testament to endless possibilities, to the compelling need to unearth the buried secrets of a rich heritage, and to the potential of a successful marriage of past with present, of East with West.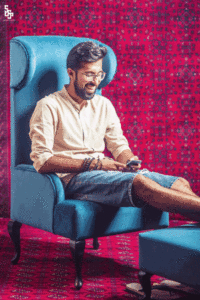 Amin is particularly interested in introducing people to the less-known, often shamefully neglected Pakistani arts and crafts that are intricate stitches in the fabric of our heritage. So he regularly works with Swati artisans and craftsmen to create one-of-a kind pieces of furniture. He adds new colour to an old palette, spices up the designs, and juxtaposes traditional techniques with state-of-the art ones.
And the world is his oyster. Recently, Amin worked in collaboration with a Swedish company, run by six textile designers from the '60s, developing a 30-page catalogue of Navajo baskets, getting local craftswomen from Pakistan to replicate the Native American style of basketry. Initially hesitant about placing the order with Amin, they could not have been happier with the results. The order helped support over 102 local craftswomen, and Amin is set to work on another line with the brand. Traditionally given to newly wedded brides in Native American culture, each basket is symbolic in its own regard, and particularly well received in the United States. He takes immense pride in having created jobs for over a 100 women, and introducing their craft to the world.
Amin recognises that resuscitating the past is a struggle against time. But as is evident by all he has achieved so far, the past and present are, like East and West, another divide he has managed to straddle.
A journalism graduate, Zoha's core areas of interest include human and gender rights issues, alongside which she also writes about gender representation in the media and its impact on society.
Next