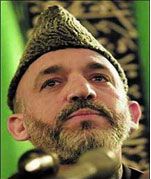 Although Taliban rule is over in Afghanistan and the US and Afghan forces are hounding their leaders and key figures round the clock, there are still a considerable number of hardcore Taliban in the southern provinces with large quantities of arms and  ammunition including Stinger missiles that may pose a threat to those who are presently in the saddle.
The US forces stationed at Kandahar and the new Afghan administration in these provinces are well aware of their presence and are continuing their efforts to win over the tribal elders who were staunch supporters of the Taliban during their six-year rule.
According to a conservative assessment by the government, there are over 10,000 Taliban fighters in the provinces of Kandahar, Urzugan, Zabul, Helmand, Ghazni and Nimroz and in some parts of Farah and Herat who can rise in revolt when a call comes from their leaders.  The number of Taliban supporters is estimated at many times that.
Many Taliban have simply switched their allegiance from  Mullah Omar to Mulla Naqib's nominee, Corps  Commander Khan Mohammad.  Mullah Naqib, who was a Corps Commander during the days of the mujahideen government, later extended his full support to the Taliban when they rose to power and developed a close relationship with Mullah Omar.
Mullah Naqib is the man who brokered the deal between Hamid Karzai and Omar before the latter disappeared from Kandahar with hundreds of his men.  However, Naqib was handed over control of Kandahar along with over 3000 Taliban fighters, hundreds of vehicles and all the military hardware of the cantonment.
Governor Kandahar Mohammad Shafiq Sherzai, alias Gul Agha, whose forces succeeded in capturing towns and strategic points from Takht-e-Pul to Kandahar airport in the wake of intense US bombing, was critical of this deal and opposed the handing over of Kandahar to his one-time arch rival, Mullah Naqib. There was also a severe clash between Mullah Naqib's and Sherzai's men when the former forcibly entered the city and captured the governor's house.  Later, Hamid Karzai, as head-elect of the interim government, brought about a reconciliation between the two. Under the settlement, Sherzai was accepted as governor while the office of corps commander, the number two slot, was given to Mullah Naqibullah who nominated his brother-in-law, Khan Mohammad to the post.
Since then there has been tension between the governor and his second-in-command.  Both men are uneducated, but Sherzai communicates with the Americans through his two English speaking cousins, Engineer Yousaf Pashtun and Khalid Pashtun.
The Kandahar region is now in the process of building an army of over 20,000 men that may include a sizeable number of Taliban, although the government's edict enforcing the trimming of beards may keep some of them out.
There are reports that in Ghazni alone, north of Kandahar, there are hundreds of vehicles and tanks, besides hundreds of Taliban leaders and fighters under the protection of tribal elders.  An equal number are present in the Baghran mountains to the north in Helmand province where Americans and Afghan forces tried in vain to track down Mullah Omar and his men.
In Ghazni, the government is reported to be in close contact with tribal leaders to persuade them to surrender the Taliban leaders along with tanks and vehicles.  In return, the elders demand  financial benefits for themselves and amnesty for the Taliban leaders.
Rais Abdul Wahid, a powerful warlord in Baghran, a Tora Bora like mountainous area, agreed to cooperate in the search in the wake of threats by US forces to bombard the area.  The search met with no success and some people believe Rais may have delayed it to give Mullah Omar enough time to get away.
Many Taliban have now resumed their religious studies in Afghanistan and Pakistan or resumed their duties as pesh imams or muezzins in the mosques in both countries.  Some have gone back to their villages and are biding their time.   Many of them roam the streets of Kandahar in the same dress and turban while some have changed their garb.
" The Taliban exist everywhere.  They cannot be separated from Pashtun culture.  It is not necessary that they rise under the same name, but they could launch another movement on the same lines," said Talib Qari Nooruddin, who recently got the job of pesh imam in the city of Kandahar.
Hundreds of people, many of whom were Taliban, protested in front of the governor's house against the government's decision to cut off food and water to the Arab fighters entrenched in Mir Wais hospital.
When Governor Gul Agha invited citizens' suggestions regarding the government's day to day affairs, very few people showed up.  Later, in order to mobilise public opinion for holding a Loya Jirga, the government arranged a public meeting and repeatedly requested the public to attend it, but its pleas went unheeded, as not more than 5000 people, 3000 of whom were primary school children showed up.  Khalid Pashtun, chief advisor to Governor Sherzai had claimed a day earlier that he expected at least 20,000 people to attend the meeting and demonstrate their support for government  policies and the current political process.
In Kandahar many believe that the law and order established by the Taliban will be difficult for the warlords to restore, even with US support, and that is one reason why public support is not forthcoming.
There are clear differences between two local forces, one loyal to Governor Sherzai and the other to Corps Commander Khan Mohammad in Kandahar.  Khan Mohammad's men were deployed at the Mir Wais Hospital, guarding the armed Arab fighters who had demanded safe passage.  When the Americans decided to conduct a commando operation against the Arabs, they asked these soldiers to leave and then used Governor Sherzai's forces to launch an attack against the Arabs.  The visible tussle between the two is hindering US efforts to win over tribal leaders by all means at its command.
Haji Bashar Noorzai is one of the leaders who surrendered along with Taliban vehicles and around 1200 weapons of all types in return for assurances of amnesty.  Noorzai recently hosted a lunch for Governor Sherzai and a senior US military official at Maywand, 40 kilometres west of Kandahar city.  Bashar, one of the biggest opium tycoons of Afghanistan, was one of two tribal leaders of Kandahar who were to be handed over control of the province by Mullah Omar before his departure. Americans are said to have rewarded Bashar in cash for changing sides and expect him to help in the hunt for Osama, Mullah Omar and other Taliban leaders.
Another important tribal warlord, Mullah Salam Rocketti of Zabul surrendered on the same conditions.  Pir Ismail Gillani, a spiritual leader in Kandahar, played the main role in brokering this deal.
There are visible differences between the Kandahar and Kabul governments, as the former criticise Hamid Karzai for not exerting effective control over the provincial administrative set-ups, particularly in Herat province.  Governor Herat, Tooran Ismail, has been accused of receiving arms and ammunition from neighbouring Iran and developing friendly relations with its government without the consent of  Kabul.
Hamid Karzai, who lacks clout and influence among the tribal elders, has yet to consolidate his position and has also been accused of trying to clear the path to power for his brothers and uncles in the upcoming set-up in Kandahar by exploiting his close relationship with ex-monarch Zahir Shah.
The writer is a journalist based in Quetta and is President of Quetta Press Club (QPC).
Next