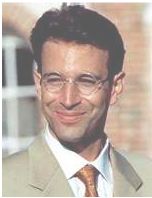 Daniel Pearl was visibly excited about his "scoop" when he left  the office of the Associated Press in Karachi's posh Clifton district at 5:00 p.m.  He had pursued a story on the Al Qaeda network in Pakistan for several weeks and had been promised an interview that evening with a Muslim cleric believed to have close links with Richard Reid, the shoe bomber.
The man Daniel was going to meet was Sheikh Mubarak Ali Shah Gilani, leader of a shadowy militant group, the Tanzimul Fuqra, which has long been on the US State Department's list of terrorist organisations, at a downtown restaurant at 7:00 p.m.  "He ignored my advice to be cautious and left for the meeting alone.  He was too excited," said Saeed Azhar, a Dow Jones correspondent in Karachi.
On the way he stopped over at the Citizens Police Liaison Committee (CPLC) office.  "He received two calls on his mobile phone around 6:30 p.m. to which he said he would be there in a few minutes," recalls  CPLC chief Jamil Yusuf.  He walked down to the Village restaurant, located close to the CPLC office for the appointment.
There was nothing amiss when Danny  called his wife Marianne just a few minutes before his scheduled meeting.  "He just told me he was heading for the restaurant," said Marianne.  Six months pregnant  Marianne, who is also a freelance journalist, did not suspect that anything had gone wrong until it started getting dark.  She got worried when there was no trace of Danny by the morning.  The police  was alerted as there was no word from him.
It became apparent that Daniel had walked into a trap set by one of the militant groups which opposed the American-led war against the Taliban and Osama bin Laden.  His zeal in following up the story was too strong for him to realise the dangers inherent in the situation.
Daniel and Marianne had been staying at a friend's house in Clifton.  Marianne has worked on various stories with her husband, but could not join him on his last project because of her advanced pregnancy.  "Usually we do interviews together because we are both journalists.  I am pregnant and I was sick so I didn't go," she said in an interview.
Born in Princeton, New Jersey, Danny graduated in 1985 from Stanford with a Bachelor's degree in Communications.  He has been a full time reporter for the Wall Street Journal for 12 years, starting at the Atlanta bureau.  He covered transportation and telecommunication issues in the Washington bureau before moving to London in January 1996.  He has been based in Bombay as South Asia bureau chief since December 2000.
Before joining the Journal in 1990, Danny worked as a reporter for several newspapers in Massachusetts.  While working at the Berkshire Eagle, he won an American Planning Association Award for a five-part series on land use.  Since September 11, Danny had spent most of his time in Pakistan and Afghanistan, covering the US-led war against the Taliban and Osama bin Laden.
Danny's wife, Marianne, is a French national with a Cuban mother and Dutch father.  The couple met when Daniel was on an assignment for the Journal in the Middle East.  "We are two people who met and fell in love because we have the same ideals," says Marianne.
After conducting raids in Karachi, police arrested three suspects in the case.  Two other suspects believed to be members of an outlawed Islamic militant group, Harkat-ul-Mujahideen, who lured Daniel into the trap by promising him an interview with Gilani are still missing, as is Ahmed Umer Shaikh, a member of the Harkat-ul-Ansar, now believed to be the mastermind behind the kidnapping.
Investigators say that the kidnappers were very adept and left few traces behind.  "There is a strong possibility that the kidnapping is the work of Harkat-ul-Mujahideen, in retaliation to General Musharraf's crackdown on the Islamic extremists," said a senior Pakistani official associated with the investigation.  "It may also be a reaction against the detention of Al Fuqra followers in the United States."
Harkat-ul-Mujahideen, which is on the US list of terrorist organisations, is known to have strong links with the Taliban and Osama bin Laden's Al Qaeda terrorist network.  Several of its members were killed when the group's headquarters in Kabul was bombed by US jets.  General Pervez Musharraf's government had recently banned the group and frozen all its assets in a crackdown on Islamic extremists.  Hundreds of its activists have been jailed and others have gone into hiding.
The Harkat is headed by a Pakistani, Fazlur Rehman Khalili, who had been arrested and jailed many times in the past. He reportedly fled to Afghanistan after the military government began its crackdown.  The group is also fighting Indian forces in Kashmir and  its predecessor group, Harkat-ul-Ansar, was said to be involved in the murder of four western tourists there in the mid '90s.  It  renamed itself Harkat-ul-Mujahideen after being declared a terrorist organisation by the United States in 1994.  "The kidnapping seems to be politically motivated and is probably meant to embarrass General Musharraf's government.  The FBI joined the search for Danny  after it emerged he had been taken hostage by Islamic militants.
A trap for Danny was apparently set some time earlier this year when he met some members of the Harkat-ul-Mujahideen in Islamabad through a Pakistani journalist working as a fixer.  It was  in the first week of January that Daniel made contact through the local journalist with a bearded young man who called himself Arif.  A  member of the Harkat-ul Mujahideen, Arif lived in Rawalpindi.
Through him Daniel met two other persons who called themselves Chaudhry Bashir and Imtiaz Siddiqi.  These names were later found to be fictitious.  Both introduced themselves as followers of Gilani and promised him an interview with the cleric.  Daniel soon developed a congenial relationship with 'Bashir' and exchanged e-mails with him.
Bashir, a young man who was fluent in English, never revealed his address or phone number.  On January 20, in an e-mail message, Bashir informed Daniel that he was arranging an appointment for him with Gilani in Karachi on Tuesday or Wednesday.  "Please give the Sheikh (Gilani) my regards and respects and ask him to remember me in his prayers," Bashir wrote.  In the same message he also lamented that Daniel would soon be leaving the country.  "It is sad that you are leaving Pakistan so soon.  I hope you have enjoyed your story," he wrote.
In an earlier e-mail, Bashir discussed his wife's illness.  "My wife is back from the hospital and the whole experience was a real eye-opener.  Poor people who fall ill here and have to go to hospital have a really miserable and harassing time," read a message.  Interestingly, the e-mail address he used was [email protected].
Both Arif and Bashir have disappeared after the kidnapping of Daniel.  Police discovered Arif's real identity when they raided his family house in Bahawalpur. His actual name was Hashim.  When the police arrived at his family home, Hashim's father informed them that his son was killed in Afghanistan a few days ago while fighting US forces.  The police is convinced that the story about Hashim's death is purely a concoction, but they have failed to trace him so far.
During his stay in Islamabad, Daniel also contacted Khalid Khawaja, a retired Pakistani air force officer who had worked with the Inter-Services Intelligence (ISI), in an effort to get an interview with Gilani.  Rabidly anti-American, Khawaja is related to Gilani through marriage.  He developed a close affinity with Islamic militants during his intelligence work.
Khawaja was detained a few days after the kidnapping.  A bearded man who lives in a sprawling house in Rawalpindi, Khawaja fought as a mujahid besides bin Laden against the Soviet forces in Afghanistan in the 1980s.  That brought him in close contact with various Islamic militant groups involved in the jihad in Afghanistan and Kashmir.  In an interview with CBS News in July last year, Khawaja said: "America is a very vulnerable country" and that the "White House is the most vulnerable target.  It is very simple just to get it."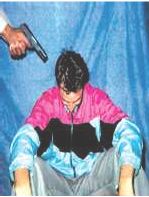 Khawaja is believed to have strong Islamic views as many of his former colleagues in the ISI had.  In an interview in October he told a journalist that the war in Afghanistan was just the beginning of an international "jihad".  Daniel spoke on the phone to Khawaja several times but never met him in person.
Gilani, aged 65, who has been detained by the police in connection with Daniel's kidnapping, is believed to have close links with Richard Reid, the shoe bomber who is facing trial in the United States for attempting to blow up a passenger airliner.  Reid, a British national who allegedly visited Pakistan shortly before the  incident, is said by US officials to have trained with Al Qaeda.
Gilani is wanted by the United States as the head of Tanzimul Fuqra, which is on the list of terrorist groups.  The organisation is believed to have a strong network in the United States and the Caribbean.  He claims that his disciples in the United States contribute half a million dollars to his religious activities in Pakistan.  Police said he owns properties worth millions of dollars  across the country.  During interrogation he reportedly told his Pakistani and American investigators that he had never met Richard Reid and that his activities were restricted to the "peaceful preaching" of Islam to homeless Americans through audios and videos of his speeches.
Fluent in English and married four times, Gilani told  investigators that he had visited the United States about a dozen times between the mid-eighties and mid-nineties, but never stayed there for more than a few months.  One of his wives is American.  He claims his disciples have spread to 22 states in America and keep in contact with him through e-mail.  He never visited America after his group was listed as a terrorist one.  During questioning, Gilani  claimed that he had worked for Pakistani security services and that he knew several senior military officials.
The first message from the captors was received when an unknown group calling itself 'The National Movement for Restoration of Pakistani Sovereignty' claimed to have taken Daniel hostage.  The e-mail message sent to various newspapers by the captors accused Daniel of being a CIA agent and carried four photographs of  the journalist with his wrists chained and a pistol pointed at his head.  The group demanded that Pakistani nationals detained by the US government be allowed access to their lawyers and families, the handing over to Pakistan of Afghanistan's former ambassador, Abdul Salam Zaeef, and the release of F-16 fighter jets  purchased by Pakistan in the1980s.
The request for the aircraft was apparently sent as an attachment within the e-mail and written in Urdu.  The planes were never delivered because of US sanctions related to Islamabad's nuclear weapons programme.  The e-mail was sent using Microsoft's free e-mail service, Hotmail, with the user name 'kidnapperguy.'
"If the Americans keep our countrymen in better conditions, then we will better the conditions of Mr. Pearl and all other  Americans that we capture," the message said.
Pakistani investigators said the photographs were genuine, but added the kidnappers used a fictitious  name.  "We saw that e-mail message and are looking for this group, but it is relatively unknown to us.  We are looking at every option," a police official said.  He  said there was strong evidence indicating the involvement of Harkat-ul-Mujahideen, an outlawed Islamic group, in the kidnapping.
Two days later, Daniel's captors sent another e-mail message  threatening to kill him unless their demand for the release of a Taliban leader and better treatment for Al Qaeda prisoners held by the United States in Cuba were met within 24 hours.  They also gave a three-day deadline for all American journalists to leave Pakistan.
In an e-mail message sent to various Pakistani and international newspapers, the kidnappers said they have been assured by some Pakistanis that justice will be done. "We hope the promise will be fulfilled before the deadline," the captors said.  They did not, however, identify the Pakistanis.
Interestingly, the first message was sent after Gilani was arrested, from Rawalpindi.  The captors took a nationalistic position, saying their aim was not to hurt Pakistan but to pull it out of the slavery of America and other countries.  "You have seen the hue and cry created by the government of Pakistan, which spared no effort when we made an American our guest.  Are the Pakistanis imprisoned in Cuba not human beings?  Why is our government silent about them?  Are innocent people not among them?  Unfortunately there is no court and no justice available for them.  America can take whatever decision it wants."
A second message gave a 24-hour deadline for their demand to be met or they would kill Daniel.  "We are weaker than some countries but we are not shameless.  We have investigated Daniel Pearl and we came to know that he is not a CIA official but a Mossad agent.  Therefore, we warn that if the United States does not meet our demands within 24 hours then we will kill Daniel Pearl.  However, we will keep on sending food to his family after killing him.  We cannot forget American kindness that they gave a gift of death to hundreds of thousands of Muslims and rained food on their relatives."
The writer is a senior journalist and author. He has been associated to the Newsline as senior editor at.
Next