There is little hope for timely justice for victims of acid crimes when provincial governments delay the framing and implementation of laws.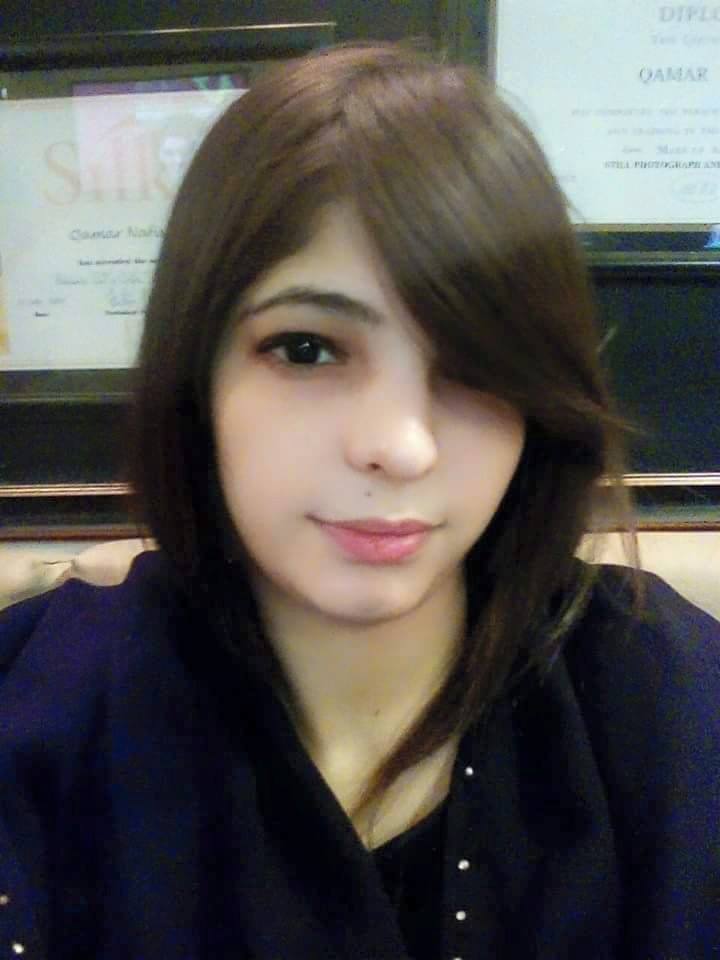 It was Eid night, July 18. Raheela Kaziali, a pretty 19-year-old intermediate student from Gulshan town, had just returned home from the market with her family. She and her brother were trying to open the front door (which it was later discovered had been glued shut), when a motorbike approached them. It was her ex-fiancee, Zeeshan, a police constable, with an accomplice. Zeeshan threw pressurised acid directly at her, burning 80 per cent of her body. The acid also fell on Raheela's eight-month old nephew who was still in her arms. Sustaining severe burns, both were rushed to intensive care at the Aga Khan University Hospital. Given the extensive damage to her face, Raheela has undergone four surgeries and is about to have a fifth; also, she has lost one eye.
"An acid survivor, whose face has been permanently disfigured for no fault of her own, lives and dies every single day. No matter how many corrective surgeries are done, she will never be as beautiful as she once was," says advocate Saif-ud-din Awan, Executive Director of Dastageer Legal Aid Center, who is fighting the cases of two acid victims, Zakia Muneer and Sidra. "And both these young women were living peaceful lives when this heinous crime was committed against them."
Within a span of two months, June and July, four women from Karachi were victims of acid violence — all of them for rejecting marriage proposals. Their spurned suitors retaliated viciously, aiming not just to permanently disfigure their attractive faces, but to destroy their lives as well. Apart from Raheela, the other three victims were Sidra, a young, single mother from Baldia; Zainab, an air-hostess; and Zakia Muneer, a ninth grade student who was targeted in her own home, in Mouj Goth. "They wanted my daughter (Zakia), who is only 15 years old, to marry someone who was 50 years old and already married," says Zakia's mother. "When I refused, they became our enemies and around mid-Ramzan they came to attack her."
"According to Zakia's mother, it was the wife who sent a proposal for her husband," says advocate Saif-ud-din.  "She is one of the main culprits."
Zakia narrated to advocate Saif-ud-din the story of how two women entered her house, asking for her mother. Despite informing them that her mother was out to run an errand, they kept trying to make conversation. Momentarily distracting Zakia, one of them suddenly caught her by the arm while the other poured acid over her. Zakia had the presence of mind to cover her face with her hands, which saved her eyes, but the acid burnt one side of her face. In the meantime, three more men had entered the house. Her screams alerted the neighbourhood. The police arrested four out of the five perpetrators — one of the two women tried to escape by jumping out of the second floor window and injured her spine. She was arrested. But the main female culprit absconded and tried to get bail before arrest, which was rejected by the court on September 13. Now she has gone into hiding.
Despite the fact that hundreds of acid crimes have been reported from all over the country in the last few years, statistics regarding them are sketchy. The state has no central data collection system for such crimes.  Over the last eight years, human rights and advocacy groups have made a concerted effort to collect and track data on acid violence. However, the numbers still remain far from precise — they are of reported cases alone.
Valérie Khan, Chairperson of Acid Survivors Foundation (ASF), an advocacy group based in Islamabad, states that "the most significant step was taken in 2009, when the ex-Chief Justice of Pakistan, Iftikhar Muhammad Chaudhry, gave a landmark decision in the case of Naila Farhat, whose face had been completely disfigured by an acid attack. With assistance from ASF, it was the first acid attack case, in the history of Pakistan, to reach the Supreme Court. After the victim won the case, the Chief Justice in a suo moto notice advised the parliamentarians to legislate against acid and burn attacks on the model of the Bangladeshi law. (Bangladesh had introduced the death penalty for acid attacks and passed a law to strictly control the sale of acid in 2002).
Subsequently, the Women's Development Ministry approached ASF to hold a consultative meeting inviting all stakeholders, including members of civil society, politicians, experts, the media and acid survivors themselves. This consultative meeting helped shape the law that would address the alarming frequency of acid crimes — the highest, about 60 per cent at that time, was said to be from the Punjab, and still is.
A comprehensive acid and burn crime bill was drafted and submitted to the Federal Ministry of Women Development in 2010, where it unfortunately languished.  In the meantime, parliamentarian Marvi Memon tabled a private member's bill in May 2010 in the National Assembly which saw fruition in December 2011, when she, and two fellow parliamentarians, Begum Shahnaz Sheikh and Advocate Anusha Rehman, introduced the Acid Control and Acid Crime Prevention Bill. Acid crime survivors watched the ground-breaking Senate proceedings from the gallery as the bill was unanimously passed into law.
The Pakistan Penal Code 1860 and the Code of Criminal Procedure 1898 was amended to the Criminal Law Second Amendment Act 2011 (Act XXV), effective immediately. The law included the insertion of section 336B, which makes acid violence 'a crime against the state' and a non-bailable offence. If found guilty, the perpetrator is given a punishment of no less than 14 years to a life term and clamped with a fine of one million rupees. Recently the Anti-Terrorism Court II of Multan ordered a 117-year rigorous imprisonment (two life terms) and a fine of Rs. 1 million to Muhammad Amjad, who in 2014, attacked his former wife, Javedan Bibi and her husband with acid. Javedan succumbed to the severe acid burns in hospital.
In the Punjab, acid-crimes are generally being tried in anti-terrorist courts. As a result, conviction rates have been steadily rising in the Punjab.  However, "this is yet to be seen in other provinces, including Sindh," says advocate Saif-ud-din. "During court proceedings in Sidra's case, we impressed upon the judge, how acid attacks were spreading fear and alarm in the communities, especially among women, who are now afraid to step out of their homes for work.  Henceforth, we expect acid crimes in Sindh to be tried in an anti-terrorist court. We are hoping this would prove to be a good deterent for any such crime in the province in the future and eradicate it completely."
But at the moment, incidents of acid attacks are quite frequent. Sidra, a young mother of 22, had separated from her unemployed husband and returned to her parents' home in Baldia Town. She decided to work along with her younger sister at a private factory. A neighbour, who lived a few houses away, used to stalk her and after her divorce, sent a marriage proposal, which she turned down. On her way to work at 6 a.m. during Ramzan, Sidra was accosted by the man, who aggressively demanded an affirmative answer to his proposal. She refused once again, saying that she wanted to remain an independent working mother. At which point he threw acid on her, burning her entire face. Sidra's 14-year-old sister also sustained burns, but not as severe. She is now too frightened to resume work because it would mean stepping out of the house. Unfortunately, she doesn't have a choice as the family's livelihood depends on the earnings of these girls.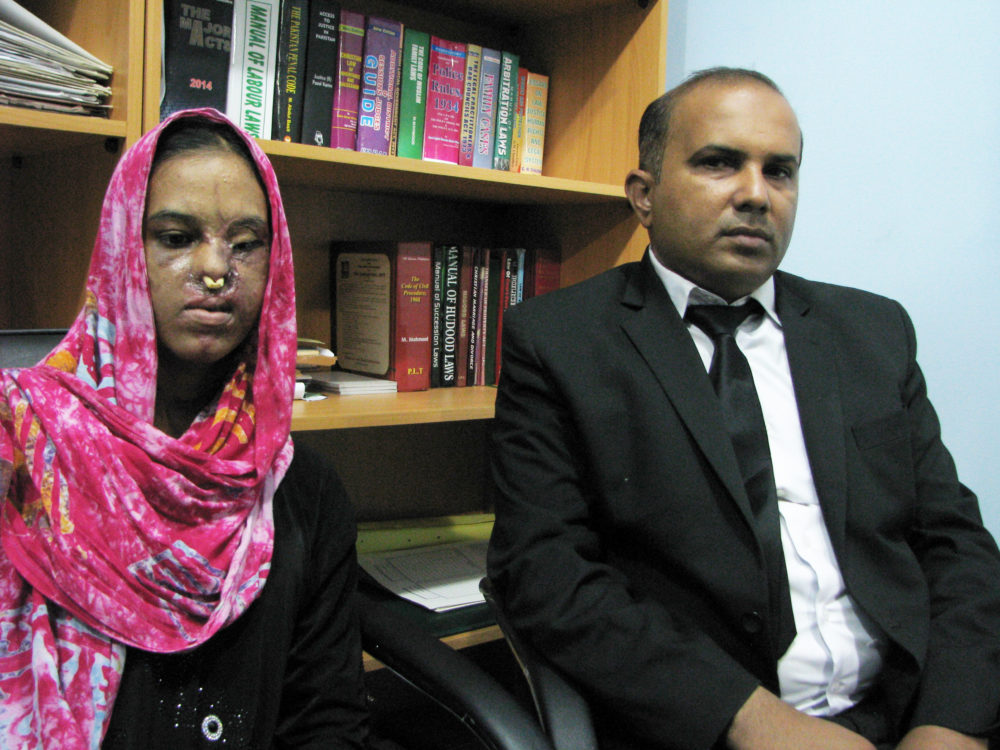 As a single parent from an impoverished background, Sidra could not afford the burden of fighting such a case and neither could Zakia Muneer's family, which is why their cases have been taken up by Aurat Foundation, in collaboration with Dastageer Legal Aid Centre. Sidra's legal costs and transportation to and from the hospital are met with some financial assistance from a couple of NGOs, and the Parveen Rahman Foundation has promised to rebuild Sidra's tin-roofed house. But much more is needed in terms of medical and financial assistance for the prohibitively expensive corrective surgeries and complications that arise from it — not to mention counselling for trauma and rehabilitation of acid victims like her.
For acid attack survivors, it is a constant uphill battle, as most of them are from impoverished backgrounds. The physical and psychological trauma, combined with economic hardships, exorbitant medical costs and little hope of getting justice, is magnified ten-fold when these women have to face social stigma as well. Apart from nursing physical and emotional scars, even after surgery many women have no choice but to return to the old surroundings in which the crime took place and remain vulnerable to further attacks from the original perpetrators.
Since the introduction of more stringent penalties, the conviction rate of such crimes rose from 6 per cent in 2011 to 35 per cent in 2014. But in two-thirds of the cases, justice has still not been served. Nevertheless, ASF's statistics show a significant improvement in the number of FIRs registered under the new law, which rose from only 1 per cent in 2012 to 71 per cent in 2013 — a sign that people are now more willing to report such crimes.
However, at the same time, there appears to be little decline in the number of acid attacks, especially on women and girls. They comprise 65 per cent of the victims, with significant numbers coming from southern Punjab. An inefficient justice system, combined with indifferent police investigations, encourages perpetrators to use the substance as a means of violence. On a few occasions, men, too, have been victims of acid attacks. In 2014, ASF documented 47 male acid survivors, some of whom had been attacked by women.
At present, there is no clear law to prevent the sale of acid in the market, and it is readily available throughout Pakistan at a minimum cost. Bans are imposed now and then, but as time passes, it's back to business as usual. Its over-the-counter availability makes women more vulnerable to their perpetrators. This is especially true in the Punjab, where a majority of the acid crimes against women seem to be committed by husbands or ex-husbands, fiancees, or male members of their own family.
On August 26, Rabiya Bibi was about to be wed to her cousin Nazakat in Vehari, when her own father and uncle doused her with acid, burning 80 per cent of her body. She had divorced her first husband, who was also a cousin, and had eloped with Nazakat. The couple returned only after their panchayat had assured them that the family would arrange their marriage. But her father and uncle reneged on their promise.
When Khyber Pakhtunkhwa witnessed a surge in cases of acid attacks, the Peshawar High Court in 2013 issued a directive to the government to frame comprehensive rules to regulate and control all aspects of the movement of acid, including its purchase, sale, issuance of licenses for all kinds of acids, an eligibility criteria, and even checking records of buyers and sellers. The current Poison Act does not cover any of these aspects that would have otherwise prevented acid crimes.
Acid is currently included in the same category as poisonous chemicals used in assorted industries, and acid crimes are dealt with under the Poison Act of 1919, introduced during the British era to handle their sale, purchase, transportation and storage. In an industrial hub like Karachi, such chemicals are commonly used. The government issues licenses to large chemical holders and lists the chemicals they are permitted to trade in. The main purpose behind the license is to control and prevent the import of chemicals that can be used in making illegal narcotics, such as heroin. But until and unless a more comprehensive law comes into effect to monitor the sale of acid in the markets, no preventive measure can be successful.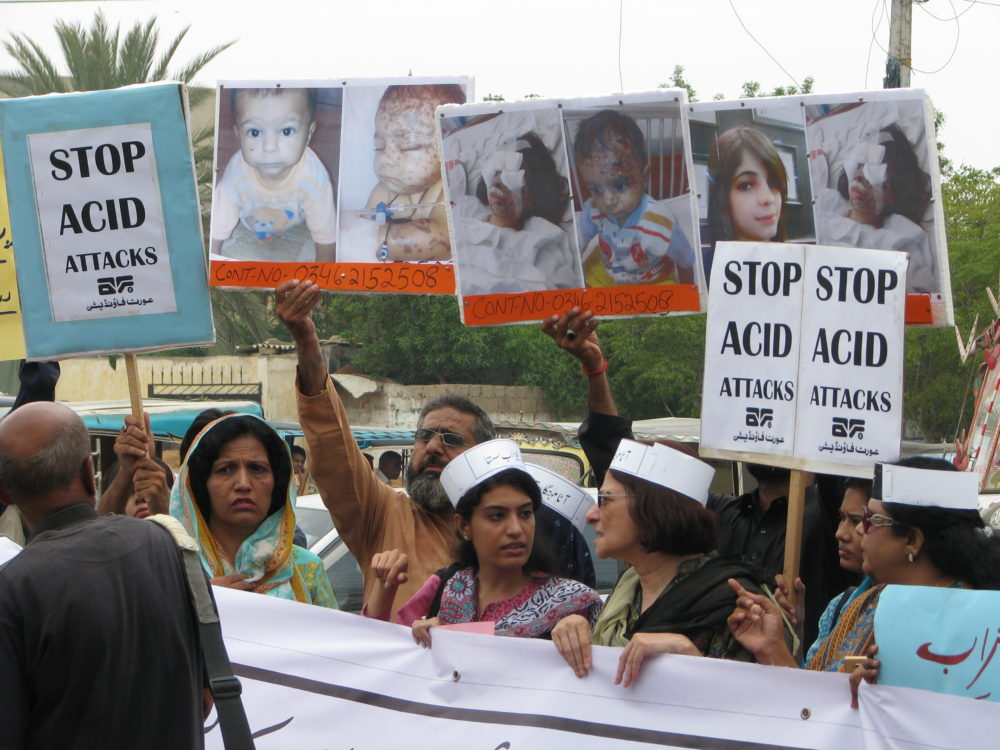 Following the four acid attacks in Karachi, on August 7 members of civil society, NGOs and advocacy groups held a demonstration outside the Sindh Assembly when it was in session, to protest against the Sindh government's failure in preventing acid crimes. Family members of the acid victims also joined the protest. Mahnaz Rahman, Resident Director, Aurat Foundation, called for acid to be sold only by licensed sellers and said, "We also want the buyers to submit a copy of their national identity card during purchase."
"We have demanded that the government compensate the acid survivors," says advocate Saif-ud-din. "However, if the government decides not to, then we will apply a different strategy. The constitution of Pakistan says the government has to protect the life and property of each and every citizen, so we will make the government responsible for what happened to Sidra and Zakia. These crimes were preventable. We have to prove there are no rules on the availability, movement and storage of all kinds of acids and demand damages from the Sindh Government. It is imperative for the civil society and media to keep up the pressure and to raise awareness and sensitise the public to the cause."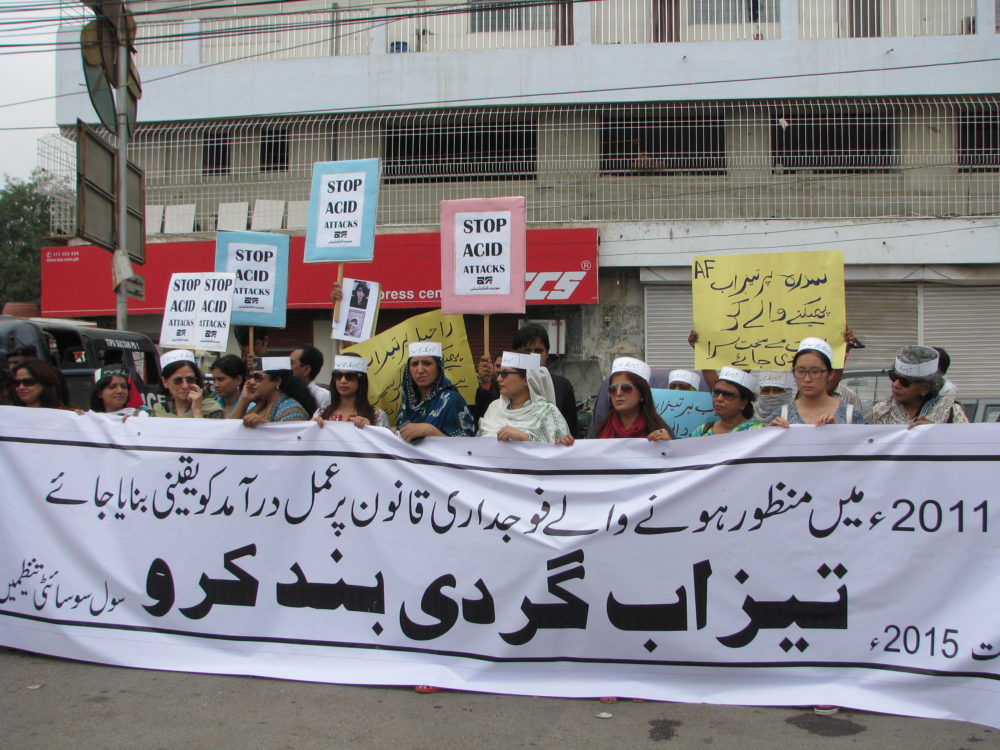 The implementation of the Criminal Law Amendment Act 2011 has been defective and it is critical for each provincial legislature to frame a comprehensive Acid and Burn Crime Bill.   Currently, this bill is at various stages of processing in each of the four provinces, but none of the respective provincial assemblies have made any headway in passing it. According to ASF data, from 2007 to mid-2015, there have been 1,231 reported cases of acid attacks — and the numbers are rising.
This article was originally published in Newsline's November 2015 issue.
The writer is working with the Newsline as Assistant Editor, she is a documentary filmmaker and activist.
Next