The camera zeroes in on an Afghan teenager proudly receiving a slip of paper from a bearded cleric donning a black turban. This, however, is no ordinary slip. It is, in fact, a certificate which qualifies him to undertake a suicide mission and eventually receive "a ticket to heaven."
Another video shows three youths inciting their brothers-in-faith: "May Allah accept our sacrifices. We also appeal to all mujahideen to follow in the footsteps of those great martyrs who laid down their lives in the way of Allah and continue their jihad." As they prepare to embark on their mission, the militants conclude, "This is the only way to finish off the US and angrez occupation."
This is followed by footage showing the devastation caused by three suicide bombings in different parts of Afghanistan, including one that killed 13 people at a military training centre in Kabul last year. As soon as the suicide bomber hits the target, a person, apparently standing next to the cameraman, full-throatedly shouts, "Allah-o-Akbar."
These are just glimpses of a few videos released by the Taliban in recent months to draw converts to their cause.
The popularity and prevalence of such videos is surprising, given that the Taliban had always considered videos, television or photographs of any living creature as un-Islamic. Now its propaganda planners are producing these films in an attempt to capitalise on traditional Afghan notions of religious devotion and liberty from foreign occupation. The militants are also relying on deep ethnic and religious pride to win recruits by showing horrific images of Muslims killed by the "infidels."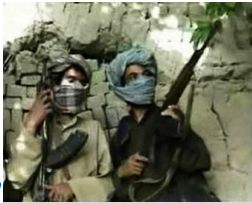 In just one year, militants have issued thousands of copies of nearly 50 different video CDs designed to recruit suicide bombers for targeting NATO troops in Afghanistan. Most of these videos were earlier sold throughout Pakistan for as little as 30 rupees per copy, but most disappeared from the market after the authorities launched a crackdown. However, they are now distributed by militants either hand-to-hand through their madrassah network, or can be obtained at a slightly higher price from the tribal areas.
At least two dozen of the CDs obtained by Newsline show battles and suicide missions in areas ranging from Zabul province to Kabul and Uruzgan to Paktia provinces. These videos are named Zabul Jangi (War in Zabul) or Kabul Jangi (War in Kabul). Others, such as Slaughter of Traitors in Afghanistan and Qilla Jangi, show images of daredevil fights and gun trainings. Some images from the videos show militants hitting a US helicopter with a rocket-propelled grenade, followed by jubilant shouts of "Allah-o-Akbar."
These new videos released by the militants represent a sea change from the quality and scope of their earlier productions. The earlier videos were of amateur quality, showing gory images of the fall of the Taliban, wailing women and children hit by coalition daisy cutters and the mistreatment of Taliban prisoners by the "infidel" army.
Recently, militants have mastered the art of production and are using higher quality images. They have also taken inspiration from militants in Iraq and are copying their technique by showing horrific images of captured "infidels," including locals suspected of spying for the coalition forces, having their throats slit. The new videos are well-edited and every shot is perfectly mixed to give the impression that victory in Afghanistan is in the hands of the Taliban. The publicity wings that make these films for the Taliban fighters are known as Ummat Studios, Manbaul-Jihad (Source of Jihad), Abdullah Videos, Jundullah or Soldiers of God Video.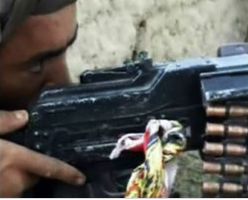 But in these new videos, one thing remains unchanged: the gore-factor. Images of Islamic militants stringing up bodies of local bandits and harshly sawing away at the necks of others are common. One video even displayed the decapitated head of a victim on a pole. The graphic images seem to serve two diverse purposes: they act as a warning and a show of celebration. The video described above has a perfect example of this: as militants hang the bodies of five bandits, four from electricity pylons and one on a wall, then chant, "Long Live the Taliban" while shooting in the air.
Along with the grisly footage, messages are also relayed to entice prospective suicide bombers by promising them 72 heavenly virgins. Those who may consider offering themselves as mercenaries to the coalition are warned that beheading is the prescribed punishment for informers. Cursing the US is also routine, as is describing Mullah Omar and Osama bin Laden as the light of their eyes.
Apart from serving as recrutiment tools, the videos also act as a training manual for militants. Some of the training videos show Arab militants in Afghanistan teaching new recruits the art of building explosives. In one, a masked man — believed to be the Egyptian militant Abu Ikhlas — explains in Arabic how to turn a pressure cooker into an improvised explosive device and how to convert a washing machine timer into a detonator.
What is most surprising about these videos is not their existence, but the relative freedom with which trainings and attacks are carried out and filmed. It is also astounding that they are easily available in the market and are often discussed by the youth, who express a desire to join their religious comrades.
Pakistani authorities say that they have tried to clamp down on the production and sale of these videos, but so far they have met with little success. According to authorities, the militants used to have a production house in Shakai, in South Waziristan, but after their camp was busted, the production facility was shifted to an area called Razmak in North Waziristan. Some of these officials said that recently the militants have moved their production house once again, from Razmak to Tank, a city bordering the tribal areas where these films are edited and finally released.
Apart from frequently releasing these videos, Taliban preachers have stepped up their promotional strategy through broadcasts on low-frequency FM radio, inciting listeners to take up the fight against the "infidel army."
Clearly, these efforts have been extremely successful, as can be seen by the surge in suicide bombings and guerilla ambushes, which have killed scores of civilians and 70 coalition soldiers in the last 10 months.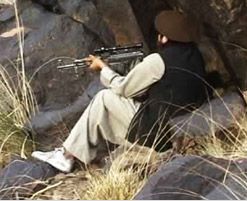 Since British troops took over the peacekeeping mission in Afghanistan's treacherous Helmand province, there have been nearly 86 suicide bombings. The recent surge in violence across Afghanistan, in fact, has surprised the British troops, compelling them to change their initial tactic from "winning hearts and minds" to launching a full-fledged war against the Taliban. While the British soldiers are claiming success, they do not hesitate to admit that the war is far from over.
Similarly, NATO soldiers stationed in southern Afghanistan have been unable to venture outside their fortified bases because of a "critical" threat from suicide bombers. Military commanders are reported to have ordered a "lock down" after receiving intelligence that many bombers planned to attack NATO troops in two towns in the southern region of Afghanistan. With the upsurge in attacks and the success of the Taliban recruitment drive, NATO soldiers have started using what they call the Sufaid Reesh (white-bearded man), to negotiate with the Taliban and have now retreated from many of the districts in Kandahar and Helmand provinces.
Given the current situation in Afghanistan, the words of Mullah Dadullah, the leader of the Taliban in Helmand, are particularly apt. In a recruitment video, he says that suicide attacks are "an atom bomb in the hands of Muslims." That same analogy could apply to the efficacy of these videos in the struggle for control of Afghanistan.
Next