Interview: Asif Ali Zardari
"I want elections in 2005″
– Asif Ali Zardari
Good times are back again at Bilawal House. With the return of the prodigal husband from prison after an incarceration of eight years, one month and 17 days, the formerly deserted street outside is chock-a-block with BMWs and SUVs as throngs of party leaders and workers make their way inside while dancing to the beat of drums. A sign hanging on the front gate reads, "Jaiko khati aayo khair saan" (The one who triumphed with the blessings of God) — a phrase from a Sindhi martial song in praise of those who chose to fight and won battles for the motherland. It's a stunning reversal of fortune for Asif Zardari — once reviled as a 'corruption maestro' and now eulogised as a symbol of resistance by his party workers.

Security around him is tight. Not only do armed guards patrol the streets leading up to Bilawal house, several young men standing around openly display TT pistols or Kalashnikovs, apparently to intimidate would-be intruders. Inside the house, visitors are met by another batch of guards. Each visitor is thoroughly screened. "No cameras please," announces the security guard and asks everyone to submit their cameras and other belongings at the reception, precautions apparently instituted after the Northern Alliance leader, Ahmed Shah Masood, was assassinated in Afghanistan when militants posing as TV journalists detonated the explosives hidden inside their camera.

The list of visitors included some surprises. There's Asma Jahangir, former chairperson of the Human Rights Commission of Pakistan, who was there to congratulate Asif Zardari on his release. Then there are also the obligatory turncoats, such as Asad Hayat, Faisal Saleh Hayat's younger brother, on cue to apologise for ditching the party and wanting to re-enter the fold, not to mention Zardari's many friends and recipients of his favours.

As for Zardari, his incarceration has not diminished his notorious ability to charm and flatter. Male visitors are embraced warmly and treated like old friends, not to mention addressed as 'darling' and 'sweetheart,' while journalists are being wined and dined.

And since he has been released once again speculation is high about changes in the government. Even if he totally denies that he has made any deal, his political opponents believe that if his is release was not the outcome of a deal, the government could have caught and jailed him, once again, in a 'goat theft' case. In this interview with Newsline, Zardari talks about the PPP's future dealings with the government, the allegations — ranging from corruption to murder — levelled against him, and his feelings upon his release from prison.

Yaaron ka yaar, doston ka dost, Mr Ninety Percent, the PPP's latest hero and a man who few have crossed and not suffered the consequences. Over to the man with many faces…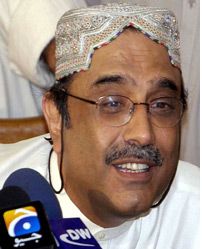 Q: Once again people are queuing up outside Bilawal House desperately trying to meet you. It must be a good feeling…
A: I have a weakness. I love people. I'm a people's person. Some people would rather live in Belgravia or move around in elite circles, but I'd rather be with our awam. I love it.
Q: Did you have any idea that the court was going to release you on bail?
A: I'm a political being and a political being has to see what tomorrow will bring. The High Court sentenced me about 12 days or one week before the filing of nominations. They didn't want me coming into the assemblies. So they sentenced me around 9:30 or 10:30 at night. Have you ever heard of a sentence which is passed after the court time is over? 5:00 p.m. is the law of the jail manual, when the jail doors are closed. All prisoners have to be accounted for at 5:30 p.m. They bent the law just to make sure that I would not enter the assembly.
When that verdict came, I thought it would be a question of time before I was released. I didn't want to get my hopes high because once a prisoner begins to live in hope he cannot survive in prison. If he starts thinking that tomorrow 'I will be free,' then it is very difficult to carry on and keep one's sanity.
Q: If you were not confident then why you did buy a house in Lahore only a few days before the verdict? And why were barricades suddenly installed outside Bilawal House?
A: I've not bought a house, I have just rented a house in Lahore. I had promised when I was in prison in the Punjab that I would move to Lahore. I had not signed any documents. I did all this afterwards. This has been done in the last 24 hours.
Q: Why have you chosen to live in Lahore?
A: Because I promised the people of Punjab and I keep my promises. The workers of the PPP in Punjab need somebody there. That is the idea, to help my party workers and make the PPP stronger in the Punjab.
Q: The general perception, however, is that moving to the Punjab is part of the deal that you have made with the government?
A:When this government came in they were offering us a deal and there were dialogues between Amin Fahim and the government. It is a known fact. But if we didn't accept it then, why would we accept it two years later? Any kind of deal doesn't suit us politically. And if we had to do a deal, we would have done it when the General walked in. Five years ago was the time to cut the deal. A deal doesn't suit us at this time when the General is on a weak wicket. And whenever the PPP goes in for a dialogue with the establishment, it will not be considered a deal. We are the largest political party in Pakistan entering into a dialogue with the establishment. A deal is when a minor politician compromises to get a bigger chunk of the cheese.
Q: Why did government representatives like ex-governor Punjab, Khawaja Tariq Rahim, come to meet you?
A: You must remember that Tariq Rahim is not in government today. He was governor in Farooq Leghari's time. Originally he was with the PPP, then he defected and became governor and since then he has been rehabilitated and has been working in the party. Not in any official capacity, but working all the same.
Q: In the past there were reports that other government officials, including Tariq Aziz, had been meeting you in prison. What kind of offers were made?
A: Officially they haven't met me. Just read my lips. I HAVE NOT MET Tariq Aziz or any one else in the government. And this is true. I know newspapers need sensation to sell but give me a break please. If I had to cut a deal why would I wait for Bilawal to leave the country and then do a deal? When Bilawal left he was just eight and he needed me the most. He doesn't need me so much today when he's 16. I should have struck a deal then when my children needed me.
Q: Many of your party colleagues defected and joined the government. Have any one of them contacted you to rejoin and will you take them back?
A: Ask them if they are planning to come back or not. But my stance is that dead wood is out, grow new trees. They will bear better fruit. As far as I'm concerned, I think none of them should be taken back into the party. But I'm nobody to accept or reject anyone.
Q: You have also been talking about reconciliation with other political parties?
A: I believe that at this stage in Pakistan's history, when we are facing innumerable problems, all political forces and the establishment have to get together and work towards fair and free elections.
Q: What role do you plan to play in the near future, other than regain the seat of power?
A: Power is not the ultimate goal. Not necessarily. I've been in politics and power is nothing.
Because of my presence in the political arena, people like powerful spiritual leaders, who normally would never meet the common man, are forced to shake hands with the common man and are forced to travel to people's houses to get votes. Although the elections were rigged, I forced the high and mighty to go to the people. Why? Because they know that the poor are voting for me. If I was not there, they would not feel the need to go to the poor. One has a role to play in politics both in the opposition and in the government.
When you are in the government, you are a different guy and you do things differently. What you see today — the communication revolution, the internet and satellite — all this was started by the PPP in 1988. We planted the seeds which are flourishing now. Eventually society will benefit. Yesterday, I had gone to Munawar's house to condole with his family and I saw a little boy on a bike, wearing a helmet that had a telephone installed in it, and he was talking away. I loved it, it was fantastic. It was the PPP's vision that has got the country all this. Today everybody is fine with the GST. But don't forget who started GST. We did. So that is the kind of work and planning that one does while in government. Today, we are working as the opposition. I'm pushing the government into a defensive position; that is my job today.
Q: The ARD is planning a movement against General Musharraf. Do you believe that you can overthrow the government through street agitation?
A:Whoever believes in street agitation, should go ahead. If ARD wants it, they are more than welcome. I'm not stopping anybody. If the ARD genuinely believes that street agitation is where the pressure is built up, fine. I feel that street agitation draws attention and tells the world that we are alive, we are here, talk to us.
Q: You have said that next year is the year of elections. But Bush wants Musharraf to support US policies in the region. How do you think the PPP will fit into the whole political scenario as it stands post 9/11?
A: The world isn't run by Bush. The world is run by the people. Bush needed a mandate of 51 per cent to win him the election. Yes, America has influence as a world super-power. But, we are a sovereign country; we are not a conquered people under the umbrella of America. We do not disagree with the Americans; We don't disagree that the world today is a more dangerous place. We disagree on the mode of operation. We disagree with the fact that the General can deliver. We agree with the fact that democracy can deliver. That's the difference.
Q: What makes you think that elections will be held next year?
A: The General wants election in 2007, but I want elections in 2005. We can always do it by putting on the pressure.
Q: You believe you can generate enough pressure to compel General Musharraf to go in for early elections?
A: Well, not only me, but all the people of Pakistan want change. This is the time for change.
Q: You have been charged with various murders including that of Murtaza Bhutto and Alam Baloch. You were also known as the corruption maestro. How will you erase this image?
A:Who is the author and architect of these charges? Nawaz Sharif. He has apologised to me personally. He has gone on record and admitted that he has done wrong. When the author admits he is wrong that means he is wrong. I also have accepted his apology. When the main instigator behind the charges has retracted, how can anyone believe the charges? I was implicated and politically victimised. Had I been sentenced in all those cases eight years ago, I would have served out my term by now. They have not been able to prove any charges in court. Look at the jubilation in the streets and the way the people of Pakistan have reacted to my release.
Q: The Sindh chief minister has warned you to be careful of your personal safety…
A: It is his job to ensure that all the people in the province are safe. If he cannot protect me, how can he protect anybody else? If something does happen, my party will hold him responsible. The government of the day would be responsible.
Q: When is BB planning to return?
A: Well, this is her country and she can come any time. I cannot give you a date but she will be here very soon.
Q: But what about the charges that she is facing?
A: What charges? When the author is saying, I was wrong, I'm sorry, what charges are you talking about?
Q: Are you planning to go and meet her in Dubai?
A: I will go and meet her. What is the rush?
Q: In the last eight years, the country's landscape has undergone a drastic change. Religious militancy has reached new heights. How can it be curbed?
A: Who created this monster? It is on record that these people were created by the establishment. The establishment created their own party and then they pitched that party against us. Who are these suicide-bombers? Who are they trained by? I will quote Professor Ghafoor Ahmed, who headed the Jamaat-e-Islami once and is their senior leader, "You pick four or five retired ISI generals and you will come to know who these terrorists are."
I believe as civil society becomes stronger, all these militant elements will become weaker. Moreover, we have to eradicate poverty. If we are successful in achieving this, the common man will not join the militants. It is poverty that is dragging them there. The madrassahs and mosques are being run like a cottage industry, and we commit crimes and give money in charity to this cottage industry in the hope that God will forgive us. Everybody gives khairat [charity] and chanda [donation] to a mosque or madrassah or to a maulvi and that keeps this cottage industry going. Hundreds are being trained in the madrassahs every year — they are like clones being manufactured in a factory.
Q: How would you stop this?
A: An alternative has to be found because closing down madrassahs is not the answer. Give people new philosophies and political alternatives. We are confronting violence on campuses because the government has banned all political activity. They have banned the student unions. They have stopped childrens' interaction at the grass roots level, while madrassah students continue to interact with each other.
Q: But political activities were banned in colleges and universities only when gun culture hit the campuses.
A: We have to counter militancy on the campuses. When I was student, I remember the Jamiat always had weapons, but we faced them. The PPP had faced the Jamaat-i-Islami which was always known to be a militant party. I will face them and my party will face them. There is no other alternative. The army cannot face them. Bullets are not the answer. We will provide alternatives to our children and change their destinies.
Q: How well is General Musharraf handling the militancy issue?
A: Whatever he is doing is not working, because he is not a public representative. He only has 10 army corps with him and that's it. He does not have the people of Pakistan with him. You have to have the support of the masses to confront national problems like militancy.
Next