By Deneb Sumbul
A cancer hospice in Karachi brings much-needed relief to the terminally ill and their families. 
When entering the premises one is immediately struck by the whiteness of the Rahat Kada's floors and walls and the immaculate uniforms of its nursing staff. Regardless of which locality it has been situated in, its facilities have always maintained the same strict standards of cleanliness, which is now its hallmark. Having been relocated four times in the last 15 years from rented premises, Rahat Kada — the Cancer Hospice  — has finally found a permanent home in Korangi, among the low income communities it wishes to serve.
A 100-bed hospice was a dream nurtured by Dr. Saira Khan for many years. Finally there was a breakthrough when a large piece of land was generously gifted by a benefactor, who also helped get the plans for the hospice approved. "In our previous hospices we would always run very short of space. How many mattresses can you add to accommodate patients?" said Dr. Saira.
As the founding member of Rahat Kada and the Medical Aid Foundation (MAF), Dr. Saira Khan has been taking care of poor cancer patients in Karachi and rural Sindh most of her professional life, and has also introduced the concept of community-driven hospice care in Karachi. Her dream germinated during her 18 years of voluntary service in Jinnah Postgraduate Medical Centre's cancer ward, which she visited daily. There, she saw the desperate needs of poor, terminally ill cancer patients.
Thus Rahat Kada (House of Peace) came into being in 1991. It pioneered the concept of hospice care in Pakistan, and, over the years, has gained a reputation for the 24-hour, holistic, physical and emotional care it provides. Gradually hospitals began sending their terminally ill patients to the entirely free hospice which also has out-patient outreach.  Whenever the hospice ran out of space, Rahat Kada resorted to providing home service to the terminally ill, by sending a doctor and a nurse over to the patient's house for treatment and monitoring.
"The terminally ill need medicines on time; they need good food, pain management and constant care. And they need counselling  — we have to get them ready for the inevitable. How do you do that? That's possible only in a pleasant, clean environment. Patients in such environments actually live much longer," said Dr. Saira. She mentioned several such instances, including that of a female patient whose attending doctors had given her a few days to live, but who survived for two-and-a-half years once she entered the hospice.
"The majority of our patients can't even afford tandoor ki roti. So we took it upon ourselves to supply the families of terminally ill bread-earners with monthly rations at their homes. This is so that the patient is spared the worry of who's going to earn and take care of his or her family." Dr. Khan pointed out that the poorer patients she sees invariably live in one or two-room cramped spaces, occupied by six to ten people.  They are unable to care for a seriously ill and incapacitated person in their conditions.  And because a foul smell can emanate from a cancer patient's wounds, if not cleaned daily, is one of the reasons why many terminally ill patients are abandoned by their families.
But affluent households sometimes also abandon the dying — those who don't want to waste their money on what they see as a losing cause. There are instances of husbands walking out when their wives are critically ill and remarrying without so much as a look over the shoulder.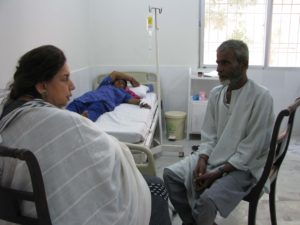 "Our problems are nothing compared to what the poverty-stricken in this country suffer," said Dr. Khan. "AIDs has spread alarmingly and patients suffering from it come to Rahat Kada constantly. They are very reluctantly turned away, because the other patients start objecting. In other countries, both terminal AIDs and cancer patients are admitted to hospices and cared for together, because both are going to die. So our future plans include the bifurcation of the hospice to accommodate AIDs patients as well."
The doctor said hospices are generally small the world over — a maximum size of 8 beds is considered ideal  —  and is looked after by the community. People are expected to play a role in giving the terminally ill some time and help out with assorted duties and errands. "Volunteers did start coming to our hospice, but were afraid of coming near cancer patients initially, as if they were contagious," she declared, adding. "They would leave food for them at the gate. But we were firm and said that if they brought food or goods of any kind for the patients they needed to personally give them to those they were meant for — or not bother to bring anything at all. It took a long time to break down this barrier, but now we get many volunteers. We encourage youngsters from schools and colleges."
Community help apart, a hospice needs specialised services. It takes a particular kind of skill to dress a cancer patient's festering wounds, ensuring this is done by inflicting the minimum amount of pain, and to prepare special cocktails for pain relief.  Some of Rahat Kada's staff has been trained in precisely such skills. During their visit to the hospice some years ago, the Aga Khan University Hospital (AKUH) team were very surprised to find there was no dirt and no smell at the premises.  As a result, they gave Rahat Kada an award for being the 'Cleanest Hospice in Pakistan.' Subsequently, the AKUH also started sending their final year nursing students for training, and over the last 15 years, about 750 nursing students from AKUH have received training at the Rahat Kada.
Patients come to Rahat Kada when there is no hope of further cure. In 2014 alone, Rahat Kada cared for 580 terminally ill patients. "We even make the arrangements for the kafan (shroud) and gravesite, or give money for conveyance if the body needs to be taken outside Karachi. Our patients don't have that kind of money," stated Dr. Saira Khan. And while cancer treatments have improved immensely and patients' pain-management programmes are better, they remain very costly.
To add to these soaring costs, several years of economic upheaval and violence in Karachi saw Rahat Kada lose many of its patrons.  Major funding problems began when the hospices big benefactors, such as textile mill owners, moved their factories and businesses abroad.  Regular donations from the carpet and other industries also stopped flowing in and stalled the construction of the new premises by several years. But the Parsi community continued to be great supporters of Dr. Saira Khan's cause. She believes that when people line up to go to heaven, some of the Parsi families will be the first to enter paradise for their unbiased and unflinching generosity.  So, despite all the road blocks, with the help of various die-hard supporters of this cause, and Dr. Khan's own fund-raising schemes — including concerts — Rahat Kada endured — and grew.
The first block of the new premises, consisting of 30-beds, became a reality in the middle of Ramzan. Considerable funds are still required to complete the proposed 100-bed hospice building, while simultaneously caring for the terminally ill, but plans are underway to muster the resources required to meet this end through further fund-raising drives.
Dr. Khan's other future plans include an old peoples' home. "These patients and the old deserve the opportunity to die with dignity while maintaining ties with their families without being a burden to them," contended Dr. Saira Khan. There can be no arguing with that.
Voices of Transition

The patients interviewed here have not been informed of their prognosis. Dr. Saira Khan said, while the more educated patients usually come to grips with the terminal nature of their illness, the less read ones are unable to cope with the prospect of impending death. The general opinion among medical practitioners, after decades of experience with such patients, especially the poor, is that it is better not to divulge their condition to them, because invariably, as soon as they are told, their health spirals downward very rapidly, making matters more difficult for them and their families. Thus, at the Rahat Kada, the only hospice which has counselling, patients are made to gradually adjust to the reality of their medical state.   

Hafiza, a housewife in her late 40s is undergoing chemotherapy. She and her husband Dawood, hail from Rehri Goth. Dawood works as a hired hand on a fishing boat, barely earning Rs. 300 – 400 a day. Since commercial fishing is prohibited for two months during the monsoons, he is currently unemployed.  Four years ago at Karachi's Civil Hospital the lump in his wife's breast was diagnosed as cancerous and the affected breast was surgically removed. Hafiza recovered, but after a couple of years, the cancer resurfaced. This time, after necessary treatment at the Jinnah Post Graduate Centre (JPMC), the attending oncologist referred her to Rahat Kada for further help. "This place is so peaceful compared to the other hospitals. My wife likes it here and I pray she recovers. It is a fine place — especially for us poor," said Dawood. "It costs us nothing. Dr. Saira has even given me money for conveyance back home. But she told us to come back if needed." Neither husband nor wife is aware that she is terminal, although Dawood may have an inkling. They have four adult children who are all married.

Three months ago, Mohammad Idrees, a gentlemen's tailor by profession, was having difficulty eating. The doctors in Nawabshah diagnosed the problem as throat cancer and recommended he have it checked at Karachi's Civil Hospital. Married but childless, and barely earning Rs. 400 a day, he asked his brother to travel with him to Karachi. But a month-and-a-half of treatments at the Civil Hospital rendered no improvement and their funds were dwindling fast.  The doctors suggested to his brother, Mohammad Khalid, a pesh imam of a mosque, to take him to the JPMC. There, after throat surgery and further treatment, the oncologist referred Idrees to Rahat Kada where he is currently convalescing from chemotherapy and will undergo radiation if necessary. "This place is so peaceful that we don't have any other worries except for my brother's illness," said Mohammad Khalid.

Ali Akbar is an unlettered labourer from Gadap. He barely used to earn Rs. 200 a day and says he is dirt poor with no worldly belongings — his only asset, physical labour.  He is a widower with two young children who are being looked after by his extended family. The cancer which started as a blockage in his nose has spread to his entire face, disfiguring him. He keeps his face covered with a light cotton cloth to prevent others from seeing his oozing wounds. He has been suffering for 15 years, but has, over the years, received only ad-hoc treatments. Finally, in 2011, he went to Civil Hospital where he was diagnosed with cancer and the required surgery was performed. He was fine for a few years, but the cancer came back with a vengeance. After six weeks of treatment, the Civil Hospital finally referred him to Rahat Kada and he was admitted there. "This place is very far for us and we can barely afford it, but we are glad we brought him here," said his nephew, Abdul Waheed, who is attending to him. Both think there is a possibility for cure here.

Suriya is a mother of four children in her 50s and she lives with her family in a rented house in Orangi 10.  Suriya's small breast lump became cancerous three years ago. Her medical treatment, since then, has bankrupted her family. Her daughter Shumaila narrates that with her father's salary of Rs. 10,000 as a factory welder and her own monthly earnings of Rs. 1,600-2,000 from adday ka kam (elaborate filigree embroidery), there's barely enough for them to get by. Despite Suriya's chemotherapy, a scan costing Rs. 50,000 was still needed.  Part of the amount was paid through zakat contributions and the rest the doctor arranged to have done free — however it took six months. After treatment, Suriya recovered, but only for a year.  Two months ago she started coughing and recent tests show the cancer cells have spread to her lungs. Her daughter Shumaila said, "We had no more money. The doctor referred us here assuring me all my mother's medical expenses would be taken care of. There is such a big difference between other hospitals and this place. Here the staff, even the nurses, are so nice. In other hospitals, they don't even look at you, let alone ask after you. Here they even provide food, and on time — the arrangements are very good." Shumaila says her mother will be discharged soon — both are not fully aware of the extent of Suriya's illness. "They are going to give us all the medicines my mother needs, so that we can go home tomorrow because my younger sisters are alone in the house. But they have told us we can come back any time."
This article by Deneb Sumbul was originally published in Newsline's September 2015 issue.
The writer is a documentary filmmaker and activist. She is working with the Newsline as editorial assistant.
Next