By Deneb Sumbul
A Street artfest injects colour, a quirky vibrant aesthetic and a ray of hope into Karachi's dark cityscape.
The brainchild behind painting the public walls around Karachi with vibrant, vivid art deserves major kudos. So do all those involved in trying to inject colour into Karachi's dreary, often dark cityscape — and in doing so letting this teeming metropolis be known for something other than violence, lawlessness and a collapsing infrastructure. Approached by I AM KARACHI — a city-wide movement for promoting peace — to do a street art project, the Indus Valley School of Art and Architecture (IVS) envisioned, planned and implemented the 'Re-imaging the Walls of Karachi' project, which captured the attention of the public and media, both local and international.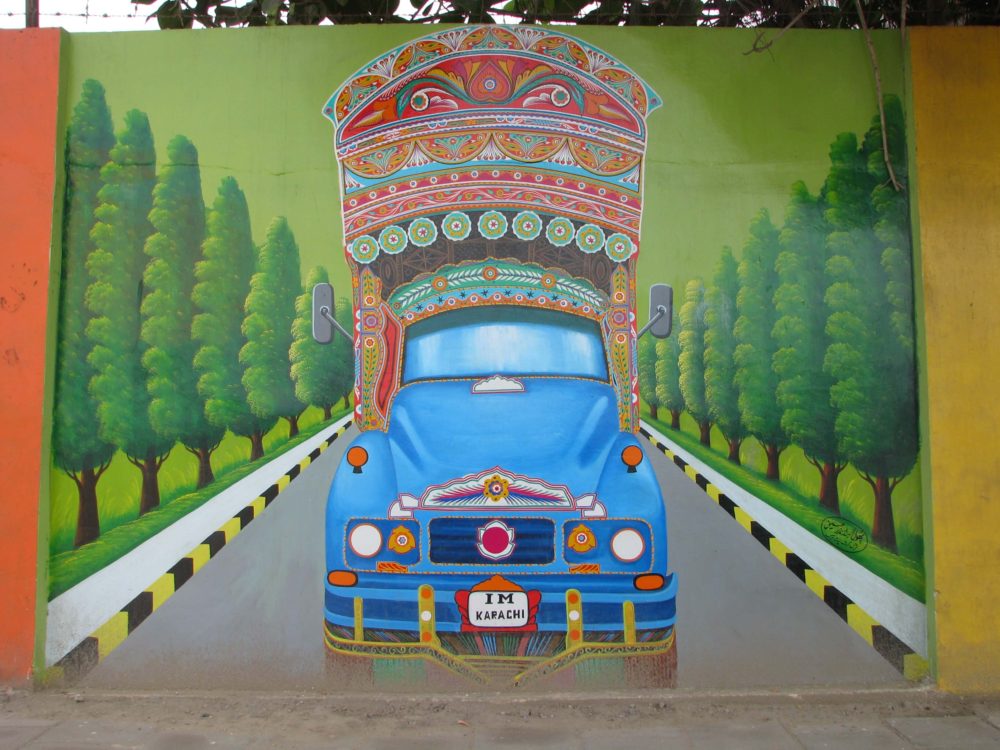 Ergo: a vast canvas of concrete depicting a reimagined and reimaged Karachi. And so, usually beleaguered Karachiites are out and about enjoying what is truly a sight for sore eyes — some 1600 walls in different parts of the city having been visually reinvented from hostile, hate-filled, graffiti-ridden structures to ones adorned by colourful, often beautiful, paintings and patterns, such as those on M.T.Khan Road. The entire length of the road, with the looming containers separated from the thoroughfare by only a small wall, is now a virtual art gallery.
The aim of the project was to counter the extreme negativity that has become synonymous with the city. Wall-chalking has increasingly dominated the Karachi aesthetic, promoting political, social and ethnic divides and the culture of hate with harsh and sometimes distasteful statements, sometimes stamped with oversized brand names.  Much of this graffiti invariably appears overnight, on freshly painted walls.
"How do you distinguish a city?" asked Adeela Suleman, co-coordinator for the campaign and the team leader for the 'Individual Artist Project' being conducted by the Department of Fine Art, IVS.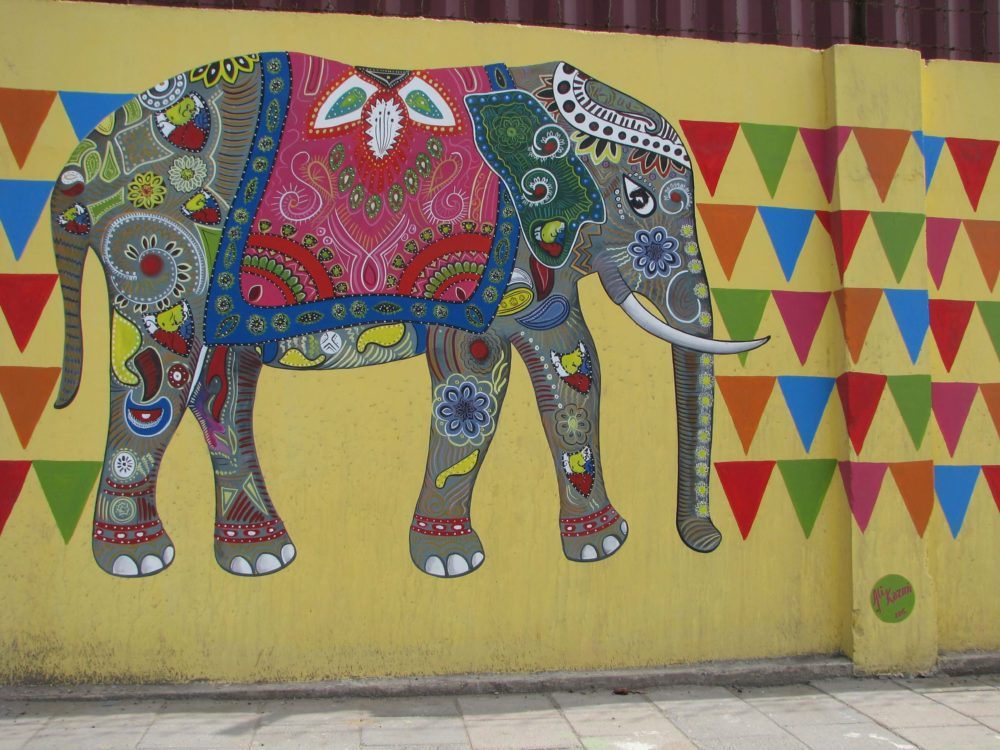 "Cities are known for their culture and art and there is such a scarcity of it in Karachi, that people exult in the few programmes that do take place. In cities like New York or London, artists' working in public spaces is commonplace, but there is no such precedent here. People are unfamiliar with the concept of artists painting, drawing or sculpting on the road. The maximum the public has seen are sculptures of a tank, a plane or of symbols that are religious in nature, which nobody can comment on, let alone ever remove, for fear of repercussions," she added.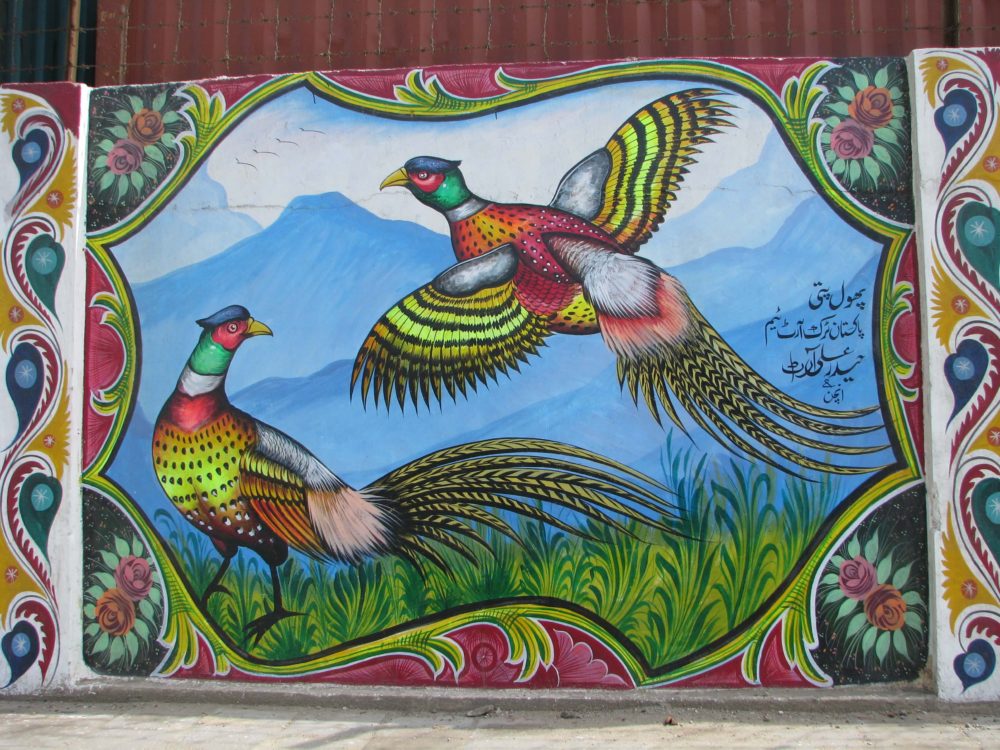 Public spaces have been shrinking over the years, with art activism having been limited only to certain segments of society, and artists usually working in isolation. This was the first time a city-wide, inclusive, campaign was carried out for the public. It is hard to conceive how much thought and planning went into the three-tiered project, which included 300 walls being painted on.
Munawer Ali Syed, one of the team leaders, headed the vibrant Stencil Art Project, stencilling graffiti art on 1600 city walls facing the main thoroughfares. The third tier involved working with children in public spaces called Bachon say Tabdeeli, led by Rabeya Jalil and Shahana Rajani. "We worked in collaboration with two billboard painters in three schools in Keamari, Lyari and Shirin Jinnah Colony, painting on the boundary walls of the respective schools during the children's activity time within school hours," said Rabeya.  "We weren't sure if the girls would be allowed to paint outside, even if it was in their local surroundings — but they did and very willingly, sometimes wearing burqa and niqab. At times their relatives would pass by, but it turns out they appreciated what the girls were doing."
She continued, "As a result we received a lot of calls from schools to make their walls part of our project, but we had to explain that our primary objective was to remove hate-promoting and provocative slogans.
"When we sent out the call to the artists for their designs," said Adeela, "we asked them not to include any text, writing or potentially objectionable figures such as those of women. We were going into a public space for the first time and we weren't sure of people's sensibilities or how they would react.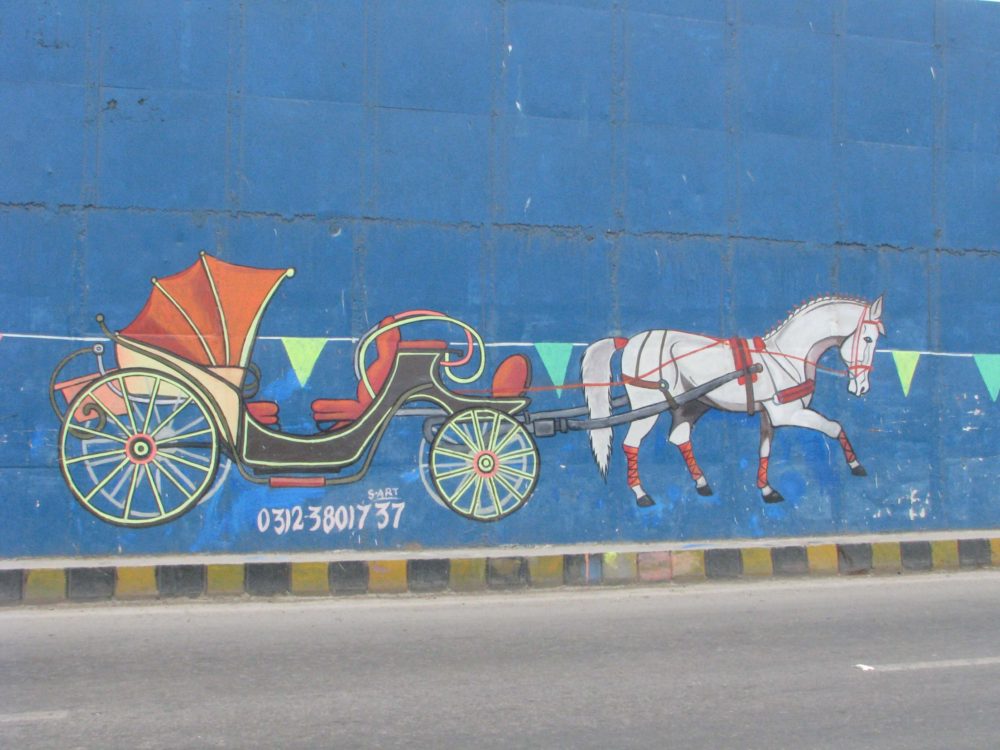 "So all the designs, images and stencils, even the drawings made by the children, were selected and approved by the I AM KARACHI team, the Commissioner Karachi — who was involved throughout because we had to ensure the images didn't offend or target anyone in particular, or hurt the feelings of any religious minority — and by me.
"The images had to be neutral but also, they had to be paintings people could relate to. Even if they just generated a smile or people took selfies with them as a backdrop — that was more than enough for us.  That was the goal of the 50 artists' project, which was later extended to include 75 artists."
Although the project has now culminated, there have been spin-offs.  Individuals and institutions are now approaching the team to have their walls painted as well. I AM KARACHI has decided to collect more funds for painting another 100 walls. PTCL has approached them to conduct a competition along similar lines. A TV anchor and her friends have collected Rs. 4 – 5 lakhs for paintings on the public walls of one area; and the authorities at the Customs House, which is being renovated, want their front wall done.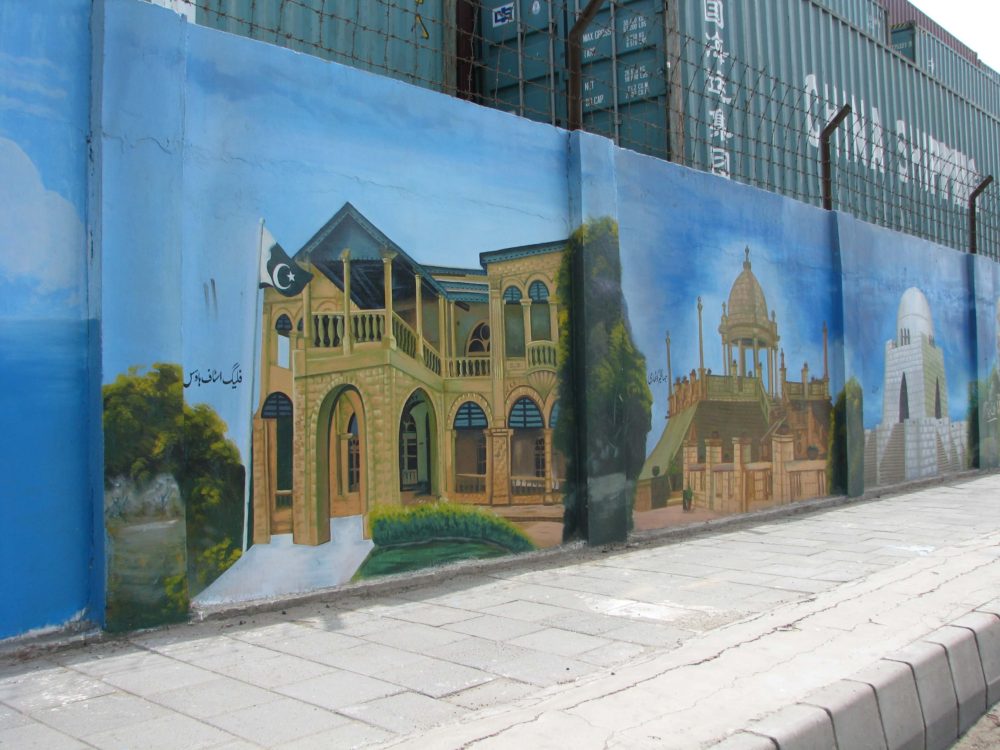 This art activism didn't just involve artists, but also included sign-board and billboard painters and truck artists. "These people have found work. After the project ended, they received several commissions by organisations and by individuals to paint private homes," stated Adeela. Hitherto, truck artists were confined to painting in truck addas, while billboard and cinema signboard painters were not getting enough work because of Panaflex printing. The media attention brought them to the forefront, gave their confidence a tremendous boost and saved them from seeing themselves as a dying breed.
"The beauty of public projects is that there is an ownership by the people and by the government," said Adeela. Both she and Rabeya Jalil narrated how hundreds of people came up to them and the other artists in the course of the project to appreciate, support and admire their work. "Even regular painters would come up to us to ask if we could give them a wall. People would blow horns, wave at the painters, shake their hands, even leave them food and water, especially during the heat wave in June. We got an overwhelming response from the people."  Adeela tells about a milkman who said that his daughter had become so fascinated by the wall paintings that she would spend her entire day drawing. "Finally he asked us how he could make her into a painter."
While this creative out-of-the-box initiative may be small in terms of numbers, given the size and population of the city, it unarguably generated the positive energy it set out to do.  The city desperately needs an overhaul, roads and rooms with a view, and a feel-good factor. Perhaps this is the first step in that direction.
This article by Deneb Sumbul was originally published in Newsline's September 2015 issue.
The writer is working with the Newsline as Assistant Editor, she is a documentary filmmaker and activist.
Next