Saleem, 30 plus, was missing for about six months.  His family members, residents of a small village near Bhan Saeedabad subdivision in Dadu district, Sindh, had virtually left no stone unturned in their search for him, but he seemed to have vanished.
His siblings contended there was no apparent reason for Saleem to have left home without a word.  According to them, he went one morning looking for work, and never returned.  However, his brother Khalid did disclose that jewellery worth 50,000 rupees went missing from the house at around the same time Saleem disappeared.
The mystery was solved recently, when the family received a detailed letter from Saleem.  It read, "I'm shameless and stupid.  I was told that great prospects awaited me in Dubai — all I needed was 30,000 rupees to pay the 'agent,' who would take me to the 'promised land' and find me a job there.  I thought I could earn well and help the family.  So I took the jewellery, sold it and made the required payment.  I was asked to head for Mandh town in Balochistan.  Joining me there were at least two dozen other men whom I did not know.  We were kept hidden for two nights, following which we were made to board a small boat.  Here the 'agent' handed us over to another man, who we were told had dual Omani and Pakistani nationality.  We were informed we would reach Dubai within the next two days.  However, after a journey of about six to seven hours we saw land, and our new agent told us he would not take us any further.  Then, telling us which route to take, he left.  We had no idea where we were but having no choice, we started walking up the coast.  Soon thereafter, we encountered a group of police (coastguards).  They had seen us and were shouting to us to stop.  Panicking, we started to run.  Some men even ran into the sea.  The coastguards opened fire on us and three men from the group were injured.  After a chase of a few hours, all of us were caught.  We were badly beaten and thoroughly interrogated, but since we didn't understand the language, we could not answer the questions.  Finally they packed us in two vehicles and drove us to a detention cell where we were locked up.  It was only after a few weeks that we learnt we were in Sour — an area on the Oman-Pakistan border.
"One day, after realising that there were barely two men deployed to guard us, some among the group decided to escape.  When we found the opportunity, 10 of us fled.  We didn't know where to go, or which way home was.  We were in a desert, and we ran blindly.  We thought we would die if we weren't able to get water.
"Eventually, two men fainted; we had no choice but to leave them and move on.  Eventually, when we had reached the end of our tether, we saw a small village and started to shout for help.  Most of us fell unconscious at this point.  When we regained consciousness, we found ourselves in jail.  We have no idea what happened to the two men we had to leave behind.  Again, we had no idea where we were since we were completely isolated.  Now we have learnt we are being detained in a jail called Salala near Muscat.  Recently, one kindly policeman told us we could write letters to our relatives at home and he would try to smuggle them out and mail them.  I'm not sure whether this letter will reach you.  I know I've done wrong.  But now I'm beseeching you to help release me from here and give me another chance."
Saleem and his gang are some of the lucky ones: they are still alive.  Thirty-two other youths from different villages of Dadu district were not as fortunate.  In the second week of January, their families were informed by relatives in Muscat that the boat transporting these young men had capsized near Oman, and all aboard had drowned.  According to reports, the 'captain' of the vessel attempted to get away when he saw the coastguards near Muscat, but in his panic, lost control of the boat which then capsized.  Only four of those on board were believed to have been saved by the coastal authorities, and they were taken into custody.
These are not unprecedented incidents.  On September 9 last year, news that another boat carrying at least three dozen youths from the same district in interior Sindh had capsized and all aboard had drowned, created panic in the town.  While there has been no corroboration of this story, nothing has been heard from the youths which, believe family members, lends the report credence.
However, according to unconfirmed reports, there are at least 1400 Pakistanis presently languishing in different jails in Muscat awaiting trials for illegal entry into the country.  There is no way of confirming the identity of these unfortunates.
Yet, despite the hardships of the journey and the risks involved, the business of human smuggling is flourishing.  All the horrifying reports notwithstanding, for each one of those who have drowned or are in jail, there are thousands of other youths willing to take their chances.  Clearly the alternative — a life of grinding poverty and uncertain circumstances at home — is an even bleaker prospect than the risks of hazarding a journey overseas.
Says one starry-eyed youth: "Dubai is the place to go.  There, there are condominiums, big cars.  Even if you are caught, the jails there are not like jails in Pakistan.  They are air-conditioned; you are given good food and fruit to eat.  And they don't beat like you are beaten in Pakistani jails; they treat you with respect."  Such castle-in-the-sky musings aren't difficult to understand.  Dozens of 'agents' sell callow youths these dreams, which sometimes cost them their lives.  "People pay thousands of rupees as bribes to secure petty government jobs — and even if they get them, they lose them every time the government changes.  So if you are going to be forking out money, why not pay for a better life abroad where you can recover the amount within a month?" asks 23-year-old Qayoom Soomro from Dadu.
Today human smuggling is the biggest business after the drug trade.  According to UN estimates, at least four million people are smuggled or trafficked every year around the world, and the annual revenue generated from this totals between five to seven billion dollars.  Experts on the subject believe that the factors that lead to people willing to risk hazardous journeys, such as the ones to Dubai, are always the same.  These include under-development in the region, extreme poverty, lack of decent and well-remunerated employment opportunities, quest of economic and social promotion, and last, but not least, "dreams of a cushy life" sold by the agents. "The traffickers easily entice people who live below the poverty line and are completely helpless.  They have nothing to eat, no clothes to wear and no money to buy medicines or anything else," says Saram Burney of the Ansar Burney Trust — a human rights monitoring organisation which has long been working against human smuggling.
The agents that operate in Pakistan can be divided into two categories: those who operate in the country and those who recruit clients in the urban centres.  Nevertheless, according to a source, "all agents employ certain common practices; they work in groups and have a chain of people stationed in various countries to transport the 'human consignments' from one location to another."
The young men in most villages in the interior aspire to go to the oil-rich Gulf states since for two decades these countries readily opened their borders to labourers from the subcontinent, whose lives changed on account of the petrodollars they earned.
"Over the years they familiarised locals in the interior with the modus operandi of travel to and life in the Gulf and provided them with contacts there who could help them find jobs, provide them shelter and teach them the ropes of earning money," says Bashir Memon, Deputy Director of FIA (Federal Investigation Agency) in Karachi.  Given the dismal living conditions and limited opportunities at home, the Gulf countries thus became the promised land.  Even if they earned a meagre one or two thousand dirhams per month, when converted into rupees, it seemed a huge amount compared to the pittance they would earn at home.
However, while the Gulf is the favoured destination for youth from the interior, most of the young men in the country's urban centres look further west — Europe or even the US.  While some agents are organised and arrange for forged documents and air travel for their clients, in larger part arrangements are pretty basic.  Customers often have to traverse mountains on foot and on horseback, or ply the sea by boat.
For the latter, travel costs are almost 50 per cent less than those who opt for the formal air routes.  "The land or sea route is always risky, but people hazard it regardless of the dangers because they believe at the end of the journey a better life awaits them," says Chaudry Mohammed Akhtar, a senior FIA sub-inspector in Karachi.
Different gangs of traffickers deal with despatching their human cargo to assorted countries, and the rates vary for each country.  Says a source, "The highest rate is obviously that for travel to the US; this ranges from 10 to 12 lakh rupees.  To get to the UK and Germany the price averages six to eight lakh rupees.  And if the destination is Greece or Australia, the charges are between four and six lakh rupees," says a source.  According to him, travel to the Gulf countries ranges from approximately 30 to 50 thousand rupees.
Some agents take the entire fee for their services in advance.  Others charge 50 per cent in advance, and a few take payment only after the client reaches his desired destination.  An agent discloses that those passengers who choose to pay in advance are charged less, while charges for those who pay after the job is done are at least 30 to 40 per cent more.  "The agents are financially responsible for all the arrangements, from documentation to tickets to all the expenses that are incurred during travel, so those who receive payment after the job is completed have to pay out of their own pockets initially," he contends.
The traffickers have a very strong network which spans the globe.   "The agents who smuggle people out to western countries usually select countries that have relatively relaxed visa policies as the first stopover for their clients, from where they are made to proceed to the countries of their destination either by foot or by sea," discloses an insider.  For instance, a customer wanting to make it to Australia will usually be flown first to Singapore, Indonesia or Malaysia, from where he will be sent to Australia by sea.  Those en route to Europe are usually first transported to Iran or Turkey and then onwards to Europe by ship.  The nexus between the agents involved in this trade can be gauged by a case last year, when the Pakistani immigration staff busted a Chinese gang — known as Snake Head — in Karachi.  The well-known gang of human traffickers had been involved in smuggling Chinese nationals to North America and western countries, such as France, Italy, Germany and Belgium with the assistance of operatives in Pakistan.  The authorities arrested 21 people, including 13 clients, and an agent, who was believed to be the leader of the gang, from a bungalow in Karachi's Defence Housing Society.  "The Snake gang was using Pakistan as a transit country for the last two years with the help of local agents," says an FIA official.  He added that the local operatives who the Chinese were working in tandem with had also been arrested, and are presently under trial.  During the raid, the FIA also recovered various countries' immigration visa stamps, including those of Uganda, Lebanon, Oman, Pakistan, Korea, Japan, Singapore, France, USA, Indonesia and Egypt.
Immigration authorities in destination countries have to stay a step ahead of agents who smuggle people into their countries on forged documents.  Says a resident of Karachi; "I went to America last year with my wife.  Just before my departure, I was contacted by a local travel agent whom I had approached for making my airline bookings.  He wanted to meet me, but when I insisted he tell me why, he asked if I could sell him our passports — which carry multiple-entry visas for the US — and offered me five lakh rupees for them.  I was completely taken aback.  The man also added that I could lodge an FIR saying my passport had been lost and obtain a duplicate passport on which I could once again be granted an American visa because I had never overstayed on my trips there."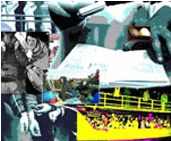 According to official figures, between January and October last year, immigration officials at Karachi airport alone have off-loaded 1,600 people for travelling on suspicious documents.  Moreover, some 31,590 have been deported to Karachi from various airports across the world which they had managed to reach on fake documents.  Senior officials in the immigration department maintain that although they are equipped with the most scientific methods to detect forgeries, agents have recourse to even more sophicated means whereby they can alter the photographs and names on passports to a degree of perfection that is extremely difficult to detect.
A case in point: despite the tougher measures in place at airports in Europe after September 11, one Waqar Ahmed managed to travel from London's Heathrow airport to Amman on Jordanian Airlines and arrive in Karachi last month on a fake British passport.  He travelled under the assumed name of Shabbir, a bonafide British citizen, whose photograph had been so expertly switched with Waqar's on the passport that it passed scrutiny at the time of his departure from London.  Unfortunately for him, while on his way back to London, Waqar aroused the suspicions of the immigration staff at Karachi's Quaid-e-Azam international airport, who asked him for added proof of his identity, such as his British driver's license or a credit card.  On his inability to provide this, they refused to let him board his flight, saying they would send the passport to the British High Commission for verification and he would be allowed to proceed only if it passed muster with them.  Realising he was in a no-win situation, Waqar finally admitted to the authorities that the passport was fake.
According to his statement, Waqar had made a trip to London some seven years ago on a visit visa, which he obtained with the help of his father who was then serving in PIA.  Later, he sought political asylum in the country on the basis of being persecuted as an MQM activist and had not returned to Pakistan since then.  A couple of months earlier however, he was persuaded by his family to return for his sister's marriage and also to meet his ailing father who has since retired.  "As I didn't have any other option whereby I could come here and go back, I managed to obtain a fake passport with the help of one of my acquaintances in London," he said.  According to him, there are many individuals involved in this business in London, and obtaining the forged document set him back by 2,000 pounds sterling, not a very large amount in the UK.  Waqar remains under arrest while immigration authorities further investigate the case.
Over the years, hundreds of people have lost their lives, and scores of others have been left languishing in jails awaiting trial in foreign countries for assorted infringements of the law including violation of state immigration laws.  A case in point: a vessel packed with illegal immigrants from Pakistan and other Asian countries sank off Turkey's coast on June 5, 2001, en route to Greece.  At least 50 people died.  The boat — with a passenger capacity of 10 — had over 80 individuals on board.
In another case of attempted immigration to Greece, one Shahzad Naveed from Karachi had paid his agent 120,000 rupees for a visa and travel expenses some two years ago.  This comprised half the amount due, with the rest to be paid when he reached Greece.  Shahzad was part of a group of 81 people, who were accompanied by three agents.  The group crossed over by foot to Iran on their way to Turkey and Greece via the country's unmanned borders.  Along the way, they were kept hidden in forested suburbs and were not provided adequate food, but they were assured they would get legitimate visas for Greece.  "When we reached the mountainous regions it started snowing and became extremely cold," recalls Shahzad.  With virtually no shelter, many became ill.  Two men, one from the Punjab and one from Bangladesh, succumbed to the harsh conditions.  The rest had no choice but to abandon their corpses.  Meanwhile, the agents panicked, and deserted the group, leaving them alone in an area they were completely unfamiliar with.  Shahzad recounts how, as the group wandered in the snow, they stumbled upon another corpse in whose hand was a bag of belongings.  Presumably the man was another hapless migrant worker like themselves, who too had succumbed to the elements.
Eventually the group reached a village on the Iran-Turkey border.  Here, a local offered his services to guide them into Turkey — naturally for a hefty sum.  After divesting them of most of their money he helped them cross over to Turkey by cutting the barbed wire at the border — but abandoned them immediately thereafter.  As was inevitable, the border security units discovered them and swiftly rounded up all of them, confiscated their remaining valuables and sent them back to Iran.  "Migrant workers are always a liability for the security units of countries, each of whom try to push them over to the other side," says Shahzad.  In his group's case, they were finally accepted by the Iranian side who charged them 50 US dollars each and deported them to their respective countries, the Pakistanis to a border town near Quetta.  Here the local villagers took them into custody and demanded three to four thousand rupees from each detainee for allowing them to return home.  Those who had the cash paid and left.  Shahzad had no money.  However, he gave his captors his family's phone number, who contacted them and released him after the money was paid.  "It took me some nine months to return home," Shahzad concluded.
There are, ofcourse, some fortunate individuals who manage to make it to their desired destinations — and even end up earning fortunes.  "Most of the time it is the relatives of these people who have succeeded in reaching their respective valhallas that attempt to emulate their example," says Mohammed Afzal Khan, a local in Quetta.  In this fashion, hundreds of members of the Pakistani Hazara tribes from Quetta and Peshawar have successfully reached Australia, in the process enriching the agents handling them.  "The success rate for immigrants to Australia has been in the vicinity of 90 per cent" says a local from Quetta, who adds that today there are youths from almost every second house in this locality who are residents of Australia.
The reason for the Hazara and Pashtun tribes' successful migration reportedly owes to the fact that they easily pass for Afghans, and Australia, along with many western countries, is currently more kindly disposed towards Afghan refugees and willing to offer them asylum.  Hundreds of Hazaras have in fact, already been granted political asylum by the Australian authorities by falsely claiming Afghan identity.
The traffickers engaged in sending people to Australia charge four to six lakh rupees, and employ different modus operandi from the others in the trade.  They make two passports of immigrant workers — one Pakistani and the other Afghani.  They do not inform the workers of their travel plans in advance, calling them just before they are to leave.
"Agents are always apprehensive that if forewarned, their customers may disclose the plans to their relatives or friends thus putting the entire operation at risk," says Quetta resident Qasim Khan, one of whose close relatives managed to make it to Australia through these agents and is now happily settled there.
The customers are briefed in detail about their journey on the very last day.  They are instructed to destroy their Pakistani passports while at sea and surrender to the Australian police once they arrive on the shores of Australia.  They then proceed to seek political asylum on the basis of their 'Afghan' nationality, a ploy that has proved an effective one so far.  For those undertaking the journey by air, they are, before boarding, provided with the names of the touts at the next destination who will receive them at the airport to assist them further along the way.
The journey to Australia is a simple one in itself.  Passengers holding Pakistani passports book a ticket to Kuala Lumpur or Singapore where obtaining a visa on entry for a limited period is comparatively simple.  From Kuala Lumpur or Singapore, they travel by boat to Indonesia with the assistance of the smugglers.  They then proceed to make their way across the country to reach Indonesia's southeastern-most island, which often functions as a staging post for crossing the Indian Ocean.  Close to the Indonesian islands lie two major islands — the Ashmore Reef Island and Christmas Island — that are part of Australian territory.  The smugglers either take their leave of the asylum-seekers at the uninhabited Ashmore Reef Island or else at Christmas Island, where the local population tends to be sympathetic towards asylum-seekers from Indonesia because they themselves are originally from the Indonesian island of Java.  Torres Island functions as another gateway into Australia.  From one of these three islands, the asylum seekers attempt to make their way to the Australian mainland by small boats, which are also arranged for them by the smugglers.
"When we begin our journey from the Indonesian coast, we contact other agents by phone to enquire about the activities of the Australian coastguard police," says one of these agents.  This man's contention is that, far from committing a crime, human smugglers are in fact offering a valuable service that provides opportunities for people from impoverished families to earn their bread and butter.  We never conceal from our customers the hardships that the journey entails," he insists.  "But they are obviously tempted by the prospect of a comfortable life awaiting them if they make it to their destination."
When they are arrested by the coastguard police, the asylum-seekers are placed in the alien detention camps in Australia where, while their cases are processed, they are taught the English language.  The granting of political asylum normally takes a maximum of between six to eight months, after which they are finally allowed to work in the country.  "Living in these camps is not such an ordeal if you keep in mind that a great future awaits you," maintains a Hazara tribesman in Quetta.
However, the Australian government appears to have reached the end of its tether with the problem of alien smuggling, and asylum-seekers to Australia may soon find greater hurdles in the way of achieving their objective.  A senior official of the Australian police was recently in Pakistan for meetings with government officials in an effort to seek their assistance in dealing with the issue.  Sources say that Pakistani government officials declined, maintaining that most asylum seekers enter Australia on the basis of Afghan, rather than Pakistani, identity.  The less than cordial relations with neighbouring Indonesian and Malaysian governments does not make the Australian authorities' task any easier.
In the business of human smuggling, say observers, the agents are the main culprits, for it is they who initiate the financial deals with interested, and vulnerable, people.  They arrange illegal travel documents, including visas, forge documents according to requirements — in short, mastermind the entire operation.  Sources disclose that the agents' strong nexus with the airport immigration staff as well as the staff at the passport office enables them to conduct their business with impunity.  States a report recently dispatched to the director FIA, "These racketeers run their business in an organised manner and members of the agencies including immigration staff and the passport office officials are the shareholders to whom remuneration is distributed by the agents as per agreement."  The report went on to disclose that the passport cell, Karachi, contrary to its task of curbing illegal immigration and passport crime, is one of the major beneficiaries of the business.
Senior officials in the immigration department, meanwhile, maintain that tracking down the agents is a difficult task because their customers, in the belief that they have attempted to help them, usually do not disclose the agents' identities.  Moreover, even if some of them are arrested, immigration officials believe it is difficult to take action against them in a court of law in the absence of documentary evidence against them.  Says a senior official of the immigration section at Karachi; "Most people who are smuggled to different countries through whatever mode of transport, do not  obtain receipts when they pay money to these agents."  Under these circumstances, he said, it is impossible for the immigration staff to obtain convictions.  Indeed, there are few instances of agents even having been arrested and according to the official data, their conviction rate is not more than three per cent.
One of the most notorious cases of human smuggling to surface recently is one that involved the young daughter of Mehboob Khan, a resident of Karachi.  The sole earning member of the family, with a minor son and five daughters, Mehboob Khan's meagre earnings weren't enough to get by.  Thus, when he was approached by one Zahid Hussain Shah, with the prospect of finding employment in Germany, it seemed a dream come true.  Along with a couple of relatives who were also interested in migrating overseas, Mehboob Khan managed to arrange the requisite sum of 13 lakh rupees and handed it to Zahid for processing their paperwork.  Over the next few weeks, Zahid became a great friend of the family and was soon a frequent visitor to their house, often bringing his wife along with him as well.
All the while, Mehboob Khan was assured that their passports were being made and visas obtained.  The group was to travel in a legitimate manner by air.  Two weeks before their ostensible departure, Zahid requested that Mehboob Khan allow his daughter to accompany him and his wife, who was expecting, to Nawabshah where he wanted to pay a farewell visit to his family members.  Mehboob Khan, out of compassion for Zahid's wife, agreed and 14-year-old Zargul left the house with the couple.  Zahid, however, had other plans and the next day the three of them were on a flight to Germany.  Zargul had been threatened into submission and, with the help of a fake passport which showed her as Zahid's daughter, arrived in Germany.
It was not long before she discovered that she had been brought there for more than as a domestic help in the couple's service.  Two days after their arrival, Zahid's wife went into labour.  While she was admitted into hospital Zargul was raped by Zahid, in what was to be first of many such instances.  Zahid ensured the young girl's silence by promising to reunite her with her family if she complied with his wishes and threatening to harm her siblings if she spoke to his wife about his actions.  "He was a big man and I was scared of him.  He would never leave me alone with his wife and if I ever spoke to her in private, he would yell at me later and beat me up," remembers Zargul.
Meanwhile, back in Pakistan at Mehboob Khan's house, the panic-stricken parents were devastated.  Unwilling to publicise such an incident involving their daughter and to avoid prying relatives and neighbours, they decided not to inform the police.  Instead they turned to the Ansar Burney Trust for help.  After a hectic, two-month long search, Zargul was traced through contacts with the FIA and was returned to her parents in Pakistan.  The FIA refused to disclose Zahid's whereabouts and he escaped before any action could be taken against him.  Zargul remains in shock from her traumatic experience and sits staring blankly into space most of the time.  The money and Zahid are still missing.
The prospect of finding a pot of gold at the end of the rainbow on foreign shores sometimes propels people in dire economic straits to take risks that put their very lives at stake.  Exploited by unscrupulous agents who prey on their desperation knowing that the risk of the operation is largely borne by the customers, such people can find their dreams turning into their worst nightmare.
Next