Zuhra Karim (1932-2019) was one of the great pioneers of women's journalism in Pakistan. In 1963, she set up She, one of the earliest women's magazines in the country, which provided an important platform for women's voices and a career for women journalists, when such opportunities were few. Her aim was to work for women's rights in Pakistan and "help women develop their potential" as she told, me in a 1998 interview for Zameen.
Zuhra's early childhood was spent in Delhi, then Mussoorie, after which her father, Aziz Ahmed, who first served in the railways, was appointed as a commercial attaché at undivided India's High Commission in London. After Partition, he retained that rank in the new Pakistan High Commission. Zuhra's mother, Josephine Clinton, was English. Zuhra was educated in private schools in Britain, graduated from the London School of Economics (LSE) and worked at the Food and Agriculture Organisation (FAO) in Rome, before settling in Pakistan.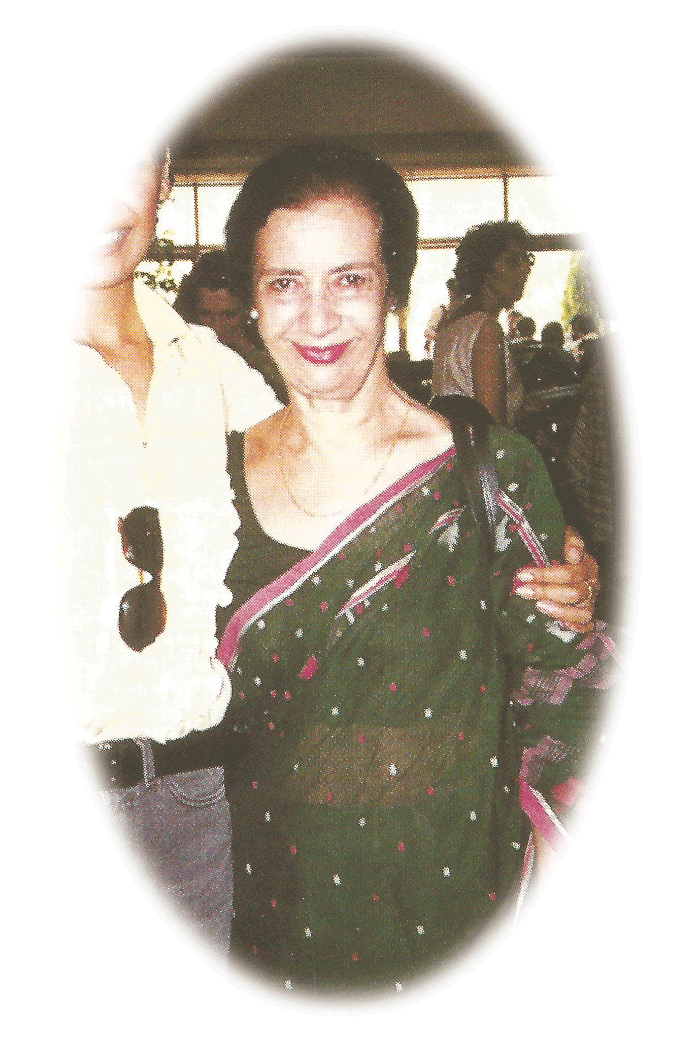 In those early post-Independence years, Pakistan was a country of great hope and optimism, yet most women had very limited lives. It was quite the norm to come across girls who had wanted to paint, or go to university, or work, but had not been allowed to. In She, Zuhra made it a point to project women achievers such as artists, doctors, teachers and nurses, alongside articles on fashion, home, welfare and local crafts.
I remember being immensely aware of She as a "window" to Pakistan. I had just come back from 10 years in England, where I had been at boarding school, but it all seemed too distant for me to consider journalism as a career. I was particularly thrilled at the double-page spread, "The Women Behind the Men," because it included my mother, Jahanara Habibullah, and highlighted the unacknowledged yet pivotal and supportive role played by women, married to successful men.
I think I first met Zuhra around this time. I seem to have a memory of her: elegant in a cotton saari, her brown hair tied back in a neat chignon, sitting among a group of people at an exclusive club I frequented with my parents. In those days, I thought of her as someone belonging to their social circle, though she was much younger. She was always very affectionate and seemed to be a kindred spirit.  In time I began to think of her as a friend of mine and of Saleem, my husband. He remembered her family, specifically her younger sister, Esme, from his pre-Partition Mussoorie childhood. Zuhra was first married to Omer Kureishi, the celebrated cricket commentator, and later to Masud Karim, the head of a leading multinational.    
In my Zameen interview (on women journalists), Zuhra said she closed down She after 1971, due to difficulties in obtaining newsprint and a new system of quotas and permits. In 1983, however, she revived the magazine with a stronger, more politicised feminist content. The magazine was among those in the English language press that stood up against the bigotry and fanaticism of the Zia regime, in support of The Women's Action Forum. "We had one great objective – to protect women's rights through the press," she said. "I think it was because of this that other discriminatory laws that Zia wanted to introduce [after the Hudood Ordinance], never went through."  By the end of the 1990s she also started an Urdu version of She.
Zuhra's commitment as a feminist and a human rights activist also drew in men, who supported the cause. As Javed Jabbar wrote in Dawn recently, he was assistant editor of She from 1966-68 and continued to contribute to the magazine for many years. In a reversal of gender roles, her cookery pages in the 1980s included a sequence titled 'Man in the Kitchen' – about my father, Isha'at Habibullah, well-known in the corporate world, but also a great cook and gastronome. Other issues featured recipes by Hamid Hussain and Sahibzada Aijaz Anis.
Meanwhile, in 1990, my daughter Kamila interned at She while applying for American colleges. She interviewed a woman doctor, covered a health seminar, art exhibitions, restaurant openings and much else. She learnt a great deal.
As for me, I started to contribute to She in the late 1980s, but from 1991-1995, I wrote for the Books section. As an editor, Zuhra was supportive and exacting, though she gave me my head to a large extent. She loved books, as I did, but she was also conscious of She's diverse readership. She encouraged me to develop the book section from a solitary review of AS Byatt's Possession, or Peter Ackroyd's Dickens, to include two, three or four books, catering to different tastes. So, one month there would be Stephen Hawking alongside Jilly Cooper; in another, Zia Mahmood, Ruth Rendell and Kathleen Jamie; and in yet another, John Irving, Barbara Taylor Bradford and Margaret Atwood. Sometimes, there would also be an entire page on Urdu books translated into English. All this expanded my reading experience.
Zuhra also tapped into my interest in history, culture and feminism in the interviews I did for She. I particularly remember an article on Old Karachi, which incorporated the memories of three elderly Karachi inhabitants – Bruno de Sa (b.1901), Behram Rustomji (b. 1909) and Fazl Lakdha (b.1919).
Zuhra Karim was a truly remarkable woman. Her concern for the welfare of others moved beyond the written word, to voluntary work. She was appointed Chairperson of the Education Trust Nasra School, in 1972 and later Trustee, from 1982-2007, having set out from the start, to cement and extend the school's mission to provide low-cost quality education for boys and girls, which led to a second campus in Malir (today there are seven). In 1982, she co-founded the SOS Children's Villages and worked tirelessly over the next two decades to develop the first SOS village in Malir.
Zuhra Karim had a son and a daughter. Seriously ill, she spent her last years with her son, Javed Kureishi in Singapore. In an email message to me, her daughter Ayesha Karim, who resides in London, wrote:
"My mother was committed to social justice and humanitarian progress in Pakistan, causes she believed could not be achieved without the education and empowerment of women. She was dedicated to She, the magazine she founded, to campaign for social progress and she ran it tirelessly for over 50 years, until poor health forced her to withdraw."
Next