What's Inside Newsline's June 2011 Issue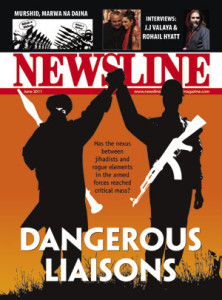 Newsline's June 2011 issue is on newsstands.
This is an issue you will want to get your hands on immediately.
In this month's cover story, Newsline examines the nexus between jihadists and rogue elements in the armed forces. In "Dangerous Liaisons" by Sairah Irshad Khan it is revealed that the threat from within the army ranks is very real and points to one previously unreported attack within a Lahore garrison in 2006 that was carried out by a serving jawan.
After a recent series of deadly attacks against military and police installations, Imtiaz Gul writes that never before has a review of Pakistan's intelligence-security apparatus been more urgently needed.
Mohammed Hanif provides an "open letter" to the Armed Forces High Command in which he writes that "we finally agree that General Zia's domestic and foreign policies didn't do us any good….yet somehow, without ever publicly owning up to it,  the Army has continued Zia's mission."
And while in conversation with Arif Rana, former DG ISI Hamid Gul says, "The Pakistan military and its agencies are in a state where they cannot recognise their real enemy."
In "The Inner Conflict," Amir Zia says, "Time has run out. We must decide: are we with the terrorists, or against them?"
In the Newsline Special Report "The Military's Expanding Frontier," Ayesha Siddiqa writes that the military's increasing ownership of foreign policy has made the Foreign Ministry virtually redundant.
In other stories, we looks at how the government has helped the KESC privatisation project fail, and also we examine recent WikiLeaks disclosures and wonder if the disclosures will bring us any closer to accountability.
Plus there is more:
Sujoy Dhar writes about India's new face.
Farah Zahidi Moazzam says that STD screening prior to marriage could give couples looking to marry vital options and save them a myriad heartaches.
Arshad Yusufzai writes that only 731 of the 20,000 men and women who suffer from AIDS in FATA are registered with the provincial AIDS Control Programme.
And of course we have are regular look at books, movies and art across Pakistan.
Get your copy of the June 2011 issue today.
Next