Veena Malik: Pakistan's Next Top Spy?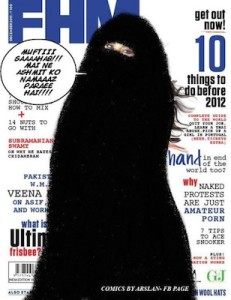 Not the original cover: After Veena Malik claimed the FHM cover was not authentic, the above  satirical cover popped up quickly on Facebook. Illustration: "Comics by Arsalan" on Facebook
‪Veena Malik has made news headlines once again. But this time it didn't involve Bigg Boss or Mufti Sahib. Veena chose to bare (almost) all, posing nude on the cover of FHM India. When the magazine cover was unveiled, it seemed like every Facebook timeline on the subcontinent was engulfed with Veena posts, and earlier today Ms Malik was trending on Twitter. Those who are not familiar with Indo-Pak celebrities are wondering who she is, confusing her with Zayn Malik, a member of a British-Irish boy band that finished third on the seventh series of the X-Factor. Of course, those who have already been introduced to her media-magnet antics cannot forget who she is.
Just the other day, after compiling a "Who's Who List" in successful Indo-Pakistan film and media collaborations, I heaved a sigh of relief that Veena Malik was safely ensconced somewhere in southern India shooting a 3D horror movie with Telugu filmmaker Hemant Madhukar. While Veena escaped the wrath of "Mufti Sahib" in Pakistan, she's now back in the limelight with this crazy new photograph, which could incur the rage of the nation's premier spy agency whose name is 'tattooed' on her arm, and which will definitely enrage Pakistan's self-appointed morality police. Already, Pakistan's interior minister, Rehman Malik was quoted as saying that if Ms Malik did indeed pose nude, then "strict action" would be taken. If only corruption and terrorists were dealt with the same dedication. ‬
But whether it's really a totally nude Veena on FHM India's advance promo of its December issue cover (different versions of the cover have emerged: one with both her arms folded across her chest and her left leg lifted to avoid revealing everything; the second cover shows Veena with her left arm across her chest while she holds a hand grenade with her right hand and tugs at the pin with her teeth; both have the ISI tattoo), or the result of a good photo-editing job remains to be seen. Veena denies claims that the shoot involved complete nudity, stating she had allowed bold photography, but not so bold that she appears without any clothing at all. She is said to have conveyed her dismay to the editor of FHM. If her claims are true, FHM needs to be asked, "Why Veena and why now?‬"
Of course, FHM's editor, Kabeer Sharma, says the photograph is real and that he can prove it. Moreover, on December 3, the day after the first cover photo was released to the public, Sharma tweeted that "[I]'ve spoken to Veena and neither one of us want to fan this controversy further than it already has been. Do tweet feedbk on covers." Unfortunately for both of them, especially Veena, there will be plenty of flame-fanning going on at home. ‬
While fans and haters on Twitter and Facebook are either gnashing into her with total disdain or inundating websites with messages of support, some comments definitely hit the nail on the head. "Will Veena Malik be joining PTI now that she has exposed her assets," read one tweet circulating the twitosphere. "‬This Veena Malik thing is a CIA plot to divert attention from the NATO attack," read another tweet.
When the brave Veena Malik stood up to the morality brigade in Pakistan earlier this year and faced the conservative backlash, she was crowned a hero by many, including the liberal elite who praised her for her courage to take a principled stand. "She beat the mufti at his game," said Pakistani writer Mohsin Hamid at the Karachi Literary Festival in early 2011. "'I am a bombshell actress, that's what I do, so back off,' she said," continued Hamid. "Let's not kid ourselves, there is a degree of pernicious self-censorship in our society," he concluded.
‪Right now opposing comments like "Haters are gonna hate" and "Go Veena" are inundating new media. Whatever the reality of this latest photo brouhaha, let's hope Veena Malik emerges from this new 'scandal' unscathed‬ and continues to do what she does best: which is to entertain. Meanwhile, the rest of the country should focus its energies on bigger issues than the entertainment thrown up by an actress and a foreign glossy magazine promoting "girls, games and gadgets."
Read some of the top tweets being shared about "Veenagate" below:
The writer is a former assistant editor at Newsline
Next