Newsline Film on the 2010 Floods to Screen in New Delhi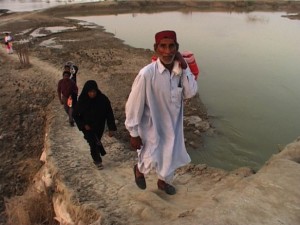 Newsline Films continues to earn recognition for its thoughtful, in-depth documentaries.
When the Rains Came, a documentary about the 2010 floods that devastated Pakistan, has been selected for the 6th International CMS VATAVARAN Environment and Wildlife Film Festival and Forum in New Delhi.
The 2011 film, which was produced for PANOS South Asia, focuses on the environmental and man-made factors that influenced the historic scope of the disaster. In the wake of the unprecedented catastrophe (over 20 million people affected, one-fifth of cultivatable land under water, millions of people displaced and livelihoods lost) debate about the country's preparedness and the government's disaster management competency was intense. However, "The environmental forces at play received only sporadic attention and this documentary investigates the role played by factors such as dams, deforestation, poor maintenance of waterways, and settlements on river banks in exacerbating the scale of the disaster caused by the floods," say the filmmakers. Throughout the 24-minute film, director Nameera Ahmed ensures that interviews with experts clarify the technical issues related to engineering and the environment, while at the same time focusing the camera on the widespread human suffering across the country in villages and relief camps.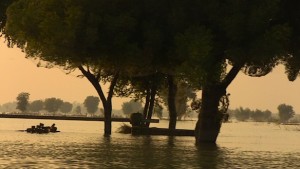 CMS VATAVARAN is described as "India's home-grown international competitive and travelling festival of environment and wildlife films. Its birth was a direct response to unprecedented economic growth experienced by India in the 1990s as a result of game-changing reforms. In India's boom decade, industrial, retail and income growth were no the only things to increase. So did environmental degradation, "particularly in tribal and rural areas," write the organisers of the festival. "It was in this background that the idea of CMS VATAVARAN, India's only environment and wildlife film festival and forum took wings."
When the Rains Came will be screened in New Delhi on December 7, 2011, and will be followed by an open forum panel discussion on climate change.
Watch the trailer below:

[youtube]http://www.youtube.com/watch?v=KWOfySHdKqs[/youtube]

Film Credits

Director: Nameera Ahmed
Executive Producer: Tehmina Ahmed
Producer: R Abdus Saboor Haider
Production Company: Newsline Films
Produced for: Panos South Asia
Camerapersons: Umbreen Butt, R Abdul Saboor Haider and Imran Siddiqui
Scriptwriter: Nilofar Ahmed
Music Composer: Athar Saeed
Editors: Wasim Mirza, Nameera Ahmed and Jibran Zuberi
Narrator: Nameera Ahmed
Next