For decades across the world over, Spain has been named a highly desired holiday destination – and rightly so. The scenic north, the beaches of the south and the magic of Barcelona, you could go to any part of the country, and have your expectations exceeded. But really, it is Spain's capital city that warrants visiting. Madrid, where I spent a number of months living, working, making friendships and learning. Learning about a culture and mentality so different to my own.
From party islands to historic towns, Spain has something to offer everyone. Yes, it's great for a weekend break – or the staple one-week trip or a two-week holiday – but to really gain something from such a unique country, one must invest in it what is most valuable to us; time.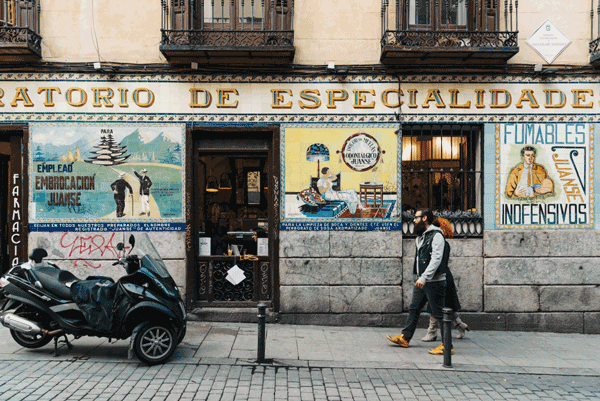 As a general rule, the longer you spend in a new country, the more you will learn from it and understand it. Naturally, those with young families are excluded because of their responsibilities, but for those who have the opportunity and desire – like a young adult or a bored retiree looking to break the monotony of their routines – then Madrid should be a top contender.
It was two groups of people from whom I learnt the most during my experience. Two groups on opposite ends of life's spectrum; those who are kicking into gear, and those who are taking their foot off the pedal. My good fortune led me to live in a house with a group of young Spaniards with whom I became good friends. Reflecting on my time there, my advice is that the young crowd of Madrid is a crowd every twenty-something should experience running with. Moving to Madrid, I expected a good time. And while yes, I found that, I found so much more.
One of the first things that stood out among my housemates – and almost everyone else I met, for that matter – was how welcoming they were. For a young Muslim man living in the western world, how accepting a group of people are of you makes a big difference.
It's something you are made to feel, but in this particular place, what I felt even more than the acceptance, was the way they held their judgement and didn't base it on the global media narrative.
Everywhere I went, the people were genuinely curious to learn about my faith and culture. It was almost as if they completely ignored everything they have been told and listened to all of my answers with an open mind. They questioned, agreed and disagreed, but never told me I was wrong and they were right. It was heartwarming.
And it was unexpected. And after a few weeks of these frank discussions, I spoke to my friend about it and my heart warmed further: "We hear so much about your religion, and the people of Spain know that the media manipulates, so now that you are here in front of us we want to know for ourselves." What you essentially get is a fair crack of the whip. Having moved to the UK in my early teenage years and lived there for over a decade I can safely say that that's not what you get there. A Muslim in England is much more of a bad guy than a Muslim in Spain.
Their open minds also contribute to their support being non-discriminatory. This group of friends who I lived with were in their late twenties, and had known each other since university. The careers in this house were so diverse; entrepreneurs running their own businesses, the steady nine-to-five workers in big corporations, and those who were trying to achieve success on paths rarely trodden, by aspiring to become football coaches and writers. But no matter how unrealistic or difficult your ambitions seemed, that support and encouragement was consistent. They make you believe that everything is possible because that is what they genuinely believe and it is so infectious. The pressure to conform to any of society's expectations is minimal and liberating. And it shows you that there really are places where such an outlook on life exists. It is a culture which practises what it preaches by living and let live.
More than the young people, however, it was the way the elderly lived their lives that really struck me. The retired, the grandparents, the great grandparents, age didn't seem to matter, they all enjoyed themselves. You would see them out every night in the parks, in bars, in terraces drinking and eating, playing cards and playing sports.
Whenever I would see them, I couldn't help but think of the elderly in my culture. Where once you pass a certain age, you must stop living and learning and experiencing. You become destined to just sit at home and accept that the last part of your life will be spent simply waiting for it all to end. A sad and pointless waste of good lives.
Whilst working in Madrid as an English teacher, once a week, during the evenings, I would take charge of a very relaxed, conversation-only class on a quiet rooftop bar next to the Santiago Bernabeu. When I first heard of this conversation-class in a bar, I was expecting young people from different countries coming together to socialise and party. So it's understandable that I assumed I was in the wrong place the first time I attended. My first reaction upon seeing the aged students was much as though I had just walked into a senior citizen council meeting. But over the weeks, it was in these classes where I met the most memorable people.
It took some time for me to get used to their spirit and positivity. Aside from learning of their undeniably interesting past lives, it was what they were doing with their present, that was most impressive.
A 68 year old man doing an undergraduate degree in photography, a 70 year old couple about to go on a six month adventure of exploring Africa, and a 52 year old woman who was about to have her first amateur kick boxing fight. Almost every individual in that class was an inspiration.
Though it was the oldest, most frail woman who made the most lasting impression. She was 83, and at first, I questioned whether or not she should even be there. But more than any other student, she would show up without fail, every week. She told me, "For me to learn this language is almost impossible, because I'm just too old and my brain doesn't support my desire, but I don't care. I've wanted to learn this language since I was a little girl and even though I know I probably don't remember any of what you taught me from last time, I love that I try! It keeps me alive and makes me proud of myself."
Parque del Retiro
Spreading over 125 hectares, spending an entire day in El Retiro is not just easy, but also a joy. A great escape from the busy streets of the center, the atmosphere will relax you almost instantly. From cafés to boat hires for its lake, there is plenty to do and even more to see, such as its historic monuments like the famous Glass Palace pavillion built in 1887 and the Velasquez Palace built in 1883. Its enclosed gardens boasting majestic peacocks as well as its bevy of roses ensure that there are plenty of quiet spaces for you to enjoy.

Santiago Bernabéu Stadium 
In the heart of the city lies the home of the biggest football club in the world. Whether you are a football fan or not, you are guaranteed to be left impressed by the access granted to the temple of one of Spain's national treasures. For a ridiculously low €25, you are allowed into the dug-outs, trophy, press, history and players' dressing room, and much more to enjoy at your own pace.

Gran Viá
If shopping is your thing, then Gran Viá is a must. Over a kilometer long, it runs through the heart of Madrid and hosts all international fashion brands, including the biggest Primark in Europe. From bars, cinemas, theatres and restaurants, Gran Viá allows you to experience a snapshot of Spanish culture all on one street and will always provide you with something to do.

Teatro Barceló 
Teatro Barceló provides the nightlife excitement and fun you're looking for. Located centrally in the affluent Tribunal, this multi-story nightclub is one of the busiest in Madrid. It has a variety of nights and music you can enjoy, from regular concerts to themed nights. The combination of a great venue — which used to be a theatre — and good mix of people and music makes it more likely than not that you will enjoy your night.

Los Montes de Galicia
If you want a real taste of Spain, then look no further than Los Montes de Galicia — an exquisitely designed restaurant, the ambience reflects its great attention to detail through its warm and elegant interior. The service is exceptional, as all the staff are respectful, attentive and knowledgeable regarding the food and drinks menu and give great recommendations. It is the food, however, which transforms this into an experience worth having, as the menu serves traditional Spanish and Galician cuisine with its own twist, executed to an excellent standard. It is a great value for money, and a must visit restaurant for any food lover.

Los Porfiados 
Hidden in a corner of one of the allies of Madrid's art infused, culturally vibrant area of Lavapies. Los Porfiados has a unique atmosphere unlike any other. With lots of space and a minimalist feel, the interior is a collection of mismatched furniture, recessed ceilings and exposed walls which somehow work perfectly. Add to this a staff that make you feel instantly welcome, like they've known you for years and a great experimental menu which is fantastically priced, you can easily spend hours in there. If you do end up staying in till late, you will watch it transform into a spirited bar with a range of delicious cocktails and mocktails.
H. Aga is a traveller and a writer based in the UK. He has worked as a chef, refugee youth mentor and a teacher.
Next