Should Federer Be Called the Greatest When He Can't Beat Nadal?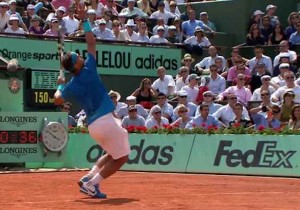 There were probably legions of Fed-heads out there who had renewed hopes when after being down two sets, Roger Federer stormed back in the third set, winning the last five of six games. The momentum had shifted.
Here's what a few people were saying on Twitter as Federer served out the third set of the 2011 French Open final:
@atulkasbekar
This ain't over yet!!! Let's go five sets! Come On Roger! Believe!!! #FrenchOpen
@tommypjr
Pour another cup of #frenchopen coffee. We might be here a little longer.
But momentum doesn't last forever, it fades. It dies. Even FedEx can't always keep the momentum on his side.
While it is not easy to compare the tennis giants from different eras with each other, a case could be made (and has been made ad nauseam) that Roger Federer is the greatest tennis player of all time. He has the titles, the records and the streaks to show for it. Moreover he has that effortless grace on the court. He has a complete game, flawless touch around the net and incredible athleticism for a guy who looks, well, incredibly un-athletic. You've seen those skinny forearms and wiry legs, right?
Most of all though, he has the ability to stay focused and make the big shots in the big games.
Of course on this day in Paris, he didn't bring his A-game to Roland Garros. And in those big moments, he collapsed against Rafael Nadal (see the IBM PointStream graph at the end of this post). The stats say it all:
Federer's 1st-serve percentage was just 63; Nadal's was 72.
Federer's winning percentage on 2nd serves was just 39. Nadal's was 51.
And while Federer had more aces, less double faults and more winners, those winning attributes of his game couldn't make up for his unforced errors:
Federer had a game-ruining 56 unforced errors. More than double Rafa's 27.
Worse still for Federer and his devoted international posse, Nadal was consistently strong throughout the match.
The Federer-Nadal rivalry has now gone on for seven years. In their first meeting in 2004, a very young Nadal beat an already maturing Federer. Today the head-to-head record is lopsided: in 25 matches, the Spaniard has won 17, the Swiss just eight.
Historically, Federer, as amazing as he is, loses to Rafa 68% of the time.
And with another loss to Nadal, there was, unsurprisingly, more noise on Twitter questioning Federer's anointment as the "best ever."
@khlegm
Nadal is proving, once again, that he's just as good, if not better than "the greatest player of all time." #FrenchOpen #Nadal #Federer
@Tyler_Mills
"Is #Federer the greatest player of all time, if he can't even beat the greatest player of his own time?" Federer vs #Nadal 8 – 16 #tennis
Make that 17 for Nadal, Mr Mills.
His Undoing?
A look at how Federer dropped unforced errors all over the court on Sunday June 5, 2011, in Roland Garros. Most of those errors were dropped in bunches, and right at the end of the first, second and fourth sets: the sets he lost. (The green arrows plotted along the green "momentum" line for Federer show where he hit those unforced errors).
Graph sourced from rolandgarros.com.
Next