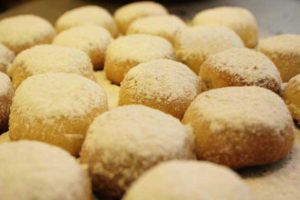 Let me say upfront that I am not a parent. I am sure I would make an absolute pig's ear out of it. (And before I get asked, "Do you eat bacon?" by some strange reader, I suppose I had better change that to what is perceived as a more culturally appropriate animal. A goat's ear? A camel's ear?) Well, there you have it, I am sure I would make an absolute goat's ear out of being a parent. So far be it for me to judge those of you who muddle through the sleepless nights and never-ending chores.
However, I think that those of you who forgive your children for being absolute pains in the… well, camel, and come around to falling in love with them and doing fun stuff with them, are absolute champs! For there is nothing more amazing than those few memories (and it is just a few that do it) that make you reminisce fondly about childhood. Aunts and Uncles, Mums and Dads do those things for the kids in their lives that they remember from their own childhood. Thus are traditions born!
When I was two, we moved out of Pakistan. My poor mother, who had never cooked a thing in her life, had to learn to cook and manage a house of four kids with no maids. It was at this point that she discovered Betty Crocker.
I remember from a tiny, tiny age baking with my mum. She used to sing while she baked, "Mama's li'l baby loves shortenin', shortenin', Mama's li'l baby loves shortenin' bread!" She used to bake a cake almost everyday. (My mum and my sisters also used to have un-birthdays for me, with peanut butter sandwiches, and I think the table was covered in a newspaper to make it festive!)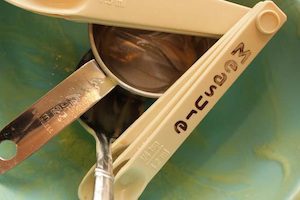 When we got older, my teenaged sisters and I continued to bake two recipes again and again from my mother's now-battered, butter-covered, warped-paged, photocopied Betty Crocker Cookbook. Those are another set of very happy memories: hysterical laughter and hysterical hunger, with our long-suffering cook looking on while trying to clean up behind us and anticipate our every need. Happiness!
So I urge you all, get baking with your kids. Encourage your kids to bake with each other. You can spread newspaper on your dining table and put the A/C on to beat the kitchen heat. Take out your ingredients and your measuring cups. Don't use the ready-made mixes; all the fun of the measuring and mixing will have been sifted out. How beautiful is a cup of flour when you use a knife to get rid of the excess, leaving a perfectly smooth surface on top and a compacted shape that plops in to a bowl, almost retaining its form? How amazing is it when gooey butter mixes with icing sugar to form a lemon yellow, heavenly paste? And what about the way your hands smell after they have kneaded butter, vanilla and sugar together. The first time I dusted icing sugar over hot cookies and discovered that the sugar was still cool in the mouth after biting into the hot cookie was a real moment of revelation. It's all like a yummy science experiment! (See more photos below).
I was heartbroken when I found out Betty Crocker was not a real person. Of course now I think it is such a cool marketing gimmick. As Martha Stewart showed us, no real person can live up to the golden image of the domestic goddess. But really, if anyone is to be one, you need to be the domestic god/goddess in your kids' life.
So off you go…
"Mama's li'l baby loves shortenin', shortenin', Mama's li'l baby loves shortenin' bread…"
Click below for one of the two recipes that we have obsessively baked through our lives. In it, we replace the nuts with coconut. Enjoy!
Here's the link to the recipe for Russian Tea Cakes. But first, scroll down to see how my latest batch turned out.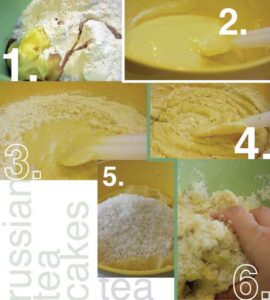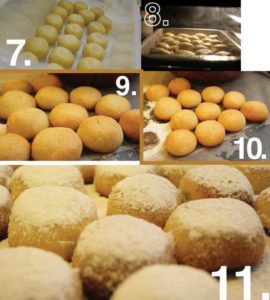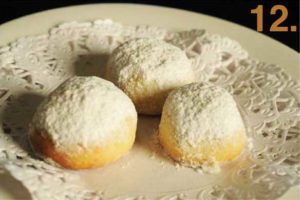 All photography by Bina Khan
Next