Seven Sinful Desserts to be Found in Karachi
Karachi and heat go hand in hand. You can find warmth in the hearts of Karachiites as they display their hospitality, their minds as some of them start heated arguments about politics or while stuck in traffic, as well as the degree of heat present in our food that's cooked with spices. But most of all, the sweltering summer sun as it beats down on this cosmopolitan city with all its force warrants relief in the form of some delicious, soothing cool desserts! Have a craving that needs to be satisfied? A desire to indulge in some chocolatey goodness? How about a soft, crumbly cookie or fine shortbread to consume? Read below, to find a quick fix to satisfy your sweet tooth:
Peshawari's Mango Ice Cream
Summer in Karachi is synonymous with mangoes. Be it Sindhri or Chaunsa or any of the other hundred varieties, it's a fact that our export quality mangoes are awaited all year round. Few things paired with mangoes would not taste good and whereas eating a mango on its own gives undisputed joy, mango ice cream is almost as delightful. For a cool mouthful, head over to Peshawari for their signature mango ice cream and enjoy ripples of mango flavoured cream alongside small chunks of sweet freshly cut mangoes.
Auntie Munaver's Shortbread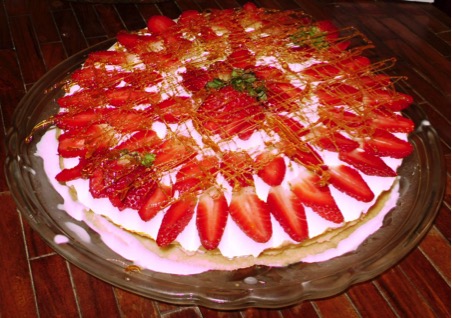 If you don't fancy mangoes in the form of ice cream and want to go the extra mile, this is the place you can turn to. For those who have not ordered yet from this kind lady, Mrs. Munaver is most famous for her Shortbread dessert and Three Milk Cake. Available in seasonal fruits — peaches, strawberry, mangoes etc — currently her Mango Shortbread is a must try, sure to hit that sweet spot with all mango lovers. Layers of fine short bread alternated by mango cubes and accompanied by a jar of custard result in a delicacy that is guaranteed to be a hit amongst family members and guests.
Iceberg's Sicilian Ice Cream
Wedding season is round the corner again, and we've all eaten this classic at weddings. However, few people know that the same ice cream can be found outside of a wedding hall as well. Their branches all over the city sell tubs of this three-layered ice cream, with vanilla  at the bottom, a chocolate layer on the top, and sandwiched in between are almonds, praline and chocolate chips. Look no further if you are having a crunchy, nutty, chocolaty-vanilla craving!
Xander's Double Chocolate Brownie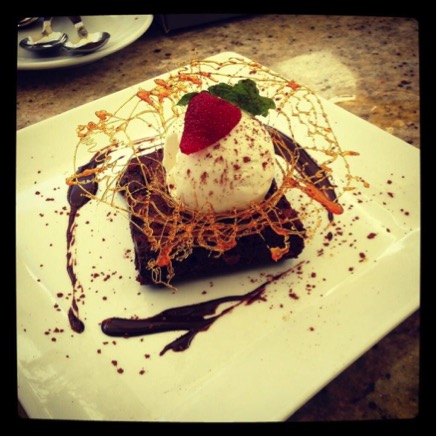 Although Hotspot has on multiple occasions been pronounced the undisputed king of brownies in Karachi, the same chocolate staple found at Xander's gives them a run for their money. Now open on Khayaban-e-Bukhari as well, a visit to Xander's calls for indulging in their smooth, luscious brownie with its melted Lindt chocolate chunks. Accompanied by a dollop of vanilla ice cream, the interplay of this warm, gooey brownie with the lightness of the cold, smooth ice cream results in a delicious celebration of tastes and textures in your mouth. For those that would like an element of fruit (to not feel too guilty about eating all that sugar) the raspberry brownie is delicious as well.
Del Frio/Bella Vita's Freshly Baked Chocolate Chip Cookie
One restaurant being a sub-division of the other, this fine dessert has quickly carved a niche for itself in the hearts of Karachi foodies. For cookie monsters, this freshly baked biscuit is a dream. Bits of soft cookie eaten away reveal molten chocolate chunks trapped in the middle, swimming under a scoop of ice cream of your choice. The best part? It can be consumed at the restaurant, prepared for take away as well as delivered to your house!
Delizia's Cupcakes
While Pane and Amore has established itself as a cupcake powerhouse, Delizia gives it tough competition. Opened about a year ago, their Belgian Malt Cupcake, Oreo Cupcake and Salted Caramel Cupcakes are not to be missed. Whereas Pane and Amore has a fine cake with a light yet delicious frosting, Delizia has a dense base, with a thick, rich frosting. Try their outlet at Khayaban-e-Seher or Badar Commercial Area soon to decide for yourself which cupcake team you're on!
Neco's French Toast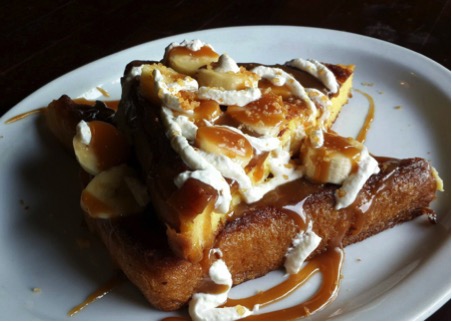 Finally, if you're feeling overwhelmed after reading about all the sugar and calories, you can turn to Neco's for a delicious yet healthy fix! Made with thick bread, this dish is less like French Toast and more like a scrumptious bread and butter pudding fit for a king. Given a choice of three toppings — including seasonal fruits as well as apple, raisin and cinnamon — the most recommended is scalloped bananas with soft whipped cream and topped with  crunchy honeycomb. Oops, the caramel and cream probably won't count as healthy, but hey, at least it has bananas which counts as eating fruit, right?
Next