Cricket: Triumph at Lords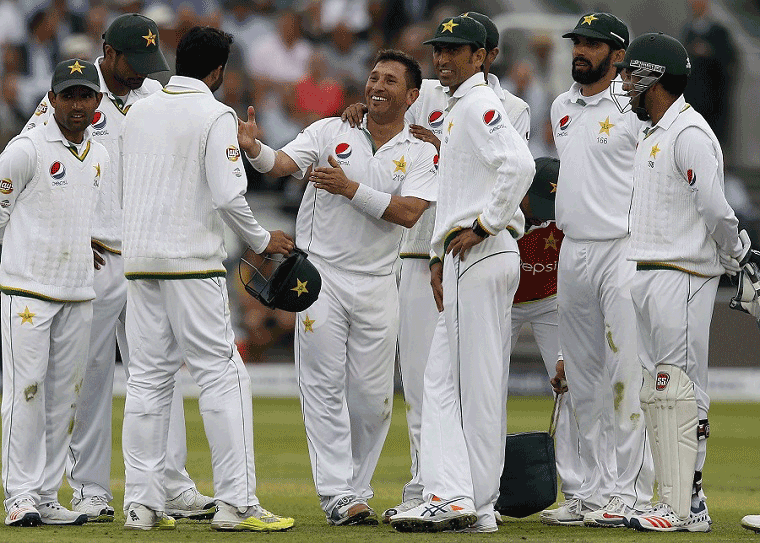 Finally something to cheer about! Team Pakistan lifted spirits across the country as it wrapped up its first Test match at Lord's against a formidable English team in four days with a 75-run triumph. The team proved true to its reputation of being inconsistent and unpredictable, but with the occasional flashes of brilliance.
This was Pakistan's best performance in a Test match in a while and  even more unusual in non-Asian playing conditions. The team had last won a five-day match at Lord's in 1996 under Wasim Akram. Since then beating the English side has been an uphill challenge for Pakistan.
In a memorable victory at Lord's, each player of the Pakistan team rose to the challenge in the first Test of this four-match series. Skipper Misbahul Haq scored an impressive century at his debut on English soil. Yasir Shah once again lived up to  expectations with a massive 10-wicket haul – the team's over-reliance on him is to be expected after Saeed Ajmal's departure.  Left-arm pacer Rahat Ali delivered gem of a performance in the second innings by removing the top three in-form batsmen. In fact, almost every player delivered.
There was considerable hype around Muhammad Amir and the English side seemed well-prepared to tackle his attack, but it was Rahat Ali who pulled off a stunning coup, leaving his opponents rattled to the core. His four wickets in the match (three in the fourth innings on day-four) may seem numerically ordinary but they're worth the victory.
A 283-run target didn't seem to be a serious threat to captain Cook and company, especially  with two days at hand and the hosts  being known as operators on home soil.  But it was undoubtedly the collective teamwork of the Pakistan side that paid off. Most encouragingly, there were hardly a few lapses on the ground by fielders.
Apart from the historic victory, a  classic post-match moments deserves  mention here — the players lining up to do push-ups under 'drill sergeant' Younis Khan in front of the pavilion and packed crowd. The spontaneous celebration even brought English supporters to their feet, cheering and applauding the performance.
Team Pakistan seemed altogether different in this match right from day one. The side was more united, less wayward, and most important, they had their nerves under control. Yasir Shah,who was named man of the match, must be applauded for intelligent bowling on a pitch that had little to offer for spinners.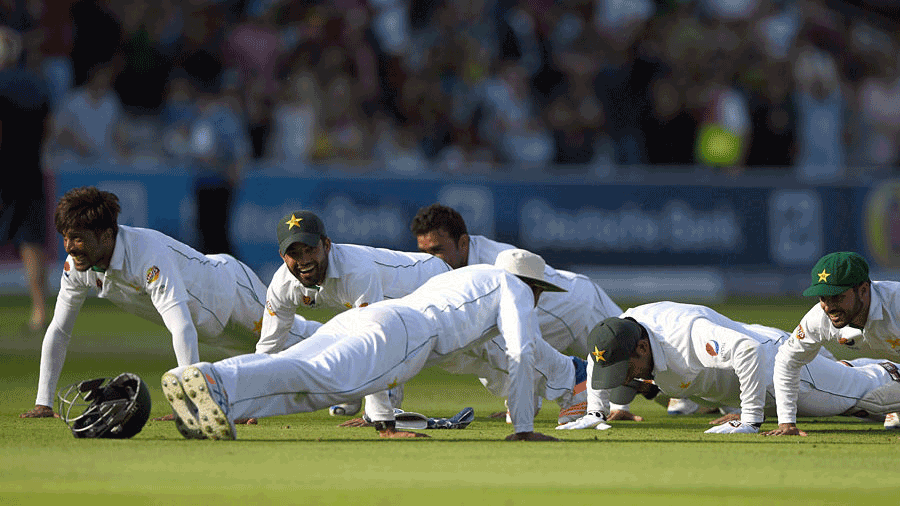 It was not long ago, in 2010,  that Pakistan was hit by the infamous spot-fixing scandal that left the team almost disintegrated. The guilty trio, Muhammad Amir, Muhammad Asif and Salman Butt served their sentences. Who knew the 17-year-old Muhammad Amir would stage a dramatic return after six years and seal Pakistan's victory by taking the final wicket in a series opener.
The series is yet to unfold.  Many more  surprises and shocks may be in the offing in the upcoming ten matches, comprising  three Tests, five ODIs and a single T20 match. England are no minnows and they are wholly capable of bouncing back. But they have been given a jolt and  Pakistan has announced its arrival with a roaring triumph. England must now be pondering its strategy and perhaps re-asessing its team choice for the upcoming  Old Trafford clash. Some exciting cricket lies ahead.
The writer tweets @Azharkh4
Next