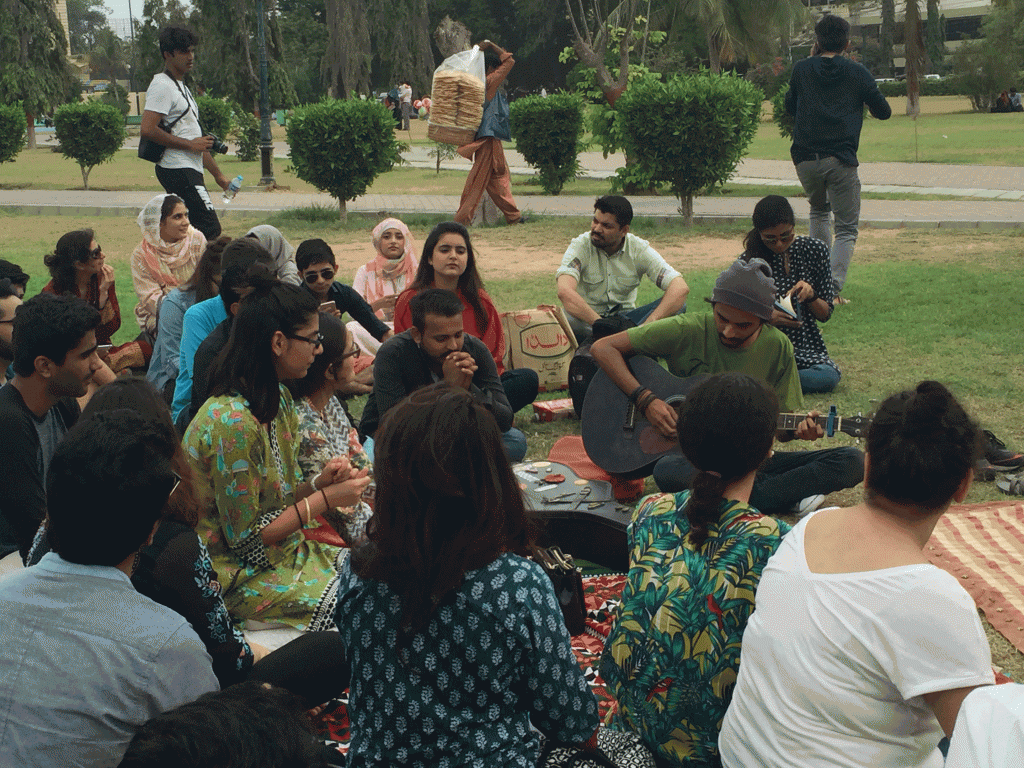 In a society as convention-bound as ours, an act as casual and innocuous as an evening of music in the park becomes politically charged. On the surface what appears to be simply a gathering of friends becomes a protest against the rigid social conventions that confine us all.
The event Pop Up in the Park, was organized by Spoken Stage and Girls at Dhabas, a group that aims to reclaim public spaces for women and young people in general. With a tongue-in-cheek sign proclaiming "Behan Chara" hung between two palm trees, the crowd and persformers with guitars on their laps sat on blankets or sprawled casually on the grass. A couple of girls manned a makeshift chai stall, hovering over a huge 'pateeli' of brewing tea.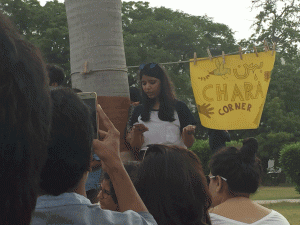 With the aim of creating a  space where anyone could speak their mind or sing their heart out, the stage was left wide open and pieces ranged from personal to the political. The performances were in both English and Urdu. Dramatic renditions of original poems dealing with personal crises, some serious and some filled with dark humor, were interspersed with covers of popular songs played on accoustic guitars.
One performance which stood out was a mix of singing and storytelling, accompanied by the guitar and a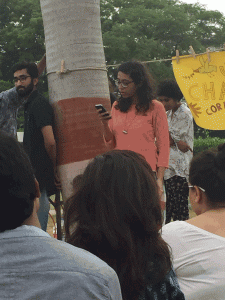 couple of boys beat boxing. It was the story of a girl attempting to break through the limitations set for her by society. The refrain of the song; " azadi chahoun… mujhe mar do" and the powerful, passionate vocals drew an enthusiastic response.
Another interesting piece, a poem, began flippantly, with the absurd phrase "I'm so sweaty". It opened almost like a stand-up comedy act before delving into the writers own frustration with society. There was also a darkly funny extract of an original story about a young mans quest to become a famous writer by doing an expose on his bootlegger, all while still maintaining his supply of alcohol.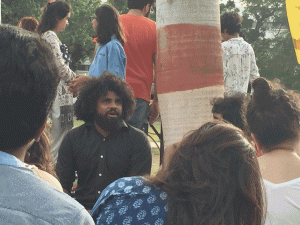 Drawn to the crowd, vendors selling their wares also found themselves stopping to watch the proceedings. Even a couple of policemen were spotted watching the perfromances. All over the park heads were turned towards the "stage", whether people were casually interested, impressed or perhaps taken aback. There was, however, very little evidence of anyone being offended. In general, the atmosphere was very relaxed, with the cool Karachi breeze adding to the mellow mood.
One hopes that there are many more events such as this, so the eventually it becomes commonplace to see a group of young people in a park simply having fun. And if someone pulls out a guitar or breaks into verse so much the better.
Next