"I am proud of myself. My parents and my family are proud of me. I am an inspiration for the young girls in my family," says the pink-cheeked, young girl, her sparkling blue eyes reflecting her happiness. Dressed in a lawn shalwar kameez, a red dupatta covering her head, she bends over a sewing machine, trying to thread the needle.
This is Zarminah Gul, daughter of Gul Wahab , who works as a security guard in a factory in Hayatabad industrial area. Zarminah is the third child of seven. She has passed her matriculation and is now preparing for her first year exam as a private student.
Today, this teenager earns more than her father by stitching clothes for women and children. "My father's monthly salary is 5000 rupees while I stitch 2 to 3 outfits at 300 rupees per suit. This gives me 600 to 900 rupees per day, you can calculate my average monthly income."
So how did Zarminah come to acquire such a useful skill and become so good at what she does? Zarminah explains that she did a one-year certificate course from the Government Vocational and Training College Hayatabad absolutely free of cost. The year that she spent here changed her life. It not only taught her a skill but also gave her confidence, independence and hope for the future "We were taught everything from cutting and sewing to designing different styles of clothing. I am so glad that I am using my vocational skill and earning a good amount.  My plan is to save money and start my own boutique in the next two years," she confides.
Poverty and poor socio-economic conditions continue to be the biggest problem facing Pakistan. Over the years, to address poverty and unemployment, social support government programs such as the Benazir Income Support Program have been introduced. The banking and development sector have also pitched in with micro finance schemes.
Another initiative towards the goal of poverty alleviation, aimed at boys young boys as well as girls, is the Technical and Vocational Education and Training (TVET) program. This scheme aims to not only improve socio-economic conditions and create jobs but also to provide the relevant social strata with the opportunities to change lifestyles as it gradually finds a way out of extreme poverty.
The TVET scheme has been operational in Pakistan for some time now, and while the results are encouraging, the number of beneficiaries remains small. This is because TVETs' capacity enhancement services cannot keep pace in numbers with the growing workforce. According to an annual estimate, only 315,000 places are available in the formal TVET sector for some 950,000 new labour market entrants every year. With these figures, there is considerable room for improvement, especially in the expansion of skill sets that the TVETs are providing training  in.
The positive aspect of the situation is that the government is both interested and willing to reform the TVET system in accordance with the National Skills Strategy (NSS) 2009-2013. With public-private partnership being the top item in the agenda, the efforts for better outcomes have been organised at national as well as regional and local levels. National Vocational and Technical Training Commission (NAVTTC) works at the federal level, while Technical and Vocational Training Authorities (TEVTAs) work at the provincial levels.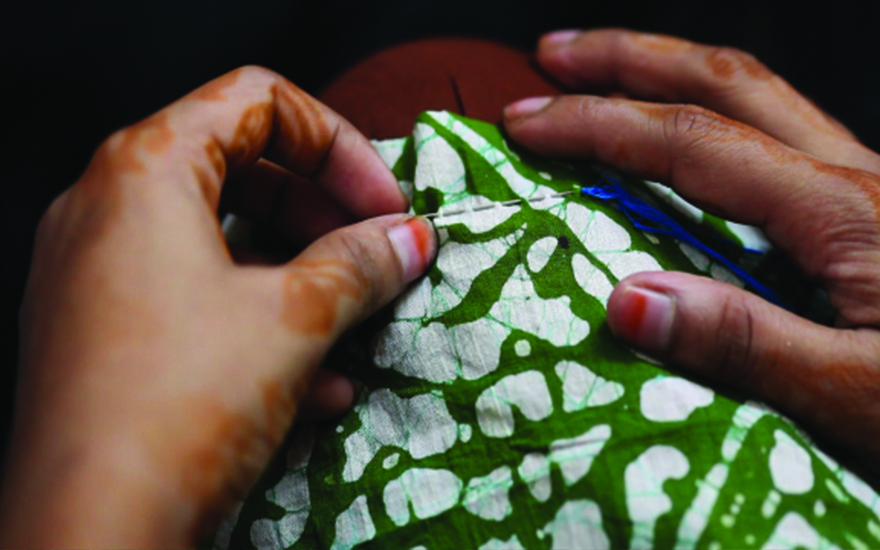 Another remarkable story is that of Rubina, who did her diploma from GVTC Gulbahar and is now running a boutique in Hasthnagri, a well-known Peshawar market. This is so small feat, surrounded as she is by male shopkeepers. In an environment where women are not encouraged to get an education or vote, she is successfully running an independent business.
Drawing the folds of her voluminous white shawl around herself, Rubina talks about her struggle. "In the beginning it was very difficult. I am doing something which doesn't fit into our cultural norms, but my family's support was enough for me to fight the odds. Now my sister helps me run the shop and we have an advantage in the fact that women feel comfortable coming here to shop. And if any alterations are needed I do it on spot for my customers," explains Rubina.  "I enjoy this work, I cherish the day I decided to get this dress designing diploma. I already knew how to stitch but they taught me to be creative and how to design, using buttons, embroidery, lace, etc."
Rubina hopes that attitudes towards girls will change once people see what they can accomplish.  " I think in our society it's very hard for girls to get an education. I come from Sawabi and our parents don't focus on educating or training girls to earn a livelihood. But I think it's high time our parents reconsidered." "I know this change won't happen overnight. It might take ten years.  But if people just start thinking, for the sake of their children's welfare, then our city, our province and our country will flourish."
The old red-brick building housing the Gulbahar vocational training institute for boys beckons visitors into its cool, shady interior in the blistering midday heat. Here  Syed Haider Ali is busy at work.  Haider lost his left leg in a bomb blast in Kisakhawani Bazar . He is about to complete his diploma in men's tailoring. "After the bomb blast, when I realized that I would have to live with this  disability I went into a depression," he recalls. "Being the eldest  child I felt responsible for supporting my family. It was my father who suggested that I join this course  and become a skilled tailor." Haider will soon complete the course but he has already started working with another tailor in the evenings.  "I am earning about 400 rupees per day  and I will soon set up my own shop."
 At the government  polytechnic collage on Gari road,. Zaid Kaleem talks about his journey so far and hopes for the future. He belongs to a family of blacksmiths and business is flourishing.  "But I told my father that I wanted to enrol for technical education and learn more about machines," says Zaid. " I know how to manipulate steel but there is so much more to learn. Now I am in final year of my diploma and after this I will do my BSC."
 A new world of possibilities has opened up for these young people. The challenge is to make such opportunities available to the youth all across the country.
Next