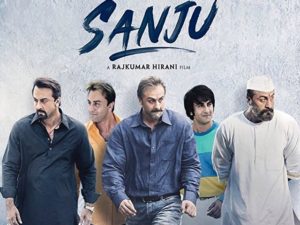 In an interview with Rajeev Masand, Ranbir Kapoor said that getting into Sanjay Dutt's character required him to believe in the authenticity of the storyline. That belief and conviction came across very clearly as Kapoor seamlessly adopts Dutt's body language as well as appearance in Rajkumar Hirani's recent biopic of Sanjay Dutt, called Sanju.
Kapoor further recalls that Hirani told him to refrain from imitating Dutt's voice to avoid it sounding caricaturish and that the audience would automatically believe what Kapoor believed. Ranbir went on to say that anyone who watches the film, "believe(s) that this is Sanjay Dutt". And that is indeed true! Undoubtedly, Kapoor's extraordinary performance and Hirani's cinematic genius further aids this belief.
Like any other Hirani film, Sanju flows smoothly and is well-pieced together. While biopics face the risk of not being well developed, having to cover such a wide range of content, Hirani's film does not falter even temporarily. With his excellent storytelling skills, individual sequences transition effortlessly into one another, despite the jumping around of eras and the use of flashbacks. It is clear that the filmmakers were interested in exploring specific phases and people in the actor's life, such as his father and friends, and the entire story is told from a certain angle which gives the film more depth. Despite presenting Dutt in a positive light, Hirani desists from making him a hero. He spends a substantial amount of time showing Dutt's misjudgements and mistakes and focuses on capturing him as a human, more than anything else.
While it is unclear how Hirani has used his artistic license and whether or not all events in the film are true accounts, it does not matter much. The presence of songs and a solid background score further blurs the lines between fiction and reality and so does the animated sequences in the beginning of the film. However, they set a strong tone for the film and clarify that while the story is true, the film remains fictional.
One of the most remarkable and noteworthy sequences of the film is when Kapoor is seen as Munna Bhai from Dutt's iconic film Munna Bhai M.B.B.S, which marked the rebirth of Dutt as an actor. This sequence is appropriately placed in the film and so the audience is able to rewatch glimpses of the film with some newly gained information about Dutt's life. Perhaps this is an advantage of making a biopic about someone who is living and still relevant: after a point the audience sees itself as a part of the character's journey. Because Munna Bhai M.B.B.S was also directed by Hirani, this sequence seemed a little self-congratulatory but nonetheless still joyous.
Kapoor beautifully holds up the facade that Hirani has created in the course of this three hour film. By the penultimate sequence, when Kapoor walks out of the jail and embraces his friend, the audience has completely accepted Kapoor as Dutt. It was only when Sanjay Dutt makes an appearance in a song, that accompanies the final credits, that this illusion was broken. It was extremely interesting to see the audience, which was making its way out of the auditorium, come to a complete halt as they saw the  real life and reel life Dutt next to each other. It was as though they realized that despite the finesse with which Kapoor slipped into Dutt's character, there will always be only one Sanjay Dutt.
Next