Movie Review: Thor Ragnarok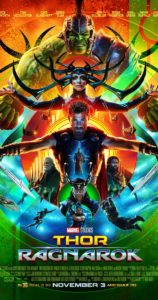 The third Thor movie Thor:Ragnarok is currently raking it in at the box office. And little surprise. Chris Hemsworth is the very epitome of the God of Thunder while Cate Blanchet puts in a satisfyingly sleek and menacing turn as the super-villainess, Hela, the Goddess of Death.
This third sequel sees Thor come into his own and truly take on the mantle of God of Thunder and ruler of Asgard.  And re-united with the Hulk and with fan-pleasing references to the Avengers team, what more could one ask for?
Much has been made of Chris Hemsworth's physical attributes – he famously packed on the muscle for this role and was voted Sexiest Man Alive. But his charisma and comedic timing are equally crucial in making this film work. He is supported by a stellar cast, slick special effects and well-paced storyline. The director Taika Waititi thankfully steers away from any soul-searching or existential crisis that so often plagues superheroes.
This is an all-out action, fantasy which never allows for a dull moment. The film doesn't pretend to be anything other than it is and a witty script and good chemistry among the actors save it from falling into predictability or corniness.
Thor has been having ominous dreams of the impending doom of Asgard – the destruction called Ragnarok which is foretold in Norse mythology. Anthony Hopkin as Odin, Thor's father, leaves his son with a dire warning and not much other advice really, pitting Thor against his evil sister who is clearly more powerful than him, and who will bring on Ragnarok.
A series of events leads Thor to team up with the Hulk and a female Asgardian warrior to save the people of his home planet. Any Thor story is incomplete without Loki and Tom Hiddleston fans will be glad to see him and  back and up to his old tricks. Jeff Goldblum is also on point as a the avaricious and controlling Grand Master, who holds gladiatorial fights in a futuristic gameshow-style setting.
Events unfold rapidly and lead up to the gloriously satisfying final showdown for the future of Asgard. Thrilling spaceship chases, deftly choreographed fights and giant wolves and demons will keep audiences on edge. Watch this one just for the fun of the movies and comics and superheroes. You'll feel like a kid again.
Zahra Chughtai has worked and written for Pakistan's leading publications. She is currently Newsline's website editor.
Next