The Riddle of Sphinx Sonia
No one knows better than the subcontinent, the power of the family drama. It presides over ordinary lives. It dominates the big screen and the small, and it certainly straddles the political theatre on a scale which makes a tele-dynasty look like a mohalla picnic. Ironically, India and Pakistan are currently 'ruled' by leaders-in-law, both having been flung there by the impact of a bomb blast.
Janab Zardari has recently been installed, surrounded by as much doubt as disbelief. In answer to the cynics, he needs only to toss his arrogant head in the direction of Delhi. Who, before or at the time of Sriperumbudur (the Tamil Nadu town where Rajiv Gandhi was killed), would have ever imagined the authority with which that widowed spouse now rules the family's partydom? And has done so to increasing awe. March 14 marked her 10th year as Congress president.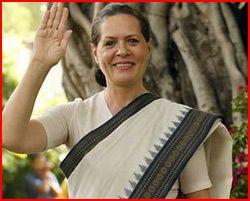 The Bhuttos and the Gandhis, if we didn't have them, we'd have to invent them. Adulation, ambition — and bloodied ends. The Indian dynasty has had a longer innings. Nehru was the benign dictator, Indira Gandhi, Queen Empress; Rajiv was Prince Charming who, some say, got kissed by a frog, and no one's quite sure if Sanjay was White Knight or Black Sheep in the brief hour that he fretted and strutted about the stage.
But the 'S' Factor, nowhere near to the manor born, is the X Factor. How could the once-obscure girl from Orbassano have become such a repository of real power? This 'daughter of the west' is the true Destiny's Child. Even Rahul and Priyanka must ponder in wonder over the metamorphosis of their mother.
Till just four years ago, you could still ask if Sonia Gandhi was the anointed Queen or just a Pretender? Then, on a surreal day in May, this huge and complex question was answered with just one monosyllable. When she said her famous 'No,' it shook the ordained pattern of Indian politics, the howling opposition, her own incredulous party, the country, even the world. Dictated by inner voice or outer reluctance to stand frontally exposed, it transfigured her in popular perception from leader to statesman. No one refuses a kingly crown. In India, only the Mahatma had done so. And he was a completely different Gandhi.
Yet, if you think about it, she has come to lead a party of yes-men via a journey scattered with 'Noes.' She forwent her Italian origins and chose to make a home in India. She said a panic-stricken 'No' to Rajiv when he was first taking her to meet his formidable mother. She said an emphatic 'No' to her husband making a career in politics, and held on to this resistance till the killing of Indira and Sanjay left no option. She reportedly screamed out a grief-pierced 'No' when her worst fears shattered into reality in 1991, and she refused to ascend the Gandhi throne till a party obsessed by dynasty begged her to lead it out of certain extinction.
Like Indira and Benazir, Sonia is autocratic. The first Mrs G was referred to — not always flatteringly — as the only 'man' in her cabinet. If the same was not openly said of Ms B, it could only be because Pakistan is more of a male chauvinist. Sonia is unabashedly the party's alpha male, even if her celebrated 'domination' of the brilliant Dr Manmohan Singh is largely the creation of sections of the media, which still worship the BJP, openly or covertly. The 'party of Ram' v/s the 'party of Rome' is a spent argument, but continues to be dragged out and flogged to one more death.
Sonia Gandhi is also a survivor, as all leaders have to be, on a continuous basis. She keeps coming up trumps in the carping over her foreignness as much as she has survived the ghost of Bofors, which like that of Banquo, also keeps popping up, bidden by those who want to feast on her.
She has played political one-upmanship like a seasoned hand, sparring controversy with counter-controversy. She stole the BJP's thunder from under its very nose. No one could not take her seriously after seeing the way she travelled through the heat and dust and 60,000 kilometres of her Jan Sampark Abhiyan in 1994. It was a two-edged weapon, in one stroke winning over the masses and decapitating the BJP's boast of India Shining. Equally important, it is impossible to picture her descending to the shenanigans of the likes of Jayalalitha and Mayawati, however much these women leaders share the route to power and their amazing hold over it.
Looking back at the journey which culminated first in the victory of 2004, and which has consolidated into the jubilee of 2008, you could call her Forster-country story A Passage to India. But, a more apt title to borrow would be Naipaul's The Enigma of Arrival. That she has 'arrived' is now indisputable, regardless of how long the UPA occupies the Dilli gaddi, but how she made it will forever remain unfathomable. For the woman who was cast as the Sphinx for years, and who is still riddled with many of its qualities, mystique may well remain her best-known feature — and the best-kept secret of her power.
Next