The Changing Sound of Music
There is little doubt that none of the creative industries in Pakistan match the quality and diversity of the music industry. Be it the heavily invested TV and media industries or the ludicrously lucrative fashion one, none have consistently produced Pakistanis capable of making the world stop, look and listen.
Yet, one of the curious paradoxes (for both Pakistan and my essay's introduction) is that it would be fallacious to describe the music 'situation', or more appropriately, the music 'scene' in Pakistan as an industry.
The causes for this, to put them briefly, are both global and local problems for the music industry. On one hand, the advent of the internet has turned the music industry on its head, forcing traditional systems to change radically all over the world. On a local level, the lack of concerts, labels, venues, events and promotions, have severely dampened the opportunity to organically develop both artists and audiences.
This is not to say that no industry exists, but rather that a whole range of wondrous, invigorating music exists in an oleaginous, amorphous, multidimensional flux. There are at least a few different strands that are identifiable, but their limits are not hard-and-fast definitions by any means. Let us try and see if we can describe this constantly-shifting landscape and, perhaps, even glance at some sort of understanding of which way it seems to be going. To try and make sense of matters, I also had access to the yearly statistics for Pakium.com, one of the internet's most popular websites for Pakistani music.
For starters, the gradual decay and flux of the industry (not necessarily the scene) is reflected in how narrow the mainstream has become, and how few musical ventures do not require some sort of commercial patronage. Sajjad Ali and Atif Aslam were the only two big stars to have successful releases over the past year ('Hur Zulm' and 'Zameen Jagti Hai'), and even these were singles. Ali Zafar's long hiatus across the Radcliffe shows no sign of ending, while Jal's Gohar Mumtaz went solo and thus took that band to its nth possible incarnation.
What further compounds matters is that mainstream media sources — TV and radio — just don't seem to ever tire of playing either western or Indian music non-stop, leaving little space for local acts. However, step off the mainstream to its left and find yourself in a shifting world of creative diversity.
Welcome to the deliriously multi-layered world of what would be described as the alternative scene. To me, it represents one of the most simultaneously affirming and depressing phenomena in Pakistan. On one hand, all these musicians are not only putting in their own creative energies into the song, but they also spend time and money in making videos, organising a few and far in between events and exploiting the flattening potential of the internet to reach out to new listeners. Yet all this deplorable pressure and frustration doesn't seem to slow down the constant roar of new musicians putting themselves out there.
It is impossible to be even remotely fair while discussing the alternative scene.  Broadly speaking, the layer closest to the mainstream is music being made in Urdu. One of the most exciting entrants here was Zohaib Kazi's album Ismail Ka Urdu Sheher, with a neo-90s Pakipop feel to his songs, particularly 'Khwabon Mei,' 'Mehr-un-Nissa Has Fallen in Love,' and 'Kinara.' Two of these tracks feature the delectable vocals of Sara Haider, whose other project — Teen — released one of the songs of the year in 'Baarisho Mei.' Over in Lahore, cult legends co-Ven released their first ever Urdu song — 'Chor' — which was a brilliantly sardonic song set to a raucous, raunchy video.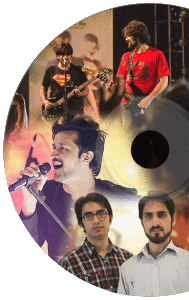 A whole slew of Urdu songs in 2013 were also related to the elections, with the PTI in particular inspiring a lot of music. Not a single one of these songs managed to make any major impact, and come election night the most exciting musical reference was a viral video of Beyonce dancing to the PPP anthem, 'Teer Bija'.
The biggest act of 2013 on the Pakium website were by far and away the teenaged Urdu rap stalwarts Young Stunnerz, whose songs 'Burger-e-Karachi' (#1), 'Maila Majnu' (#3), 'Fire in the Hole' (#4) and 'Laamb se Chaura' (#6) absolutely dominated the charts. Replete with razor sharp putdowns and eclectic usage of pop culture, the band's legendary status increased with each release. Yet, like countless indie acts before them, they split up too soon, with the duo reportedly going solo by the end of the year.
Floating with and amidst the Urdu songs is the fusion scene, which ranges from reworked ghazals and fusion folk classics, and hence incorporates other languages too. One of the year's breakout performers was the author and editor Ali Sethi, whose renditions of 'Dil Jalanay' and 'Mohabbat Karne Walay' were absolutely rapturous, accompanied by subtle, modern music. Shahi Hasan's production of Amjad Sabri and Sara Haider in 'Tajdar-e-Haram' was the highest ranked song from this genre at Pakium at #19, and was a safe but pleasing take on the qawwali. A far more cosmopolitan level of success awaited the Sachal Studio Orchestra, whose cover of REM's 'Everybody Hurts' — 'Ya Rab' — was a viral hit on the world music scene.
The link to fusion also opens up the regional languages, and this is where things begin to get subversively interesting. While Punjabi and Urdu have both become almost mainstream in the fusion genre, Pushto, Sindhi and Seraiki are all coming into their own. What is instructive to note is that in the case of all three languages, there has been almost a decade-long presence of local-language channels, which have long served as the platform for regional artists to cut videos and earn a living.
The most exciting event from the southern languages came in the form of the Lahootee Sessions. Held in the heart of Sindh, these regularly brought together some of the region's most captivating musicians who performed in resolutely traditional styles. The initiative is the brainchild of Saif Samejo, one-half of another band that seems to have split — The Sketches. However, this was after the duo had released some glorious songs, most notably 'Mei Sufi Hoon' and 'Nind Nashay Vich.'
Over to the north, Pushtun music also had a memorable year. Ismail and Junaid's 'Pakhwa' finished #7 on Pakium's charts, while Naseer and Shahab's 'Za Pakhtun Yam' and Khumariyaan's 'Bela' were also quite popular. With musical influences ranging from straight-up rock to post-ambient rubab, it would be unfair to lump all these bands as one, but what they do share is a very proud sense of identity which informs their music. Perhaps now bands from KPK could also look to break out of the maddeningly popular habit of naming themselves "[First Name] and [First Name]."
Beyond all this is the vast ocean of Punjabi music genres, which race from hip-hop to blues, punk to slam poetry. Shamoon Ismail's gorgeous 'Tuntuna' is one worth checking out, while Billy-X is perhaps the closest thing to 'Busta Rhymes' desis will ever find.
Further beneath or within or perhaps, completely isolated from, all of this lies the hipster-indie scene which, along with being tragically underappreciated, is creating seminal, era-defining music. A lot of this is based in Karachi, and represents a desire for fresh, inconceivable sounds no one had thought of before. Even here, there are two basic strands to work with.
There is the larger scene curated by the brilliant Lussun TV. A brainchild of Nadir Shehzad, the frontman of the band Sikandar Ka Mandar, it is an online music show which is really a platform for the various bands in this indie scene. Amongst those, Ali Suhail released a wonderful album called Words in Boxes this year. The show also featured a potential breakout star in Shajie, whose stripped-down acoustics are set to irreverent lyrics sung in a brooding voice, with 'Battakhain' being the best example so far. This year marks the third season of the show, and features what might just be my favourite song of the year: 'Janoobi Khargosh's Pagal Ho Gaya.' Sikandar Ka Mandar itself released its eponymous album this year to rave reviews. Music critic Asad Khwaja wrote about how "even at its most gregarious moments, the songs on this album prompt a sense of introversion, a silent consideration of the world and people around us."
Then there is an electronic/post-rock scene as well. One of its standard bearer is Forever South, a collective for the various artists which has organised several cutting-edge shows and hosts a wide variety of artists, including Dynoman, Rudoh, TMPST, Kryer and others. It is a scene which has constantly been producing newer artists unleashing their creativity on all sorts of technologies. One of the EPs of the year was TMPST's Serpentine, with 'Blue Blocks' as perhaps the standout track. Also out with an album was Alien Panda Jury, whose superlativeSound, Science, Love was also released this year.
Cast slightly adrift of these guys are even more further post-rock, or electronic, or downright weird musicians. The most vibrant amongst these were Slowspin, who released an ethereal 17-minute EP called Nightfalls Reverie, described by Tonje Thilesen as "a remarkably candid piece of work, [which] at times loses itself to unexpected breaks of echoing psychedelia." Also worth noting were releases by Smax — who was tapped up by the Red Bull Music Academy — and Nawksh Delivery Service. The prolific post-rock aural poets 6LA8 also released a couple of cerebral, intoxicating albums, while the acts just kept flowing.
Having reached the furthest  known limits of popular/cult underground music, let us return to more safer environs before moving on further. Many of the performers who would once share this mainstream stage are now almost exclusively found in what lies to the right of the mainstream — TV and film music. This broad spectrum refers to both the music being produced for TV serials and local films, as well as the music being made as part of special semi-reality shows on performing musicians.
The first category is one where many of the currently performing mainstream singers have decamped to. The limited expectations and relevance of songs made for TV serials has meant that their memorability is linked to the popularity of serials. With regards to film music, the soundtrack of Main Hoon Shahid Afridi was the only one to generate significant interest, with Rahat Fateh Ali's 'Malal' the 11th most popular page on the Pakium website, while the video for the Mahnoor and Mathira-led 'Masti Mei Doobi Raat' finished 9th for the year.
The second category is the slew of corporate-produced musical shows which have come in the wake of Coke Studio's success. One of the year's drabbest efforts was Cornetto Music Icons, where the show was stuffed with famous faces, and the music was played in that old PTV way of artists lip-syncing in a patently fake performance. Even more forgettable was a Noori-led show sponsored by one of the orange-coloured soda drinks. But the biggest, and most shocking, failure was that of Pepsi Smash.
The long-awaited riposte from the soft-drink giant generally associated with sponsoring music, Pepsi had not done anything of note since the short-lived, yet hugely influential Battle of the Bands at the start of the millennium. With Coke Studio launching its sixth season, this was Pepsi's moment to respond. Instead, the experiment of bringing EDM to decidedly pop-rock bands did not work out. Save for perhaps 'Tawega' by Sajid and Zeeshan (the band for whom this mashup was most natural) there were no memorable songs from the show.
As for Coke Studio itself, the show seemed to respond to the complaints that it had gone too predictable by deciding to set off and tour the world. Critic Safieh Shah wrote in one review that this seemed to suggest that "convinced of its own identity, Coke Studio Pakistan has begun to seek out (other) musical frontiers which enhance its own singular self." While the show's start has been underwhelming, it has retained its sense of occasion in the musical calendar.
The one show that has displayed the potential to break out and be a success seems to be Nescafe Basement. In a markedly improved second season, former eP and Call genius Xulfi has brought together a house band of very young musicians to perform cover tracks. The show's covers of solid-gold Pakistani classics like 'Boom Boom,' 'Sweet Child O' Mine' (as 'Pakistani' as a song gets) and 'Mr Fraudiye' have all proven to be notable hits, even if not breaking into the big league just yet.
The one song for the show that did make a significant impact represents its greatest challenge. The song in question was a cover of the folk standard 'Tere Ishq Mei' — in contrast to the rock, pop covers — and had a far more fusion feel to it. Yet it seems from the whole body of the show that Xulfi prefers composing songs which are more esoteric, worldly versions of his own music. The fact that season three represents a sense of anticipation towards what vision the show will embrace is cause for recognition. The show has only now begun to find itself, and can break out. It also represents a change from shows like Ufone Uth Records in the past, and Cornetto's effort this year where younger, unknown musicians were given the stage. Perhaps having one steady cast of unknowns seems to represent a safer choice, and shows how important the aspects of pure television are to such ostensibly musical shows.
But perhaps the biggest game-changer arrived right at the end of the season, as Pakistan Idol made its debut to delirious levels of participation and excitement. Based on a globally popular formula, the show snuck into the Pakium top 100 with all its episodes, despite having come out so late in the year.
Perhaps Pakistan Idol — with all the characters, dialogues, bloopers and finely tuned bitchiness — will decimate the competition.  However, what is needed desperately is an effort towards setting up something for music's sake itself. We are constantly stuck in a position where either artists get picked up in corporate shows and get constant coverage, or they have to break backs to try and make songs and then learn how to sell them.
Instead of saddling musicians with such insane expectations, perhaps they should be allowed to take a path where they can focus on the music because, clearly, talent is not a problem here. In the absence of an industry, the onus can't be on the artists alone to ensure that music survives. The role of us, the audience, would be essential in allowing for this to happen. Instead of being passive downloaders marvelling at the quality of our music, we should feel obliged to share, promote and patronise local music whenever possible.
We may not realise it, but it's the music that keeps this wretchedly beautiful country going.
This article was originally published in Newsline's January 2014 issue.
Ahmer Naqvi is a freelance writer and director of content at Patari, Pakistan's largest music portal.