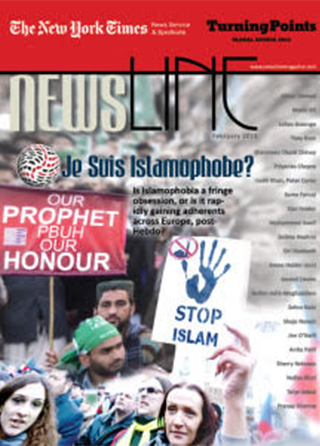 Cover Story
New-age saris worn with leather, string bikini tops and Maharaniesque blouses, lehengas, palazzos, the miniest of mini dresses, flowing evening gowns, Patialas, culottes — from the most covered-up and  embellished, to the most minimalist, barest (and dare'est') — local designers have taken Pakistan's fashion line for a long, long walk.
Interestingly, even while going international, Pakistan's fashion industry is finally creating and owning an identity that is indigenous to the country.
For decades, fashion designers have been in search of an eponymous Pakistani identity. An identity that isn't Indian. A look that isn't Arab, Middle Eastern or even necessarily Islamic. To not have one was the result of an age-old struggle with our regional identity. Were we Indian, Muslim, Arab or Irani, or was there such a thing as being purely Pakistani?
The search has been on for elements of style and design that could be identified and owned as the leitmotif of Pakistan's vast land. Traces of Central Asia, Persia, Afghanistan and India were unavoidable, but in today's dynamic global pool of fashion, where styles change with the blink of an eye, what was it that made an impression as being quintessentially Pakistani? While this evolution has been underway for some time now, it was in 2014 that several discernible elements came to life.
Egypt is known for the world's best cotton, silk is associated with China, lace with France, wool with Scotland and khaddar is an integral part of Indian culture. And now, Pakistan has finally established its core fabric as 'lawn,' a lighter version of the delicate and well-known voile. Voile is to summer in Pakistan what fur-lined parkas are to skiers up in the Alps: inseparable. Although the term 'lawn' is derived from 'Lyon,' a city in France, it's the fabric of choice for most Pakistanis in the sweltering heat. Its popularity can be gauged from the fact that over 600 textile mills are spinning the fabric for the country's eight month-long summer. It's certainly not a new phenomenon, but with increasing collaborations between textile mills and designers, the fabric has moved up on the style scale.
"Lawn definitely is the fashion brand of Pakistan," says Shehnaz Basit, Chief Operating Officer at Gul Ahmed, one of the largest manufacturers of lawn in the country. "Pakistani lawn does extremely well in India and Bangladesh, despite the fact that both countries manufacture their own lawn as well, because it is easy to wear and affordable and our prints are unique. Exports are still a grey area but wholesale online sales are huge. Our largest market is India, followed by Bangladesh, the UK and the US. We have an office in Dubai, as so many Arab countries buy from Dubai."
Textile mills have always cashed in on popular floral, Mughal or Renaissance-inspired prints but recently, thanks to designer intervention, prints have begun to get experimental. They have acquired a unique face of their own, quite literally: the cityscape prints feature landmarks of the country's major urban centres. Brands like Gulabo by Maheen Khan have put all sorts of landmarks on kurtas, from Minar-e-Pakistan, to Frere Hall and the Quaid's Mausoleum. The rickshaw has been appliqued, embroidered and embellished on kurtis and printed on T-shirts, and the clothes have been photographed widely in trucks and buses resembling the iconic Truck Art bus, the W-11. Anyone seeing these images gets an unmistakable feel of Pakistan.
This colourful imagery, a reinterpretion of Truck Art by many designers, is another unique selling point that Pakistan's fashion has zeroed in on. Truck Art has been used to market a colourful and dynamic image of the country, which is why it was also used to market Expo Pakistan 2014. The four-day trade fair, including two days of runway showings for hundreds of foreign buyers and observers, incorporated Truck Art as the look and feel of 2014. Maheen Khan's Gulabo and Rizwan Beyg's kaleidoscopic collections were featured at fashion weeks in Pakistan, Expo Pakistan and finally at the Lakme Fashion Week in India. Strengthening the image of Truck Art further, photographer Tapu Javeri created a series of prints titled 'Karachiscape,' which were incorporated into silk scarves, tunics and, eventually, leather bags.
Truck Art isn't the only symbol of Pakistan that has travelled internationally. Independent brands such as FnkAsia and Inaaya have carved  a name for themselves by marketing threadwork accessories by women in villages. While the head designer at FnkAsia, Huma Adnan, works with these women in her Karachi factory, Inaaya's Naushaba Brohi travels into interior Sindh to empower the villagers. It's no secret that one of her Durri necklaces was picked up in London by Amal Alamuddin-Clooney and worn on a trip to Darfur. Vogue India has featured Inaaya on several occasions. FnkAsia's accessories, on the other hand, were Instagrammed by one of the editors at British Vogue.
Working with the centuries' old craft of rilli or patchwork, native to the region of Sindh, designers like Naushaba Brohi have also played a monumental role in marketing rilli work under the umbrella of brand Pakistan. Brohi isn't the first designer to incorporate the craft of rilli in her fashion lines, but she did it at a time when brand Pakistan needed it most. And it shot to the limelight.
Interestingly, Pakistan's ethnic evolution has had an impact, intentional or unintentional, on international fashion houses. In 2014, when Paul Smith 'launched' the inherently Pakistani, Peshawari chappal as the 'Robert Sandal,' with the only difference between the two being a neon stripe under the outer leather, thousands of outraged Pakistanis signed a petition at change.org, addressed it to British Prime Minister David Cameron as well as the designer. They found the 300 pound price tag — for a shoe worth no more than a few pounds — outrageous and demanded that the origin of the chappal at least be acknowledged. Within a day of the online protests, the definition of the sandal on Paul Smith's website was changed to: "Men's high-shine black leather sandals with neon pink trims inspired by the Peshawari chappal." The point had been made.
Not all inspirations from Pakistan have been as easy to take ownership of, but they have been identified. The Chanel Resort 2015 collection, for example, was as shalwar kameez as it could get. There were striking resemblances to ma
ny Pakistani garments, most significantly the Khaadi Summer 2014 collection which had been showcased before Chanel, in April. Placing the images side by side, it would be difficult to tell which one was Chanel and which one was made in Pakistan.
It's all very well to take creative inspiration from Pakistan but as a bemused Mosharraf Zaidi, who was interviewed by The Independent after the Paul Smith incident remarked, "Extraction of surplus, of labour and of ideas is an age-old issue in North-South relations. However, we should never shy from owning what is ours, especially on the rare occasions when the associations are entirely positive and aesthetically universal in appeal."
He added: "These are Peshawari chappals. Paul Smith can make all the money he wants, but he should afford us the small courtesy of calling them what they are."
Pakistan's creative identity, based on its rich cultural tradition, needs to be acknowledged, and in fashion that can only be done by taking what is intrinsically ethnic and turning it into a globally adaptable style. Thanks to successful inroads made by designers, textile industrialists and overall lovers of all things Pakistani, this ownership of an 'aesthetically appealing' identity does seem like a possible reality.
This article was originally published in Newsline's February 2015 issue.
Aamna Haider Isani is a leading fashion writer and an editor at Instep, the fashion and entertainment section of The News.
Next